How to stop Christmas waste and the thousand of tonnes thrown away each year
After more than 300,000 tonnes of card packaging is thrown away and the equivalent of 2 million turkeys, our Christmas waste is overwhelming. Hazel Sheffield looks at what we can do to combat this epidemic of festive waste
Hazel Sheffield
Thursday 22 December 2016 18:29 Comments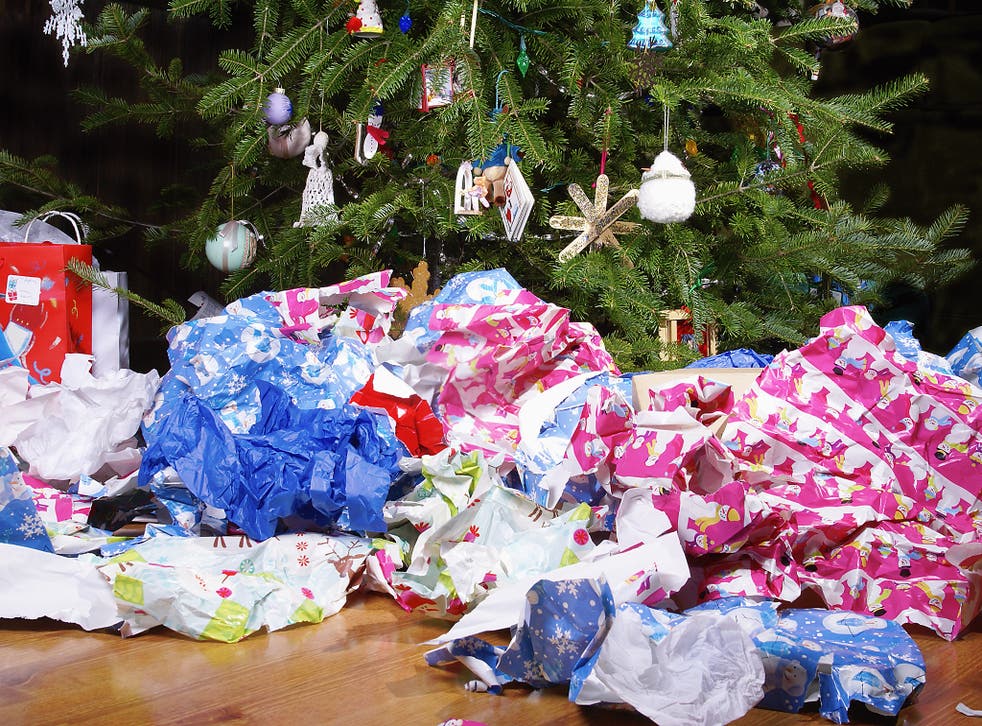 There may come a moment this Christmas when, slouched on the sofa, admiring the roundness of your belly in the reflection of a bauble, you will find the seasonal excess too much for all the Rennies and recycling boxes that can be chucked at it.
According to the latest estimate in 2012, the UK throws away 74 million mince pies each year. The equivalent of 2 million turkeys go in the bin despite most of us knowing, when the order goes in, that even the least fussy of relatives finds turkey a bit dry. Then there's the Christmas pudding, which never tastes as good as it looks for the few seconds it is enveloped in blue, brandy-fumed flames. The equivalent of 5 million mounds of charred raisins find their way to the dump.
The environmental cost of such waste is monstrous. But there are also salient financial and health reasons to think about what you throw away. Each household wastes 30 per cent more and spends £169 at Christmas – and that's just on food. The 300,000 tonnes of card packaging consumed during the period is enough to cover Big Ben nearly 260,000 times. Recycling this card effectively would save enough energy to light 340 Blackpool illuminations, according to Wrap, the government's waste reduction advisory body.
What can be done? Recycling varies from place to place in the UK, so the first step is finding out what provisions exist in your local area. Many local councils put in extra measures to cope.
Tracey Morgan, managing director of Bristol Waste Company, which collects household waste on behalf of Bristol City Council, said her firm extends staff hours. "Our staff work three Saturdays in January to catch up the days that we don't collect over the festive period so the service for our customers gets back to normal as quickly as possible." Bristol residents have calendars delivered to them so they know when waste will be collected. The council, like many others, also runs a Christmas tree collection service.
Andrew Bird, recycling and waste services manager for Newcastle-under-Lyme Borough Council, said Christmas is easily their busiest time of year. "Typically the week of Christmas and the first week of the New Year will see a 20 to 25 per cent increase in material collected for recycling, which we welcome and would encourage residents to ensure they make full use of the recycling services provided to them by their local authority," he said.
Many people aren't aware of the services available to them. Around 40 per cent of rubbish comes from paper, card, plastic, glass and other material that could be widely recycled. Around 30 per cent is food waste, which is separately collected for recycling by around half of all local councils.
Save on food waste
When it comes to food waste, planning can cut the cost of Christmas as well as the waste produced. "Many of us over-buy and we don't have a good plan for turning the leftovers into something tasty for later in the week," said Joe Papineschi, director of Eunomia, an environmental consulting company.
There are two main reasons food gets wasted: it doesn't get used before it goes off, or we prepare, cook and serve too much. Helen White, head of Wrap's Love Food Hate Waste campaign, recommends eating up frozen food in the weeks before Christmas to make space in the freezer. "Eat from the freezer for a couple of nights a week in the run-up to Christmas, and save a bit of money and time and free up some space which could come in handy," White said.
World news in pictures

Show all 50
Planning festive meals in advance may be complicated when catering for lots of people, but there are tools like the party portion planner on the Love Food Hate Waste website that can help you work out how much to buy for larger groups. When plans change, check date labels. If the use-by date is coming up, freezing food can buy extra time.
Only throw away food if it passes its use-by date; sell-by and best-before dates are nothing to do with food safety. Almost anything can be frozen even if it is close to a use-by date, including smoked salmon, vegetables and dairy products like hard cheese and butter.
After meals, save leftovers for the following day's lunch. "If you can't bear another turkey sandwich, get creative and turn your leftovers into a Thai curry, Mexican enchiladas or turkey risotto," Helen said.
Think before you wrap
Reduced waste collection services are an excellent incentive to think more about the packaging that your purchases come with, according to Joe Papineschi from Eunomia.
"Excess packaging really takes up space in the bin. If you can buy more of your shopping loose or in paper packaging, it will cut down on waste," he said. The paper can then be recycled either in the dry recycling, or as food waste if it is too dirty and greasy.
A simple scrunch test will determine whether wrapping paper can be recycled. If the paper holds its shape when scrunched then it is recyclable; if it springs back it is not. Greetings cards can be recycled if plastic and glitter sections can be removed. While it may seem Scrooge-like, glitter and ribbons are not recyclable and best avoided.
The benefits of choosing recyclable and recycled paper are huge: producing recycled paper uses up to 50 per cent fewer chemicals than virgin paper so it's much less polluting. Paper fibres can also be recycled up to seven times.
Many councils now collect a wide range of plastics, not just bottles. Papineschi said to watch out for black plastic trays and avoid buying them if you can. "It may seem odd, but colour is important – the automatic scanners that are used to sort recycling can't spot black plastic, so it can end up in the wrong recycling stream as a contaminant," he said.
A little thought for the environment might be just the way to ease the guilt of Christmas excesses – and the pressure on wallets and waistlines that comes with the season. "On average, people eat three times their normal calorie intake over Christmas," Papineschi said. "Your health, your finances and your bin will thank you if you buy less, eat less and waste less."
Register for free to continue reading
Registration is a free and easy way to support our truly independent journalism
By registering, you will also enjoy limited access to Premium articles, exclusive newsletters, commenting, and virtual events with our leading journalists
Already have an account? sign in
Join our new commenting forum
Join thought-provoking conversations, follow other Independent readers and see their replies