HS2: Judge orders pause on tree felling at wood that inspired Roald Dahl's Fantastic Mr Fox
Eco-campaigners celebrate temporary block on work but company says it will appeal against decision
Jane Dalton
Friday 16 April 2021 20:25 Comments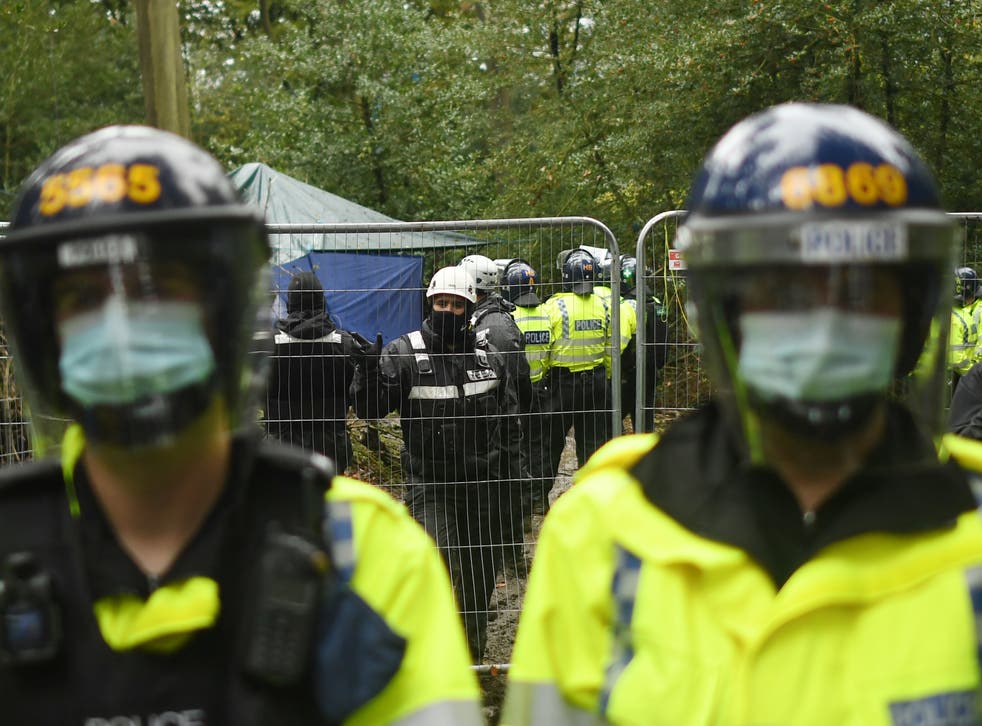 A High Court judge has ordered HS2 to stop felling trees at a wood that inspired Roald Dahl to write Fantastic Mr Fox, ahead of a hearing into whether the government licences were issued legitimately.
Natural England had issued licences last month to allow the felling of two-thirds of Jones' Hill Wood in Buckinghamshire, as part of work to make way for the controversial high-speed line.
Environmental campaigners, who have protested for months over plans to axe the ancient trees, were jubilant at the order.
But the company HS2 immediately said that even though it had stopped work, it would appeal against the court order. It plans to plant 22,000 new trees nearby.
Protesters say the wood, which is thought to have been an inspiration for the children's author, is an important wildlife habitat, particularly for bats.
Activist Mark Keir, of the Earth Protector Communities group, began legal proceedings earlier this month for a judicial review, claiming Natural England, a government body, had failed in its statutory duty to issue licence that would protect the barbastelle bats.
He and Stop HS2 campaigners also claimed HS2 failed to carry out adequate surveys of the habitats.
The High Court has now agreed to a pause to the tree felling until at least 24 May, after which it will decide whether a judicial review can go ahead.
Another protester, Joe Rukin, said the High Court order meant HS2 "will have missed their window to chop down these parts of Jones Hill Wood and will probably now have to wait until October" because bats cannot be disturbed during their maternity season, which starts next month.
"Even Natural England can't issue licences to disturb active maternity roosts," he said.
"After this ruling Natural England have to take a long hard look at themselves, as a judge has clearly agreed with us, that there is not enough evidence to demonstrate that the licences they issued HS2 Ltd with were issued legally after a genuine assessment of habitats."
Natural England had said that felling "a small number of trees" at Jones' Hill Wood would not damage the overall conservation status of the bats, and that "mitigations", including the creation of new roosts, had been carried out.
The RSPB had called for an investigation into how the work was affecting habitats, saying: "If the government allowed work to proceed that ignores the laws that protect wildlife, they risk undermining every environmental commitment they have ever made about HS2."
The Independent has previously reported how HS2 was accused of destroying bird boxes in Buckinghamshire.
Hedgerows and trees elsewhere in the Chilterns have already been cleared in preparation for the railway line from London to Manchester and Leeds, which is forecast to cost £106bn.
An HS2 spokesperson said: "All our ecological work is designed to protect wildlife and is carried out in accordance with legal requirements. At Jones Hill Wood HS2's contractor applied for, and received, the necessary licences from Natural England in order to undertake works.
"Our ecologists can see no logical reason why works should now be halted.
"HS2 will help cut the number of cars and lorries on our roads, cut demand for domestic flights, and help the country's fight against climate change." 
Last year, the National Infrastructure Commission suggested to the government the leg of HS2 through the east midlands be suspended and piecemeal upgrades carried out instead.
Register for free to continue reading
Registration is a free and easy way to support our truly independent journalism
By registering, you will also enjoy limited access to Premium articles, exclusive newsletters, commenting, and virtual events with our leading journalists
Already have an account? sign in
Register for free to continue reading
Registration is a free and easy way to support our truly independent journalism
By registering, you will also enjoy limited access to Premium articles, exclusive newsletters, commenting, and virtual events with our leading journalists
Already have an account? sign in
Join our new commenting forum
Join thought-provoking conversations, follow other Independent readers and see their replies