Hundreds forced from their homes after another day of torrential downpour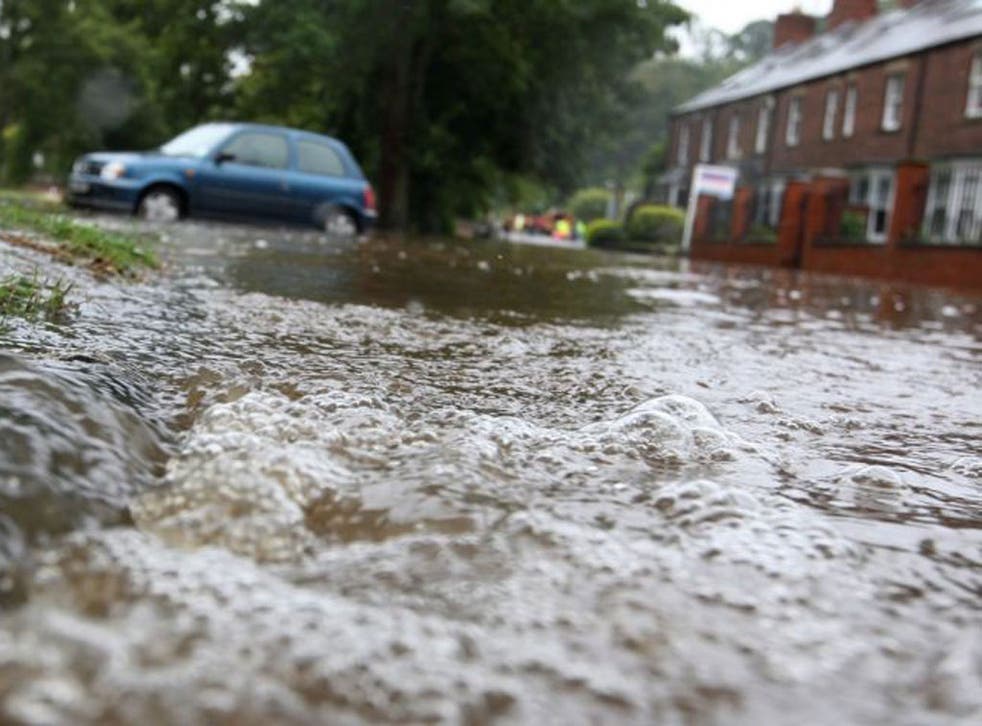 A second day of torrential rain drenched much of the country today forcing hundreds of people to flee their homes while road and rail services were severely disrupted leaving passengers and motorists stranded.
Forecasters warned the deluge could continue for another 24 hours bringing the further threat of flooding.
In Scotland the extreme conditions caused the fishing village of Footdee in Aberdeenshire to be engulfed in foam created by the action of wind, sea and sand. Elsewhere heavy winds damaged trees and saw waves spectacularly pound sea walls.
The Environment Agency reported 83 flood warnings and issued a further 146 alerts. Most were in the North East, parts of which are still recovering from flash flooding in the summer, and where today dozens of people had to be rescued from their homes.
In the historic market town of Morpeth an evacuation operation was launched when the River Wansbeck breached local flood defences as trees and debris were swept downstream.
Cars were washed away in Rothbury, Northumberland, by the River Coquet which had been transformed into a raging torrent by days of heavy rain.
Cleveland Police declared a major incident as storm water flooded key routes. Northumberland and Durham police urged employers to allow staff to stagger their journeys home while in Stockton schools were shut early.
On Wearside 50 homes were evacuated and the A690 was closed after parts of it collapsed under the weight of water.
The East Coast mainline was flooded south of Darlington severing train links between England and Scotland and causing disruption on CrossCountry and First TransPennine Express services. It later opened but with a reduced service.
A 40 mile stretch of the A1 was closed overnight stranding motorists in their cars with some needing to be rescued by police at Dunston, Gateshead. Other major roads including the A66 near Darlington and the A19 in Tyne and Wear were also affected.
In some areas a month's worth of rain fell in just 24 hours. Ravensworth in North Yorkshire received 108mm (4.3 inches) compared with the usual September total of 47mm (1.9 inches).
The centre of York was also flooded while a crew of refuse collectors had to be rescued by firefighters at Eryholme, North Yorkshire, when a river burst its banks and swamped their truck.
Anxious residents gathered on bridges in Hebden Bridge, West Yorkshire, scene of repeated flooding over the summer, as local businesses sandbagged their doors.
There was also flooding in Merseyside affecting 50 people while roads in Cumbria were also rendered impassable. Lanes were closed on the M6 due to standing water, while train services in Lancashire were also hit.
Martin Young, Met Office Chief Forecaster said the rain would gradually ease from Scotland but that further deluges were likely to bring flooding and travel disruption across Wales and southern England with a further 40mm likely in the next 24 hours.
"An unusually deep area of low pressure for this time of year will continue to bring heavy rain and strong winds to parts of the UK for the next day or so," he said.
Thursday was likely to see an improvement with a return to more traditionally autumnal weather by the weekend with rain turning more showery.
Floods in Bristol earlier forced the closure of a blood and plasma unit while two schools remained closed in Shropshire and train services to Hereford were disrupted.
Meanwhile an inquest heard that an account manager died instantly when she was hit by a falling tree branch in Kew Gardens as she was walking with friends at the weekend.
Erena Louise Wilson, 31, who was born in Wellington, New Zealand but lived in London, received "non-survival head injuries" when she was hit by the Lebanese cedar branch at the Royal Botanical Gardens in south west London on Sunday.
The incident is being investigated by the Health and Safety Executive.
Join our new commenting forum
Join thought-provoking conversations, follow other Independent readers and see their replies