Hundreds of renewable energy companies could be forced out of business due to 'dramatic' subsidy cuts
Tens of thousands of jobs could be lost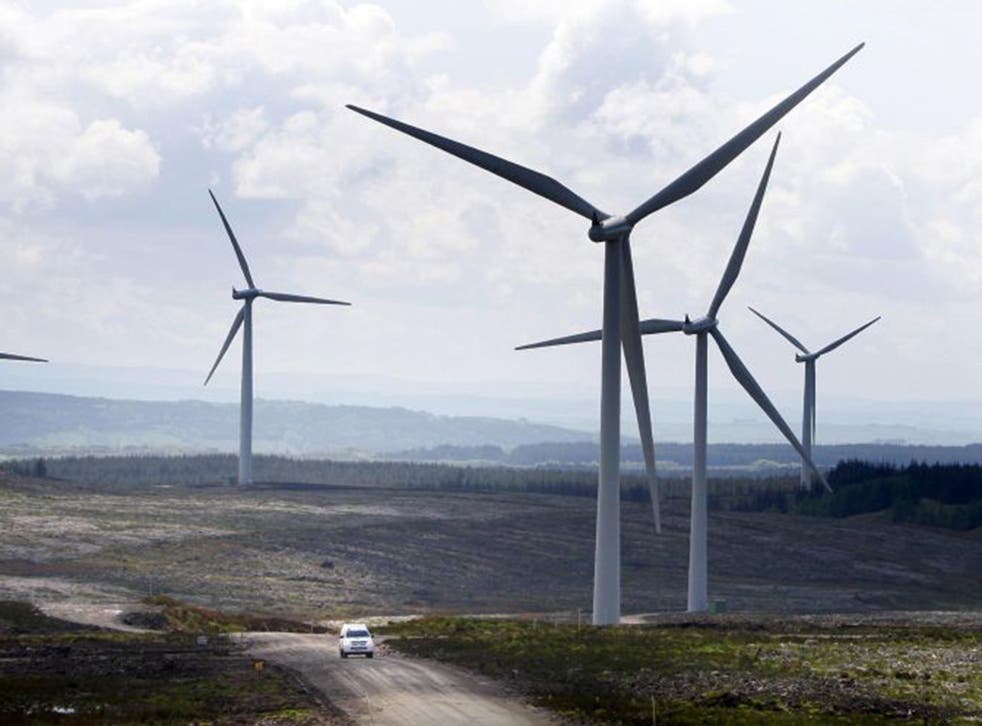 Hundreds of green energy companies could be forced out of business in months with the loss of tens of thousands of jobs as the Government appears determined to pull the plug on renewable energy, industry leaders have warned.
Senior figures representing wind, solar and tidal power say "dramatic" subsidy cuts for renewables are scaring away foreign investors and could leave scores of British firms on the brink of bankruptcy.
The warning comes as the UN's chief environmental scientist, Professor Jacqueline McGlade, has also warned that the cuts, coupled with tax breaks for oil and gas, are sending a "perverse signal" to the rest of the world ahead of a crucial climate change summit in Paris next month.
The Renewable Energy Association (REA), a trade association representing renewable energy producers, says it has tracked 11 major policy changes by the Conservatives since the general election which are having or will have a "negative impact" on the renewable energy industry.
James Court, the REA's head of policy, said: "This represents the UK turning away from renewables, which is surprising given the extraordinary decline in costs and increases in technological efficiency that have been achieved over the past five years… The Government, frustratingly, seems intent on tripping up the industry within sight of the finishing line."
The Government is pushing ahead with plans to cut subsidies for renewables such as solar and wind. Whitehall has ended support for new large-scale solar farms and is consulting on plans to slash subsidies for smaller installations put up by households, schools and communities by 87 per cent.
The Solar Trade Association (STA) says 27,000 jobs could be at risk as the solar industry's 3,000 firms face the cuts. Two solar panel companies, including one of the UK's biggest installers, blamed the cuts when they went into administration last week with the loss of 1,200 jobs. Two smaller firms have also hit the wall. Paul Barwell, chief executive of the STA, said: "It's very alarming. There is such a lack in confidence in what the Government is doing that some companies are shutting up shop already and there is a real risk of foreign investment withdrawing."
The industry also claims the Government is making it impossible to build new onshore wind farms – Britain's best hope of meeting environmental targets at the lowest possible cost – by ending future subsidies for new onshore projects and also introducing draconian changes to planning laws.
Friends of the Earth renewable energy campaigner, Alasdair Cameron, said: "We are probably going to see hundreds of companies going bankrupt and tens of thousands of jobs lost. We are struggling to understand the Government's approach to renewables when it is also seeking Chinese investment in nuclear power. It's the equivalent of throwing money at analogue instead of digital television."
A spokeswoman for the Department of Energy and Climate Change said: "Our priority is to keep bills as low as possible for hard-working families and businesses. Government support has already driven down the cost of renewable energy, which will continue to play a role alongside new nuclear power, as we provide cleaner and more secure energy for future generations."
Firm under threat
Gabriel Wondrausch built up his solar-panel design and installation company, SunGift Energy, after starting the business from home 10 years ago. The Exeter-based firm, which now employs 36 people, designed the solar energy array that helps power the Met Office's supercomputer at its HQ in the city.
But now he is deeply concerned about the impact subsidy cuts could have on his firm and the renewable energy industry.
He said: "We had five positions vacant, but now four people have handed in their resignations because they are concerned about the future.
"This is a highly technical industry and we need to be bringing in bright people out of university, but my worry is that they will want to go into other areas.
"We will survive in the long term, but the cuts are going to be pretty devastating for the industry."
The Crisis: In numbers
25 per cent
The proportion of the UK's electricity that now comes from renewable sources. 10 per cent comes from wind alone
112,000
The number of people employed in the renewable sector in the UK
£10bn
The amount invested in UK renewable electricity generation in 2014. An estimated further £42bn is required to 2020
Join our new commenting forum
Join thought-provoking conversations, follow other Independent readers and see their replies