Hunstanton sperm whale: Rescuers confirm animal beached on the Norfolk coast has died
Animal is the sixth to wash up in this part of the UK in the past fortnight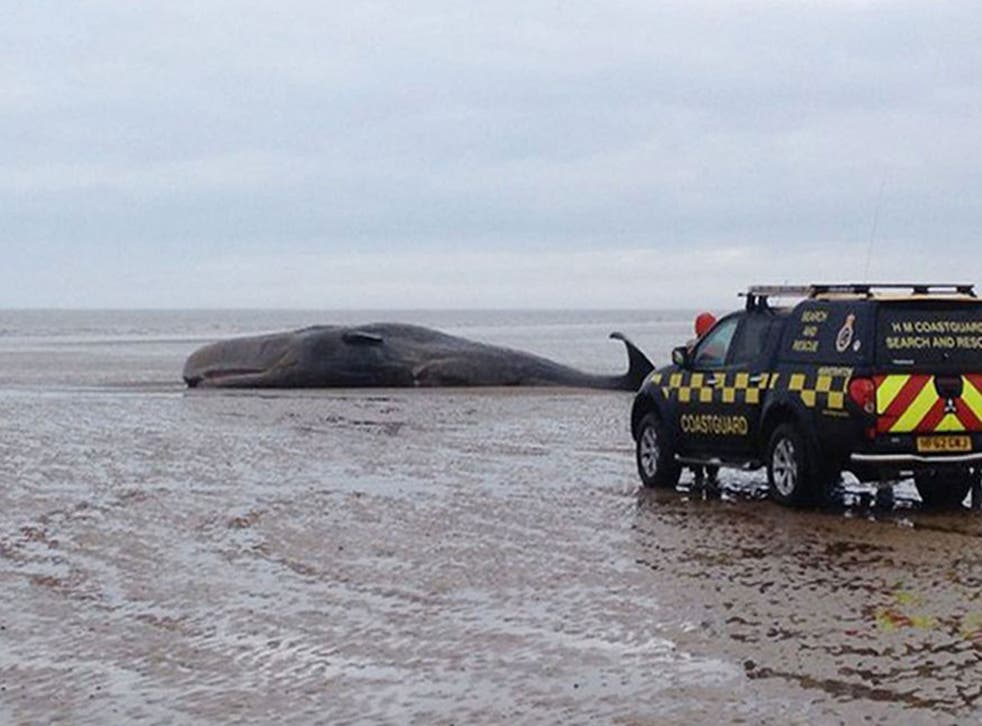 The whale beached on the Norfolk coast on has died, a marine rescue team has confirmed.
British Divers Marine Life Rescue team said they were "very sad" to confirm the mammal which washed up on Hunstanton Beach died shortly after 8pm on Thursday.
Stephen Marsh, the operations manager at the BDMLR said in a statement: "We're very sad to confirm that the whale has died but it is a bit of a relief because it had been in quite a lot of suffering."
Speaking to The Independent earlier, Mr Marsh had said the whale was likely to die as it is impossible to get them back into the sea.
Due to their size and weight they cannot be rolled back into the sea so the team were "just trying to give it dignity and let nature take its course".
The 30-tonne whale is believed to have come from the North Sea and became stranded on the beach when the tide went out.
As the tide came back in the animal was partially submerged and seen thrashing, but appeared to still be trapped in the shallows.
West Norfolk Borough Council was urging local residents not to go to the beach and the coastguard set up a cordon at the "very distressing scene".
Dead whales beached on the North Sea coast

Show all 8
The whale is the 29th to have been beached on Europe's shores in the past fortnight and the sixth to appear in The Wash - the North Sea bay between Norfolk and Lincolnshire.
Although the increase in whale deaths has saddened local communities, experts believe it could indicate an increase in the population of sperm whales.
Officials from Defra are inspecting the dead whales and will release a report into why so many have been stranded on UK shores later this year.
Join our new commenting forum
Join thought-provoking conversations, follow other Independent readers and see their replies