Hurricane Harvey's rainfall made three times more likely by global warming, say scientists
Climate change linked to increasing likelihood and severity of the extreme weather that hit parts of the US earlier this year
Josh Gabbatiss
Science Correspondent
Wednesday 13 December 2017 17:54 Comments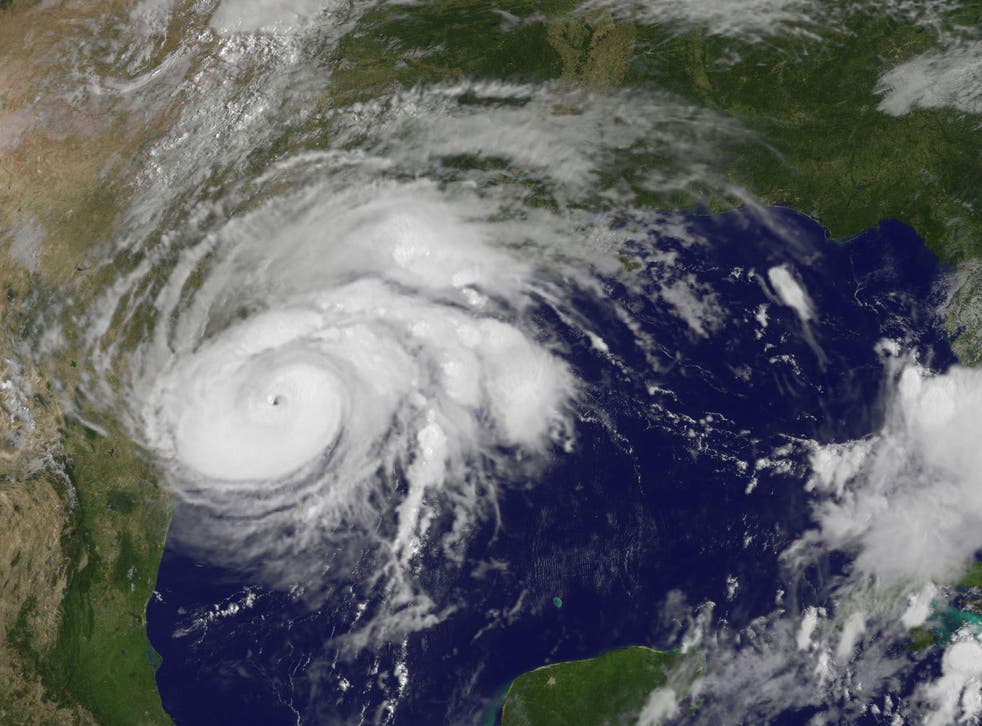 Though climate change didn't cause Hurricane Harvey, two independent studies have concluded it dramatically increased the probability of a storm of its magnitude occurring ahead of its appearance, and increased the severity of its impact when it arrived.
"Did climate change make this event more likely than in the past? Yes," said Dr Karin van der Wiel of the Royal Netherlands Meteorological Institute, who co-authored one of the studies, published in Environmental Research Letters.
The researchers looked at Hurricane Harvey's rainfall in the context of historical records, concluding that such an extreme weather event should only be expected once every 9000 years.
They then used climate models to run simulations showing different levels of climate change.
Comparing historical weather records with the simulation results allowed the scientists to assess the impact climate change had on the probability of the hurricane's rainfall.
The other study, carried out by the Lawrence Berkeley National Laboratory, used computer simulations to analyse Harvey's downpours over a week and calculated that global warming increased its rainfall by nearly 20 per cent.
The aftermath of Hurricane Harvey

Show all 19
The findings were presented on Wednesday at the American Geophysical Union meeting in New Orleans.
As Harvey was ongoing, researchers feared the storm had been made worse by global warming. However, they didn't have the data to confirm their suspicions until now.
The increase in rainfall during the hurricane may be linked to increases in the ocean's heat content.
Most heat trapped by greenhouse gases in the atmosphere gets absorbed by oceans, and this trapped energy is what fuels hurricanes.
Lower ocean heat prior to Hurricane Harvey would have resulted in less rainfall, according to the researchers.
"[One of the studies] suggests that the extreme rainfall component of Hurricane Harvey was made 15 per cent more intense due to climate change, which is broadly in agreement with the atmospheric theory that has been developed in this area," said Dr Dann Mitchell, a climate physicist at the University of Bristol who was not involved in the study.
The research adds to a growing body of evidence that extreme weather events are made worse by climate change.
Understanding the role that global warming plays in natural disasters is a developing area of science, and one that plays a vital role in shaping public narratives about climate change.
Earlier this week, the UK's Energy and Climate Intelligence Unit issued a report that found extensive links between climate change and extreme weather events.
"Two years' worth of studies shows that climate change is affecting heatwaves, droughts and rainfall right now," Richard Black, director of the Energy and Climate Intelligence Unit, told The Independent.
Nevertheless, while events like heatwaves and droughts are relatively easy to link with increases in global temperatures, hurricanes are far more complicated.
"Attribution of hurricane characteristics to climate change is extremely challenging, and the authors have focused only on the precipitation response, which is perhaps the most well understood, and is particularly important given the nature of the flooding in Texas due to Harvey," said Dr Mitchell.
Though Dr Mitchell noted that this research had accomplished its goal of investigating the effects of climate change on rainfall, further investigation of hurricane dynamics will be vital going forward.
"Such research is needed for understanding future changes in cyclones and avoiding impacts if we follow the Paris Agreement on climate change, rather than current, high greenhouse gas emission pathways," he said.
Additional reporting by AP.
Register for free to continue reading
Registration is a free and easy way to support our truly independent journalism
By registering, you will also enjoy limited access to Premium articles, exclusive newsletters, commenting, and virtual events with our leading journalists
Already have an account? sign in
Join our new commenting forum
Join thought-provoking conversations, follow other Independent readers and see their replies