Immigrants are being doused in toxic industrial disinfectant at Trump-funded ICE detention center over Covid, activists say
Revealed: Detainees at the Adelanto facility in California have allegedly had chemicals being sprayed every 20-30 minutes in close proximity and, at times, directly at them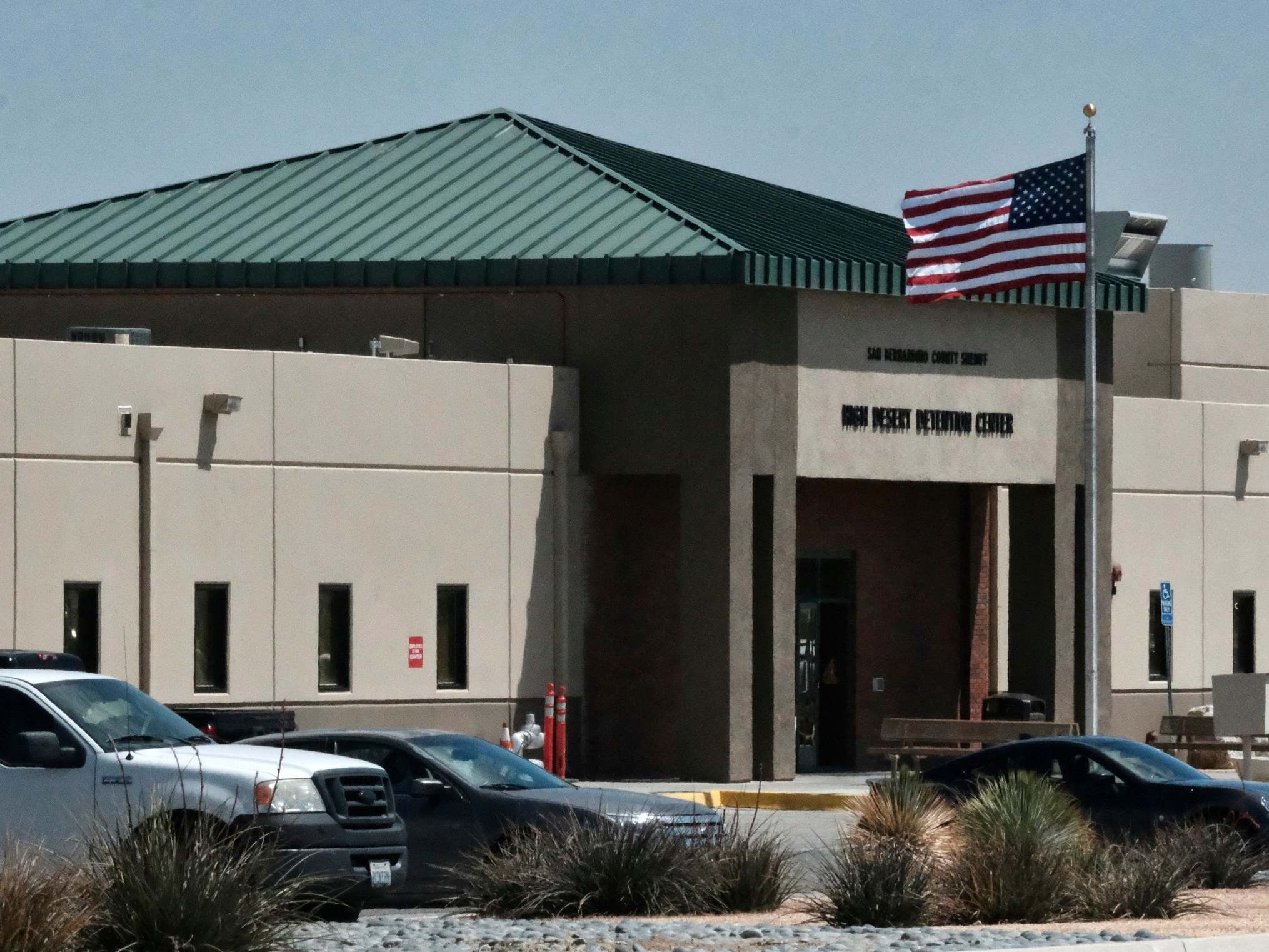 Immigrants being held at a Trump administration-funded detention facility in California are allegedly being doused with an industrial disinfectant in confined spaces in an attempt to control the spread of the coronavirus, according to activists on Thursday.
Adelanto Immigrant Detention Facility, outside of Los Angeles, is reportedly spraying detainees with HDQ Neutral, a potent and potentially toxic disinfectant, which can cause severe skin burns and serious eye damage.
The chemical is only supposed to be used outdoors or in well-ventilated areas while wearing protective gloves, clothing and eye and face protection, according to the manufacturer Spartan Chemical Company.
Detainees have shared stories of the chemicals being sprayed every 20-30 minutes in close proximity and, at times, directly at them, Shut Down Adelanto Coalition and environmental law non-profit, Earthjustice, said in a statement.
Raul Garcia, Legislative Director of Healthy Communities at Earthjustice told The Independent: "The crowded and closed conditions in Adelanto, along with the fact that immigrants in detention do not have protective equipment, render the use of HDQ Neutral not only highly problematic, but also grossly illegal."
Those who have been sprayed say they have suffered health complications such as rashes, nosebleeds, breathing difficulties, headaches and nausea, Reuters reported.
The activists said that detainees have made dozens of complaints but that Immigration and Customs Enforcement (ICE) and GEO Group Inc, a private prison operator contracted at the centre, have continued to deny the harm being caused "and have consistently attempted to undermine any and all attempts to expose their danger".
Following publication, an ICE spokesman told The Independent: "Disinfectant formulations used at Adelanto are compliant with detention standards, registered by the Environmental Protection Agency (EPA), and are used according to manufacture instructions for routine cleaning and maintenance of the facility. Moreover, our staff follow recommendations outlined by the Centers for Disease Control and Prevention (CDC) for cleaning and disinfecting practices. Any assertion or claim to the contrary is nothing more than a false ongoing disinformation campaign against the agency."
A GEO group spokesperson told The Independent: "The allegations regarding HDQ Neutral are untrue and without merit. HDQ Neutral is a cleaning product that is registered with the EPA and that has been used at the Adelanto ICE Processing Center for nearly 10 years. There are no injuries associated with the use of this solution. GEO has always followed, and will continue to follow, all manufacturer guidelines and EPA requirements for all cleaning products, including HDQ Neutral."
Border detention centres have become a ghoulish hallmark of the Trump administration, in particular after a large number of unaccompanied minors were detained on crossing the southern border from Central America in 2018.
At a House Homeland Security Committee hearing last year, Chairman Bennie Thompson and Congresswoman Bonnie Watson Coleman questioned then Department of Homeland Security Secretary Kirstjen Nielsen over whether migrant children at the border with Mexico were being kept in "cages."
"We never purposefully put a child in a cage," Ms Nielsen responded.
At the Adelanto facility, there have been accusations that immigrants are being held without access to medical services, amid growing concern over the number of deaths in ICE custody.
On Monday, the American Civil Liberties Union (ACLU) reported that Adelanto had received about 1,900 Covid-19 test kits but that ICE officials refused to allow the vast majority of them to be used. The non-profit filed a lawsuit against ICE for violating CDC guidelines for custodial institutions, noting that "the refusal to give tests to people who are symptomatic of the virus infection is... medically and morally repugnant".
Last year, the Trump administration awarded billions of dollars in contracts for private companies to operate immigration detention centres in California, just ahead of a state law that was enacted to prohibit them.
California Governor Gavin Newsom had signed a bill in October 2019 to ban contracts for for-profit prisons starting 1 January. Supporters hoped the law would force ICE to look elsewhere after current contracts expire.
A combined $6.8 billion was awarded for California detention facilities including Adelanto. The sites will house about 4,000 detainees, with capacity to expand in the future.
Wires contributed to this report
This report has been updated to include the ICE and GEO response
Join our commenting forum
Join thought-provoking conversations, follow other Independent readers and see their replies