Huge iceberg 'the size of Norfolk' on collision course with British overseas territory of South Georgia
Billions of tonnes of ice could scour seabed and block access to feeding grounds for seals and penguins, scientists warn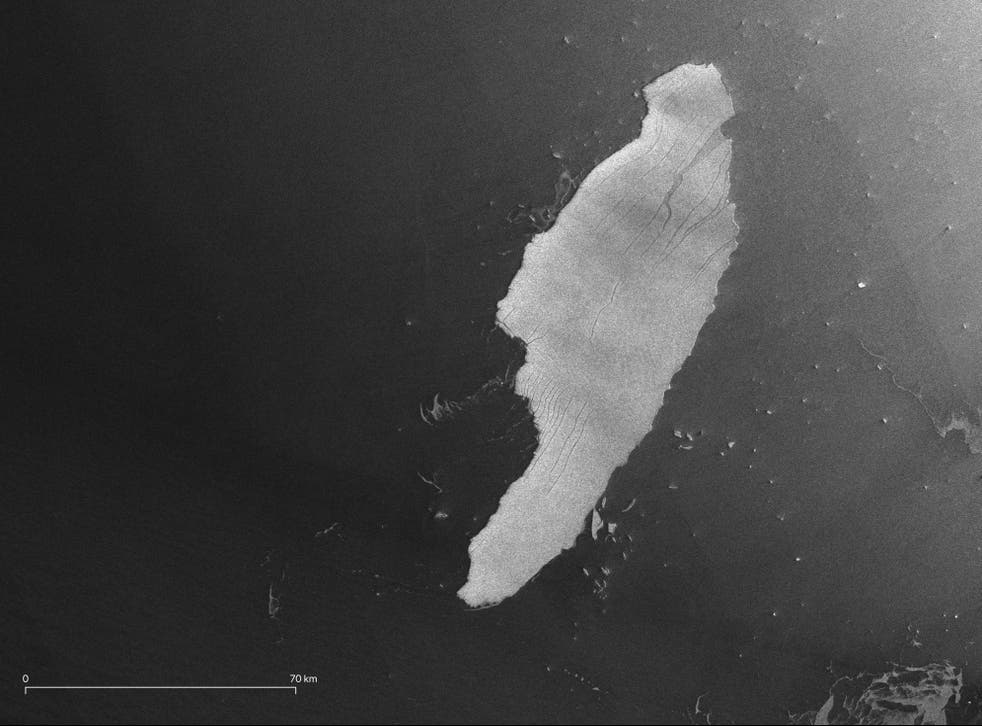 Leer en Español
The world's largest iceberg — a slab weighing billions of tonnes and roughly the size of Norfolk — is bearing down on the British overseas territory of South Georgia in the southern Atlantic Ocean, presenting a major risk to wildlife on the island.
The iceberg, known as A68, has been drifting up "iceberg alley", a well-known current that leads north from Antarctica, since it broke free from the Larsen C ice shelf in the Weddell Sea in mid-2017.
After drifting for over 800 miles, the 93-mile-long and 43-mile-wide piece of ice is now around 300 miles from the coast of South Georgia, which is home to a huge array of wildlife.
Scientists have said there is now a strong chance it could crash into the island, which is about the same size as the iceberg itself.
If this happens, the huge wall of ice will block access to the sea for species such as penguins and seals, which will need to fish to feed their young on land.
The enormous berg would also crush all life on the seabed as it touches down.
In 2004, a previous iceberg, A38, ran aground off South Georgia, leaving huge numbers of dead seal pups and young penguins.
The current iceberg weighs billions of tonnes, and with an estimated submerged depth of just around 200 metres, it could end up running aground right against the coastline.
Andrew Fleming, remote sensing manager at the British Antarctic Survey, told The Independent: "It's not a youngster anymore, it's a good three years old. It's getting quite old in terms of a berg that's drifted off and it's showing some signs of age, but not many — a couple of lumps have come off it, and it'll be a little bit thinner than it started off because it'll have melted at its base. But other than that it's stayed in one piece, which is kind of remarkable for a berg of this size.
"I know it's been compared to the size of Somerset, but I had it closer to Norfolk. But it is about the same size as South Georgia itself, in length, so in terms of whether it reaches and grounds around South Georgia — and that's still up for debate — then when it does get there it's going to be a quite spectacular partner to accompany the island for as long as it remains there."
It is believed the huge iceberg could last for several years, potentially taking up to a decade to melt if it becomes grounded on South Georgia.
This means as well as having a significant impact on wildlife when it first arrives, it could continue to impact animals for several years.
Mr Fleming said: "It's probably weeks away (from South Georgia), but we know that at this time of year it has the potential for interrupting the foraging journeys the penguin and seal parents make when feeding. If there are any barriers or blockages in the way it interrupts the time it takes them to do that, and return the food to their young, and that then can impact the populations and survivability.
"It's not just the impact on the animals that live on the island, but any iceberg grounding is scouring the seafloor. You can see these massive scourings of the sea floor where the keel of the iceberg drags through, and of course, that's not good news for any animals and the so-called benthos [the flora and fauna of the sea floor], it takes a significant time for these species to recover."
There could be risks for humans too, because as the berg drifts, smaller pieces break off, which are harder to monitor and could pose a danger to boats.
"It's shedding thousands of smaller bergs around it," Mr Fleming said. "The satellite image is spectacular. It has one big berg, but looking more closely at it there are thousands and thousands of smaller ones.
"It's potentially more of a shipping risk [than the main iceberg]. Ships are easily able to deal with 160km worth of berg, but what's less obvious is the number of fragments in the water, which is really difficult to see."
Join our new commenting forum
Join thought-provoking conversations, follow other Independent readers and see their replies