Iceland volcano: Could Katla erupt and will another ash cloud disrupt European flights?
Volcanologists at odds over high carbon dioxide emissions from 'highly hazardous' peak that last blew in October 1918
Joe Sommerlad
Monday 24 September 2018 11:12 Comments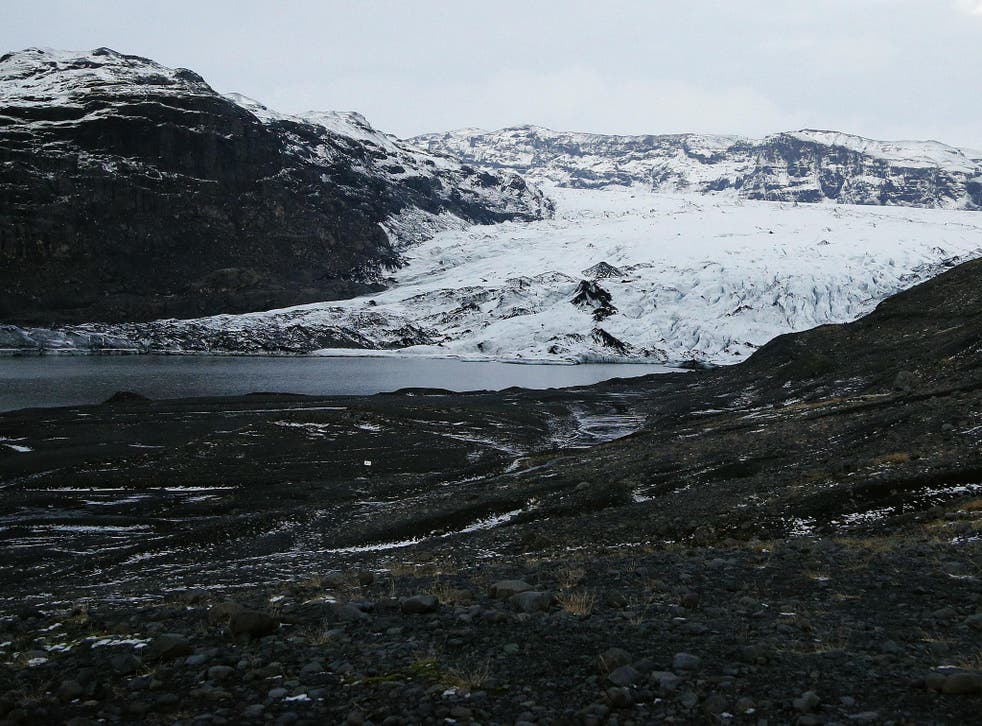 A huge volcano in southern Iceland is belching higher quantities of carbon dioxide (CO2) into the atmosphere than previously thought, prompting scientists to warn it could be about to erupt.
Should Katla do so, it has the potential to dwarf the impact of the nearby Eyjafjallajokull volcano that blew its top in April 2010, creating an ash cloud that grounded flights across Europe and caused chaos in airports around the world.
The eruption caused such widespread disruption to the aviation sector because of the damage small particles of ice and rock in the ash cloud does to aircraft engines.
A British Airways jumbo jet lost power in all four of its engines after flying through a volcanic eruption in Indonesia in 1982.
Volcanologists feared at the time that the Eyjafjallajokul blast could trigger Katla to follow suit, all three prior eruptions from that peak recorded over the last millennia having awakened its more dangerous neighbour.
Katla, its name Icelandic for "kettle", stands 1,512 metres tall but lies partially buried beneath 700 metres of the Myrdalsjokull glacier.
It last erupted in October 1918 and is seemingly long overdue a repeat, having previously been relied upon to do so approximately once every 50 years.
Academics from Leeds University writing in the journal Geophysical Research Letters sparked concern over an imminent eruption with a paper observing that the volcano is currently releasing between 12 and 14 kilotons of CO2 every day, suggesting its magma chambers are filling up.
Volcanic ash cloud from Iceland grounds all UK flights

Show all 11
Observing that Katla is "a globally important source of atmospheric CO2 in spite of being previously assumed to be a minor gas emitter", Evgenia Ilyinskaya and her team suggested the "highly hazardous" landmark accounts for "five per cent of total global volcanic emissions", stressing the "urgent" need for "more accurately quantified... climate assessments".
"There is no way of telling when it will erupt, just that it will," Sarah Barsotti of the Icelandic Meteorological Office told The Sunday Times in the wake of the report's publication.
The extent of possible disruption to air travel "depends on the intensity of the eruption and the direction of the winds at the time," she added.
But geophysics professor Magnus Tumi Gudmundsson of the University of Iceland branded the warning "premature" and suggested more studies are needed into the cause of the intense CO2 emissions, given that insufficient data exists to record what constitutes "normal" levels of the gas for the volcano.
Aerial footage of Icelandic volcano eruption
"It's possible that Katla works as a kind of vent or exhaust channel for gasses that are emitted from magma deep under the southern part of the volcano belt," he suggested in a Facebook post.
For now, the situation is being closely monitored.
The Economist reported last year that Katla could have been to blame for the extraordinary weather conditions that gripped Europe in 822 AD at the height of the Dark Ages, citing research from Cambridge scientist Ulf Buntgen.
World news in pictures

Show all 50
Blizzards – possibly driven by a Katla eruption – blanketed villages in heavy snow while low temperatures froze the Danube, Rhine and Seine. When the snowfall later gave way to hailstorms, plague and famine took hold, prompting French monk Paschasius Radbertus to declare that god was angry with mankind.
Iceland had not yet been settled by the Norsemen then raiding coastal Europe but they too must have endured the conditions and may have believed the snows marked the coming of the Fimbulwinter, which means "great winter", an omen of the Ragnarok – an event in Norse mythology that preludes a rebirth of the world following a major battle and natural disasters.
Register for free to continue reading
Registration is a free and easy way to support our truly independent journalism
By registering, you will also enjoy limited access to Premium articles, exclusive newsletters, commenting, and virtual events with our leading journalists
Already have an account? sign in
Join our new commenting forum
Join thought-provoking conversations, follow other Independent readers and see their replies