Iceland walks out of fishing talks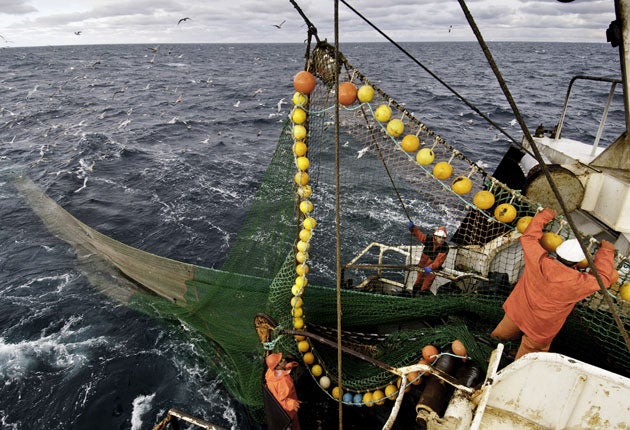 Britain and the EU are on the verge of a trade war with Iceland and the Faroe Islands after talks to agree a quota for fishing mackerel collapsed.
Iceland and the Faroes have set their own vastly increased quotas and walked out of negotiations with the EU which were intended to find a mutually acceptable figure.
In what some observers are already calling "Cod Wars II", EU nations are expected to take retaliatory action to put pressure on Iceland and the Faroes to reduce the quantity of mackerel they catch. The EU has already threatened trade sanctions which could result in a ban on Faroese and Icelandic imports of cod, herring, whiting, haddock and mackerel. Iceland set a 130,000-ton quota this year while the Faroes gave themselves an 85,000-ton quota. The figures are many times bigger than five years ago.
Richard Benyon, the UK's Minister for Natural Environment and Fisheries, said: "The lack of an agreement ... on mackerel is a major threat to the stock's future sustainability and we are considering what actions we can now take to make them see sense."
The row escalated on the eve of the EU Fish Council in Brussels, which starts today, where EU fisheries ministers will set catch quotas for a host of other species for the next year.
Britain faces a further problem on the quotas because it has been claimed in a study by the the Pew Environment Group that the three-quarters of UK fishermen who use boats which are less than 10 metres (33ft) long– many of them an environmentally friendly alternative to trawlers – are being illegally denied their fair share of the quota. This is because the quotas are distributed on behalf of the UK Government by Fishing Producer Organisations (FPOs) whose members sail mainly in bigger boats.
Thomas Appleby, a senior law lecturer at the University of the West of England, claimed the Government has no legal right to pass distribution rights to FPOs. "Aspects of the current quota system are open to judicial challenge on the grounds of the illegality of the current arrangements," he said.
He said the delegation to the FPOs of statutory responsibility for handing out quotas is questionable in law because legislation was never created to allow them the role, and argued that the quota-distribution system is leading to the privatisation of the seas when they should be a publicly owned resource. They cannot, he said, be privatised without the enactment of a law specifically allowing it, a move the Government has not taken.
Join our commenting forum
Join thought-provoking conversations, follow other Independent readers and see their replies