I'm a Celebrity: What other non-native species threaten UK wildlife?
As police probe the ITV series for bringing exotic bugs into the UK, other animals and plants are already causing a nuisance for Britain's native wildlife
Harry Cockburn
Wednesday 25 November 2020 19:37 Comments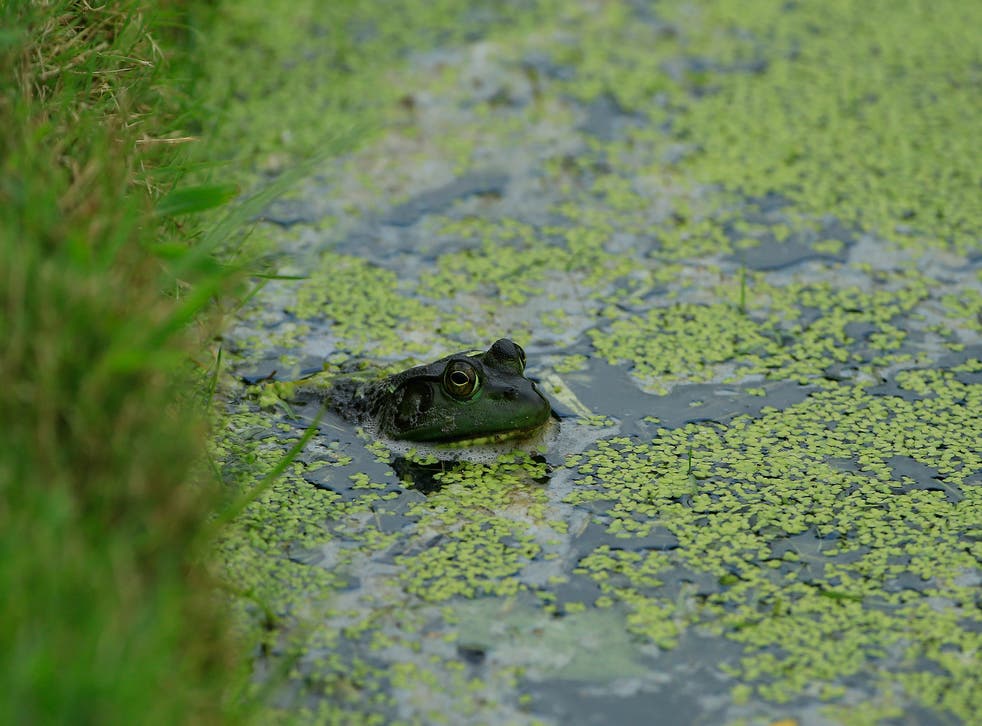 Unable to reach the Australian rainforests of New South Wales due to Covid-19 restrictions, this year's series of ITV's I'm a Celebrity… Get Me Out of Here! has relocated to the rainy forests of old North Wales in the UK.
The contestants are being put to task in the salubrious grounds of Gwrych Castle — a stately pile near Conwy on the Welsh north coast, overlooking the Irish Sea.
But without the exotic animals and insects required to make this year's celebrities squirm and squeal for viewers, the creatures — for which less stringent international travel rules seem to apply — have been flown in from abroad.
This has resulted in the programme being investigated by police amid fears a dangerous army of invasive creatures could be inadvertedly set loose in Wales if they were to wriggle free.
Complaints have been made against the programme following concerns that the bugs used for the ITV show's bushtucker trials could threaten the estate surrounding Gwrych Castle.
The 20th series of I'm a Celebrity… has brought in live animals for entertainment including spiders, maggots and cockroaches, all of which are not native to the area.
BBC Springwatch presenter and naturalist Iolo Williams — who is Welsh — has described bringing these animals to Wales to excite TV audiences as "madness".
"I'm not being a killjoy here," he told The Guardian. "Why not use fish guts, or offal?"
If the police find that the show has released non-native wildlife into the surrounding area, producers could have breached the Wildlife and Countryside Act as ITV did not apply for a licence to do so.
Were they to escape, the creatures here would join a long list of invasive species already present in the UK — some of which are doing damage to the natural environment.
Grey squirrel
Perhaps the most famous invasive species to conquer our land, the grey squirrel is a ruthless generalist, able to survive and thrive in almost any scenario. This interloper, brought over from North America only in around 1890, out-competes the smaller native red squirrel and also carries a virus fatal to them.
Red-necked Wallaby
Hailing from Australia, the red necked wallaby has hopped quite some distance, and now lives as a feral species across the UK — though it is not yet clear if they are breeding.
The pint-sized kangaroos are believed to have escaped various zoos during the 20th century and have been reported hopping all over the country, from Cornwall to Norfolk, and even up in Scotland.
Pheasant
Around 50 million non-native pheasants are reared and released into the British countryside every year - to be shot at for entertainment. The species is native to Asia, and was introduced into Europe by the Romans. It is thought they first arrived in the UK with the Normans in the 11th century, however, it then became largely forgotten and was locally extinct up until the 19th century, when their popularity as a game bird surged.
Wildlife experts have warned the huge numbers of pheasants pose a threat to native UK species including adders and lizards, and that they also provide new prey opportunities for foxes and crows.
Asian hornet
These unwanted visitors pose "a significant threat to the UK's wildlife", according to the RSPB, which urges the public to report any sightings to the relevant authorities.
Asian hornets were inadvertently brought to France in 2004, most likely in a shipment of goods imported from east Asia. It has since spread rapidly and is moving into adjoining countries.
The species is a particular threat to bees.
North American bullfrog
The North American bullfrog is a massive frog from North America which has successfully bred in the wild in the UK since the 1990s. These enormous aliens are a significant threat to native amphibians they won't hesitate to wolf down native frogs and toads, and sightings should be reported immediately.
I'm a North American bullfrog, get me out of here!
Black bullhead fish
This fishy customer originally comes from North America. It is a small catfish which only grows to 20cm, but it can reach huge densities.
They are perfectly adapted to 21st century Britain as they thrive in poor water quality, are able to survive temperatures up to 35C with low oxygen. They have a broad diet, including native fish, guards its eggs, and is covered in sharp spines. It also carries novel parasites and diseases.
Little owl
The haughty-looking bag of fluff that is the little owl was introduced to Britain at the end of the nineteenth century. According to the RSPB, data suggests little owl numbers are declining, with the UK population estimated to be down by 24 per cent between 1995 and 2008. They eat insects and worms, and aren't a big problem here.
Ring-necked parakeets
The well-worn urban myth is that legendary axe-slinger Jimi Hendrix released the first pair of ring-necked parakeets. Whatever happened, since the late 1960s when captive birds either escaped or released by someone, it has become the UK's most abundant naturalised parrot.
It is still early days in being able to see their ecological impact, but the RSPB has raised concerns about their potential impact on native bird species such as woodpeckers, starlings and nuthatches, and has called for them to be monitored.
Japanese knotweed
It's not just jumping and wriggling creatures we have to worry about - non-native plants are also gate-crashing the ecological party here in Britain - and Japanese knotweed is one of the most pernicious weeds to ever grow roots in the UK.
It is particularly difficult to eradicate as it reproduces from tiny fragments, so any soil contaminated with Japanese knotweed must be disposed of at registered sites to prevent its spread. It can impact construction materials such as brickwork, tarmac and concrete, the Royal Horticultural Society warns.
Register for free to continue reading
Registration is a free and easy way to support our truly independent journalism
By registering, you will also enjoy limited access to Premium articles, exclusive newsletters, commenting, and virtual events with our leading journalists
Already have an account? sign in
Join our new commenting forum
Join thought-provoking conversations, follow other Independent readers and see their replies