India floods: At least 157 dead and hundreds of thousands evacuated as monsoon lashes region
Seasonal rainfall batter Indian states as scientists sound alarm about climate change impact on extreme weather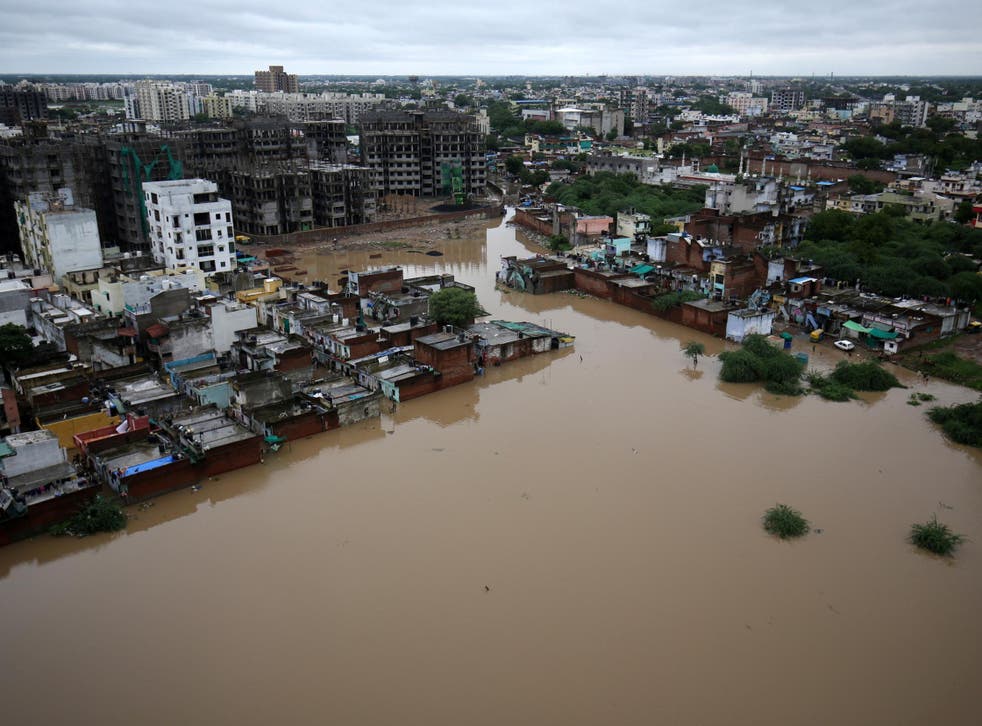 At least 157 people died after the monsoon caused flooding and landslides in the Indian states of Kerala, Karnataka and Maharashtra, according to state authorities.
While the rains temporarily eased on Monday, hundreds of thousands of people remained in relief camps after being evacuated over the weekend.
The water inundated more than a thousand villages and parts of a world heritage site, destroying bridges and causing dams to reach their full capacity.
Authorities cancelled train services in several flood-hit areas, while key highways and roads were damaged or cut off by the flood.
The monsoon, or summer rainy season, hits India, China and southeast Asia every year between June and September, affecting the lives of over a third of the world's population.
In India, it accounts for nearly 80 per cent of the year's rainfall, providing a lifeline for agriculture and drinking water stocks but also routinely bringing death and devastation.
The five-year period to 2018 was the hottest ever recorded, and extreme weather and wildfires are on the rise
In the southern state of Kerala, at least 57 people died in rain-related incidents, authorities said on Sunday, while some 165,000 people were taken to over 1,300 relief camps throughout the state.
"Several houses are still covered under 10-12 feet deep mud. This is hampering rescue work," state chief minister Pinarayi Vijayan said.
Authorities worried that rescue operations would be hit by thunderstorms and rainfall predicted in some parts of Kerala.
The state's busiest airport, Cochin International Airport, closed briefly between Friday and Sunday as the taxiway was water-logged.
Last year, more than 200 people were killed and over five million affected in one of Kerala's worst floods in 100 years. Some residents said the sudden opening of dam gates without proper warnings to those living downstream was a big factor in the devastation.
In neighbouring Karnataka, home to the tech hub of Bengaluru, at least 60 people have died so far, according to chief minister B S Yediyurappa, while another 227,000 were staying in relief camps.
Several structures were submerged at the world heritage site of Hampi, the ancient capital of the Vijayanagara Empire in the 14th century. Authorities evacuated some 200 tourists, including some foreigners, after hotels failed to heed warnings and continued to welcome tourists, according to The Times of India.
In Maharashtra, the state of India's financial capital Mumbai, at least 40 people died since last week while 14 others were missing and some 327,000 were evacuated to relief camps.
Authorities said it would be difficult to restore rail services in some flood-hit areas within the next two weeks.
While this year's total rainfall has been "absolutely average" for the monsoon season, some climate scientists have warned that climate change might be reshaping monsoon patterns, increasing the likelihood of extreme weather events like droughts and heavy rains.
"Mean rainfall is decreasing, but extreme events are becoming more intense," said Kieran Hunt, Research Scientist in Tropical Meteorology at the University of Reading.
"This is because as the climate warms, the atmosphere is able to hold more moisture," he said.
Mr Hunt cited the Kerala floods as an example: "The three worst floods in Kerala occurred in 1924, 2018, and 2019," he said. "In other words, a 1-in-100 years flood has occurred two years in a row."
"Irregular monsoon has become the new norm for India," Roxy Mathew Koll, a climate scientist at the Indian Institute of Tropical Meteorology, told The Independent.
"This year, the monsoon was severely deficit (35 per cent) during June, which was followed by heavy rain events in July and August.
"This is an emerging pattern for India's monsoon: increasing droughts intermittent with heavy rainfall events."
Mr Koll said that extreme rainfall events in India have tripled between 1950 and 2018, with many resulting in devastating floods. He put the damages at about US $3 billion (£2.5bn) per year.
While Karnataka, Kerala and Maharashtra have been the worst hit this year, several other states including Gujarat, Assam and Bihar have also seen heavy damage due to floods.
The opposition Congress party saying that 446 people had died in rain-related events so far this year, citing media reports.
Flood conditions were improving everywhere, but the Indian Meteorological Department is forecasting more heavy rainfall over parts of the country.
Support free-thinking journalism and attend Independent events
Monsoon rains have also inundated much of Pakistan, leaving large parts of the southern city of Karachi under water and causing at least 17 deaths as of Sunday.
Additional reporting by AP and Reuters
Join our new commenting forum
Join thought-provoking conversations, follow other Independent readers and see their replies