Farmer suicides soar in India as deadly heatwave hits 51 degrees Celsius
Sweltering country seeks the relief of the monsoon, but this year's downpour could be up to 11 days late as officials blame climate change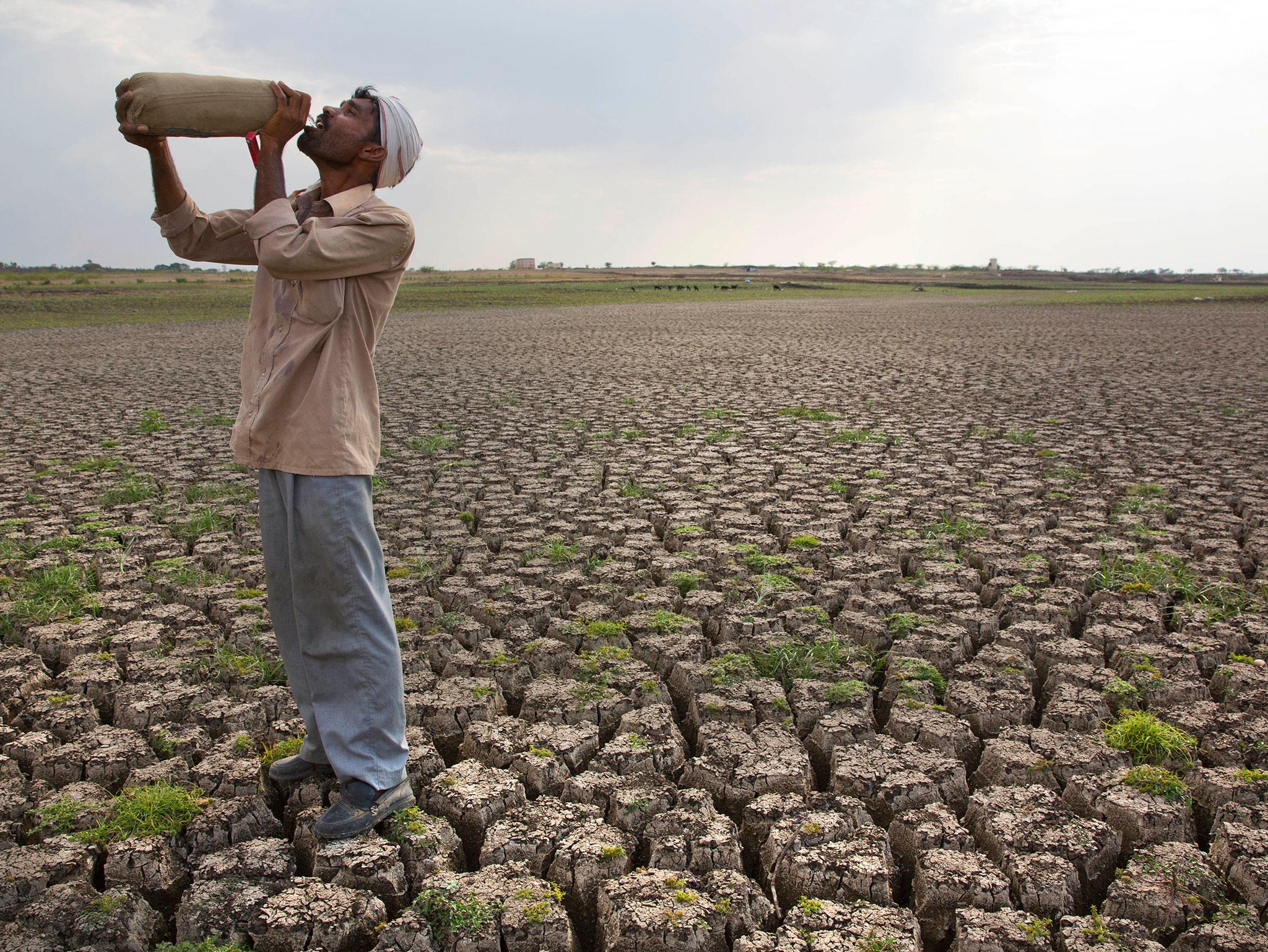 India has set a new record for its highest-ever recorded temperature – a searing 51 degrees Celsius or 123.8F – amid a devastating heatwave that has ravaged much of the country for weeks.
Hundreds of people have died as crops have withered in the fields in more than 13 states, forcing tens of thousands of small farmers to abandon their land and move into the cities.Others have killed themselves rather than go to live in urban shanty towns.
Rivers, lakes and dams have dried up in many parts of the western states of Rajasthan, Maharashtra and Gujarat.
India's previous record high was 50.6C (123 F), which was set in 1956 in the city of Alwar, also in Rajasthan. The world record temperature is 56.7C, which was recorded in July 1913, in Death Valley, California. Human body temperature is normally 37C.
The India Meteorological Department (IMD) warned that heatwave conditions were expected to continue for much of the next week in parts of central and north-west India, interspersed with dust and thunder storms in places.
Dr Laxman Singh Rathore, the IMD's director general, firmly pinned the blame for the rising temperatures on climate change, noting the trend dated back about 15 years.
"It has been observed that since 2001, places in northern India, especially in Rajasthan, are witnessing a rising temperature trend every year," he said in a statement.
"The main reason is the excessive use of energy and emission of carbon dioxide.
"Factors like urbanization and industrialization too have added to the global warming phenomenon. I think similar trend would be maintained in Rajasthan in coming days."
In the latest deaths from the heat, a 60-year-old woman being treated in a hospital ward set up for heatstroke victims in Baran, Rajasthan, died from the condition on Thursday, according to the Pradesh18.com news website.
It also said a 27-year-old woman had died from suspected heatstroke while travelling to Kanwarpura, Bundi.
Mansions burn in California wildfires
Show all 7
But the Indian Express newspaper reported that more than 400 farmers in the Marathwada region of Maharashtra alone had taken their own lives this year.
Kishore Tiwari, who runs a government-backed mission to help farmers, told the paper: "We have launched a number of schemes to halt the suicides of farmers in Marathwada and other parts of the state.
"Among the plans includes Food Security Act, critical illness, waiver of fees, counselling for farmers as also vigorous implementation of crop insurance. Since farmer suicides are growing, it is clear that our effort will take time to yield results."
The city of Latur in Marathwada is currently being supplied with water by a train.
Dubbed the Jaldoot or 'Messenger of Water', the train has been bringing millions of litres of water to the city every night since April.
Ashok Balunke, a farmer in the region, said: "It's an extremely bad situation.
"There's absolutely no water. The water dried up in January."
The country is awaiting the arrival of the much needed rainfall and cooler temperatures brought by the annual monsoon, which normally arrives at Kerala on 1 June.
However it has been several days late three times over the past five years. In 2011, it came on 29 May, but last year it was delayed until 5 June.
The IMD's forecast is that it will be even later this year, arriving in Kerala on 7 June, although they have given a margin of error of four days before or four days after this date.
Last year, a heatwave killed about 2,500 people with the country hit by temperatures of 47C.
At the time, Government minister Harsh Vardhan said; "Let us not fool ourselves that there is no connection between the unusual number of deaths from the ongoing heat wave and the certainty of another failed monsoon. It's not just an unusually hot summer, it is climate change."
The Associated Press contributed to this report
Join our commenting forum
Join thought-provoking conversations, follow other Independent readers and see their replies