Pollution crisis in India's cities causing reverse urbanisation as workers flee to countryside
By 2030, around half of India's population are expected to have moved to towns and cities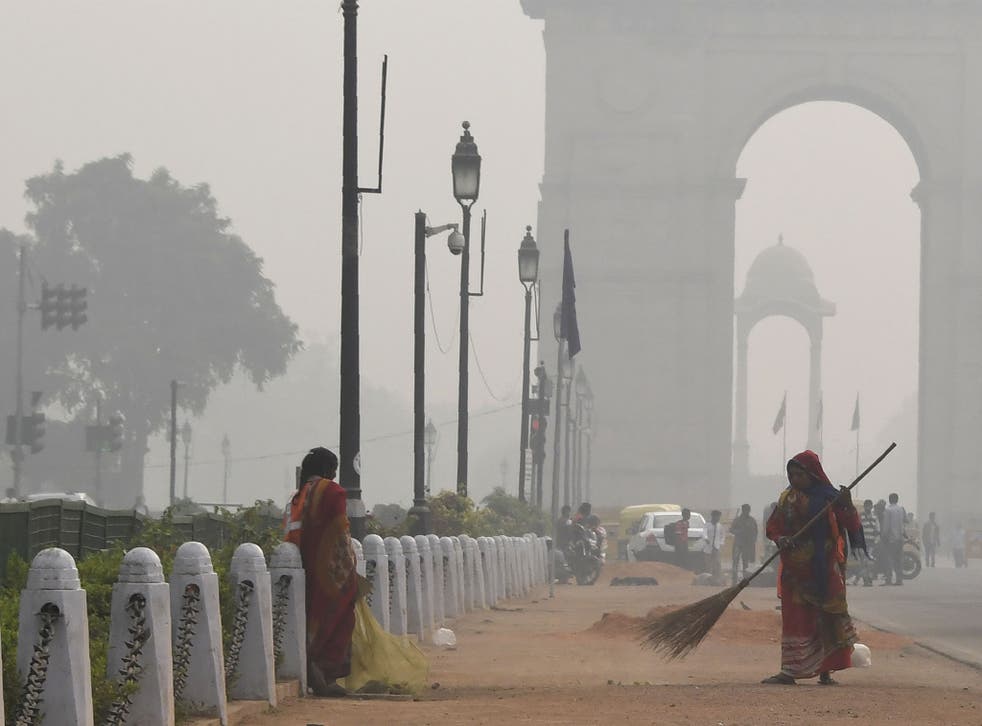 Toxic smog in some of India's most populated cities is forcing workers to flee to the countryside in an unexpected demographic shift that could reverse a decades-old trend of urbanisation.
In the capital, Delhi, poisonous microscopic particles have spiked to 75 times the level considered safe by the World Health Organisation (WHO).
The pollution – equivalent to smoking 40 cigarettes a day – has triggered a public health crisis which is now pushing some to migrate away from urban areas.
Delhi is now considered the most polluted city in the world, according to the Brookings Institute, while at least two-and-a-half million premature deaths are blamed on poor air quality across the country as a whole.
Meanwhile, the pace of urbanisation in India is growing twice as fast as China, with more than 10 million people migrating to cities and towns each year.
By 2030, around half of India's population – or 590 million people – are expected to have moved to urban areas.
But the mounting public health crisis suggests there could be a small but significant number of people bucking that trend.
One high profile departure from Delhi is Costa Rica's ambassador, Mariela Cruz Alvarez, who has moved to the southern Indian state of Karnataka to avoid the smog.
Others are following suit, including rural farmers who had moved to the city to take up domestic work including driving and cleaning.
Thick smog engulfs New Delhi as air pollution peaks in the city

Show all 10
India's current pollution crisis will barely dent the huge number of urbanising Indians, but Anumita Roychowdhury, executive director at the Centre for Science and Environment, said India's template for urbanisation "needs changing".
"Air pollution is a huge issue, but it is a myth that only big cities are polluted; pollution levels are rising in smaller cities, too. So where can you run away to?" she told the Thomson Reuters Foundation.
Vinod Kumar, who moved to Chennai from a village in southern Tamil Nadu, said he planned to return to take up organic farming on the family land.
"It's only now that I realise how lucky we were in the village to have clean air and clean water, and not be ill from pollution all the time," he said.
According to WHO measures in 2016, based on PM2.5 levels 9 Indian cities are among the world's 20 most polluted cities.
Dr Ruth Kattumuri, co-director of the India Observatory at the London School of Economics, told The Independent congested air in cities was forcing some to relocate.
But she added that there were other push and pull factors, including "not being able to access adequate economic opportunities in cities due to any limitations based on their skill levels; not having access to the quality of life they expected; and social and familial ties and commitments".
India's Prime Minister, Narendra Modi, has touted urbanisation as an "opportunity" not a "problem" for India's rural communities.
"If anything has the potential to mitigate poverty it is our cities," he said last year. "That is why people from poor places migrate to cities, as they find opportunities there."
But there has been criticism of the government for failing to tackle the pollution problem, which has been worsened by a combination of crop burning, construction dust and exhaust fumes.
Authorities have been taking measures to mitigate the immediate crisis, including temporarily closing schools, stopping most trucks from entering Delhi and banning crop burning in and around the capital.
But the government put off a decision for rationing car usage and the limited measures currently employed don't address the root causes.
Ms Roychowdhury said the city's pollution had been trapped this week by a lack of wind at ground level, colliding winds in the upper atmosphere, and cooling temperatures.
Air quality typically gets worse at this time of year as nearby farmers burn fields and people build street fires to keep warm.
India bans diesel taxis in New Delhi to clean up air
The conditions this week prompted the capital's top elected official, Arvind Kejriwal, to describe Delhi as a "gas chamber".
Even a slight slowdown in migration to cities could ease pressure on housing, public services and infrastructure such as electricity, internet and transport.
It could also prompt authorities to reassess India's demographics as it prepares to overtake China as the most populous country.
Additional reporting Thomson Reuters Foundation
Join our new commenting forum
Join thought-provoking conversations, follow other Independent readers and see their replies