'Forests are our home': How indigenous land defenders are fighting the climate crisis
As a UN report highlights the role native communities can play in tackling deforestation, Daisy Dunne speaks to indigenous leaders from across Central and South America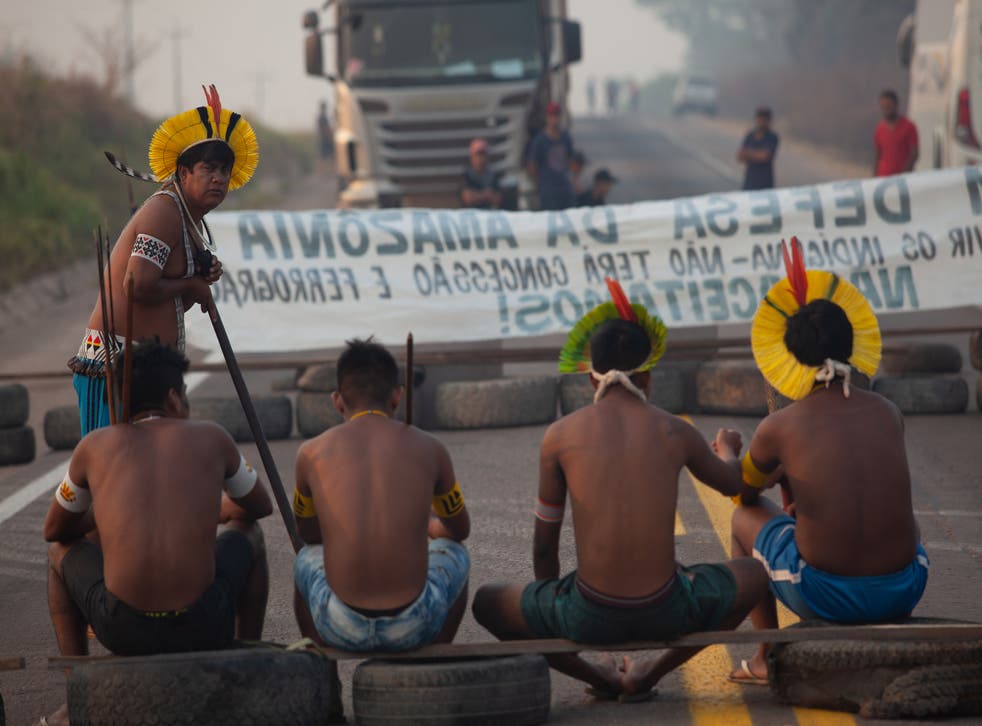 Leer en Español
Indigenous leaders in Latin America and the Caribbean protect around an eighth of all of the carbon stored by tropical rainforests across the world.
That is one of the findings of a UN review published on Thursday, which draws on more than 300 scientific studies that examine the role that indigenous peoples play in protecting forests across the region.
Tropical forests are a vital carbon store – and their ongoing destruction accounts for around 8 per cent of all human-caused CO2 emissions.
The review highlights that, across almost every country in Latin America and the Caribbean, rates of deforestation are lower on land where the rights of indigenous peoples are protected than in areas where they are not.
One research paper included in the review found that, between 2000 and 2012, deforestation rates outside protected indigenous territories were 2.8 times higher than in protected areas in Bolivia, 2.5 times higher in Brazil and two times higher in Colombia.
Read more:
But indigenous peoples continue to face threats to their way of life, the report says. It cites research finding that 232 indigenous community leaders were killed in the Amazon basin region between 2015 and the first half of 2019 as a result of "disputes over land and natural resources".
Indigenous groups in Latin America are also increasingly feeling the impacts of the climate crisis, leaders from Costa Rica, Nicaragua and Venezuela tell The Independent – despite being among the world's smallest greenhouse gas emitters.
'Forests are our home'
Cecilia Rivas is the leader of the Kariña indigenous people, who live in the Imataca Forest Reserve – Venezuela's largest tropical forest.
"Forests are our home," she tells The Independent. "The Kariña live in freedom with nature. We respect it because it gives us everything we need – food, shelter and medicine.
"The Kariña do not take from nature more than we need in order to live from day to day. We are the ones who must take care of the forests because we understand the jungle."
Despite being a protected area, the Imataca Forest Reserve faces ongoing threats from illegal logging and mining operations, she says.
"The private companies left the forest destroyed, they turned it into 'Rastrojos' – sites where machines destroy all the trees and leave them abandoned, where nothing can regenerate itself anymore."
With support from the Venezuelan government and the UN's Food and Agricultural Organization (FAO), Cecilia is leading a female-fronted sustainable forest management project to help restore degraded forest in the reserve.
"Since this forest management project has worked with us, the situation has changed," she says.
"It is women who participate the most. They are the ones who tend the nurseries, collect the seeds, plant the fruit and forest trees, which are used for food and also to regenerate our forests."
Despite contributing little to global emissions, her community is already feeling the impacts of the climate crisis, she says.
"Our indigenous forest company 'Tukupu' is named after a small fish that was once abundant in the rivers of the Imataca Forest Reserve. Today, those rivers have been drying up and that fish is no longer so abundant. That may be an example of how climate change affects us."
She hopes that political leaders will do more to include the perspectives of indigenous peoples in high-level climate and environmental negotiations.
"They must listen to us," she says. "Before taking any steps, the voice of the indigenous peoples who live in the forests must be taken into account.
"Together we can recover our home, which is the forests – because they are not only the home of the Kariña indigenous people, but everyone else's as well."
'The climate is so different now'
Levi Sucre Romero is a leader of the Bribri indigenous peoples of Costa Rica and president of the Mesoamerican Alliance of Peoples and Forests.
"We have been raising our voices about how indigenous cosmovision [cosmic worldview] is the basis for the protection of forests in the face of global warming and biodiversity loss, and now the pandemic," he tells The Independent.
"We have the knowledge of how to use natural resources and forests without being predators of these resources."
Remaining forests across Mesoamerica – a region comprising the modern-day countries of Mexico, Guatemala, Honduras, Belize, El Salvador, Nicaragua, and Costa Rica – face ongoing threats from agricultural conversion, logging by companies and deforestation by criminal organisations, he says.
"We are fighting the criminalisation of leaders who are protecting the forests," he adds. "In order to do so, we have to come face to face with transnational companies, political leaders and other interests – and this becomes very dangerous."
His community lives in southern Costa Rica's La Amistad International Park, Central America's largest nature reserve. Despite their remoteness, they are already feeling the impacts of the climate crisis, he says.
"I think all of the planet is suffering these effects and indigenous peoples don't escape that," he says.
"There are some traditional practices that we can no longer do. One of these is traditional fishing. Another is the production of beans. The climate is so different now that we can't produce them like we used to."
'We cannot be very optimistic'
Dr Myrna Cunnigham is a physician and indigenous rights activist who leads the Fund for the Development of the Indigenous Peoples of Latin America and the Caribbean based in Nicaragua.
"We do believe, as indigenous peoples, that we are paying a very high cost because of climate change," she tells The Independent.
"I live on the east coast of Nicaragua. Our communities were devastated in December because of two hurricanes – 15 days between one and the other. It's also a region that has been impacted a lot because of deforestation."
Dr Cunnigham is a co-author of the scientific review examining the role that indigenous peoples play in protecting tropical forests.
"The report comes at a very important moment when the world is looking to emerge from the pandemic in a sustainable way, and to really accomplish its climate change goals," she says.
"It highlights some of the things that we have been saying as indigenous peoples. It highlights the fact that in the areas where indigenous peoples have no control over the forest, there's more deforestation and more problems."
The report lays out "concrete" recommendations for how governments and NGOs can support indigenous peoples and therefore reduce deforestation, she says.
"[They must] recognise indigenous peoples' collective rights over territories, recognise their traditional knowledge and support their traditional ways in which they have managed the forest – and offer compensation for the ecosystem services provided by indigenous peoples."
She adds that indigenous communities needed to see "more than lip service" from the world's politicians when it comes to enhancing their rights.
"We cannot be very optimistic," she says. "These are very difficult times. But what we see as indigenous peoples is that there are opportunities for governments and institutions that have not listened to us until now to try to do something.
"The fact that [this report] documents what indigenous peoples have been saying and shows that it's not something we're inventing, it's something that has been documented in more than 300 scientific papers, we believe that's important – and maybe we will have more opportunities than before."
Both Cecilia Rivas and Levi Sucre Romero were interviewed using translators.
Register for free to continue reading
Registration is a free and easy way to support our truly independent journalism
By registering, you will also enjoy limited access to Premium articles, exclusive newsletters, commenting, and virtual events with our leading journalists
Already have an account? sign in
Register for free to continue reading
Registration is a free and easy way to support our truly independent journalism
By registering, you will also enjoy limited access to Premium articles, exclusive newsletters, commenting, and virtual events with our leading journalists
Already have an account? sign in
Join our new commenting forum
Join thought-provoking conversations, follow other Independent readers and see their replies