El Nino weather phenomenon causes Indonesia fires to generate more emissions in one day than entire US economy, study finds
Indonesia's gigantic fires are making global warming much worse
Adam Leyland
Tuesday 20 October 2015 21:36 Comments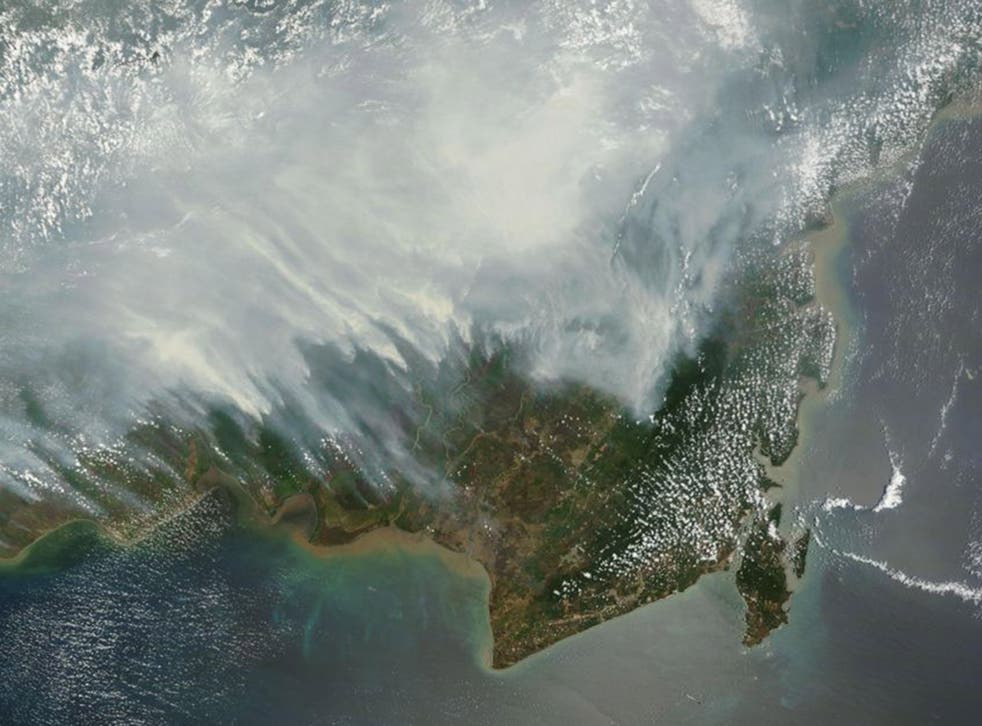 Fires engulfing Indonesia have been emitting more emissions in one day than is generated from all US economic activity, according to new figures.
The fires are often deliberately lit by companies using slash-and-burn techniques to make land suitable mostly for palm oil, paper and other agricultural industries. Blazes can then quickly spread miles from where they were started.
More than half of Indonesia's fires this year have occurred in tropical peatland areas, concentrated mainly in Papua, south Sumatra, south and central Kalimantan (on Borneo), according to the World Resources Institute, citing data from Global Forest Watch Fires.
On 26 days from the period between 1 September and 14 October, the country's daily emissions surpassed those of the entire US, according to estimates released by University of Amsterdam professor Guido Van der Werf on the Global Fire Emissions Database.
The study suggests that there have been nearly 100,000 active fire detections in Indonesia so far in 2015. The main 'fire season' occurs between August and October.
Writing on the Global Fire Data website, Mr van der Werf said that on 21 October emissions would surpass 2006 levels, one of the country's worst years for fires and carbon emissions.
The current outbreak is being exacerbated by the El Nino weather phenomenon which has led to a dramatic increase in temperature and dry conditions, creating extreme drought and crop losses.
The onset of the country's wet season will ultimately extinguish the fires, but analysts are unsure as to what extent the current El Nino weather conditions, the name given to above-average temperatures in the Pacific Ocean, will delay the wet weather.
Peatland fires are particularly problematic as they produce enormous plumes of smoke, are hard to extinguish; and produce 10 times more methane – which is in itself more 21 times more potent than carbon dioxide – when compared with other types of fires on land.
In addition, the peatland areas store some of the highest quantities of carbon on Earth, which have collected over thousands of years.
Therefore, burning peat for agricultural expansions leads to large spikes in greenhouse gasses, and can be more than 200 times greater than fires on other lands.
Nasa recently warned that the smog created by the fires could be the worst on record, and have prompted calls from nearby countries to control the blazes.
Speaking to the Independent, University of Amsterdam professor Guido Van der Werf said: "These fires are emitting a lot of greenhouse gases.
"Total emissions up to now exceed Japan's emissions but keep in mind that this is an event that happens once every 10 years or so while fossil fuel emissions are being added continuously. So that put things in perspective.
"Yes, emissions from these fires are huge, but global fossil fuel emissions are much higher. Normally the fire season ends around this time but due to the El Nino it may last through at least November."
Earlier this year Indonesia dispatched 20,000 troops to Sumatra and the country's Kalmantan territory on Borneo, two of the areas most affected by the recent fires. Despite water-bombing, chemically-induced rainfall techniques and other efforts, the fires have failed to be kept under control.
In September, Indonesia released a draft of its new climate plan, entitled 'National Determined Contribution'. The report calls for at least a 29 per cent reduction in emissions by 2030 and up to 41 reductions with international assistance.
However, the plans were cast into doubt after Indonesia and Malaysia recently confirmed they were planning to establish a palm-oil cartel, which they argue will keep prices stable and develop the industry, Quartz reported.
Register for free to continue reading
Registration is a free and easy way to support our truly independent journalism
By registering, you will also enjoy limited access to Premium articles, exclusive newsletters, commenting, and virtual events with our leading journalists
Already have an account? sign in
Join our new commenting forum
Join thought-provoking conversations, follow other Independent readers and see their replies