Innocent Drinks accused of 'greenwashing' after watchdog bans 'misleading' climate advert
Adverts implied buying firm's products 'would have a positive environmental impact when that was not the case', Advertising Standards Authority says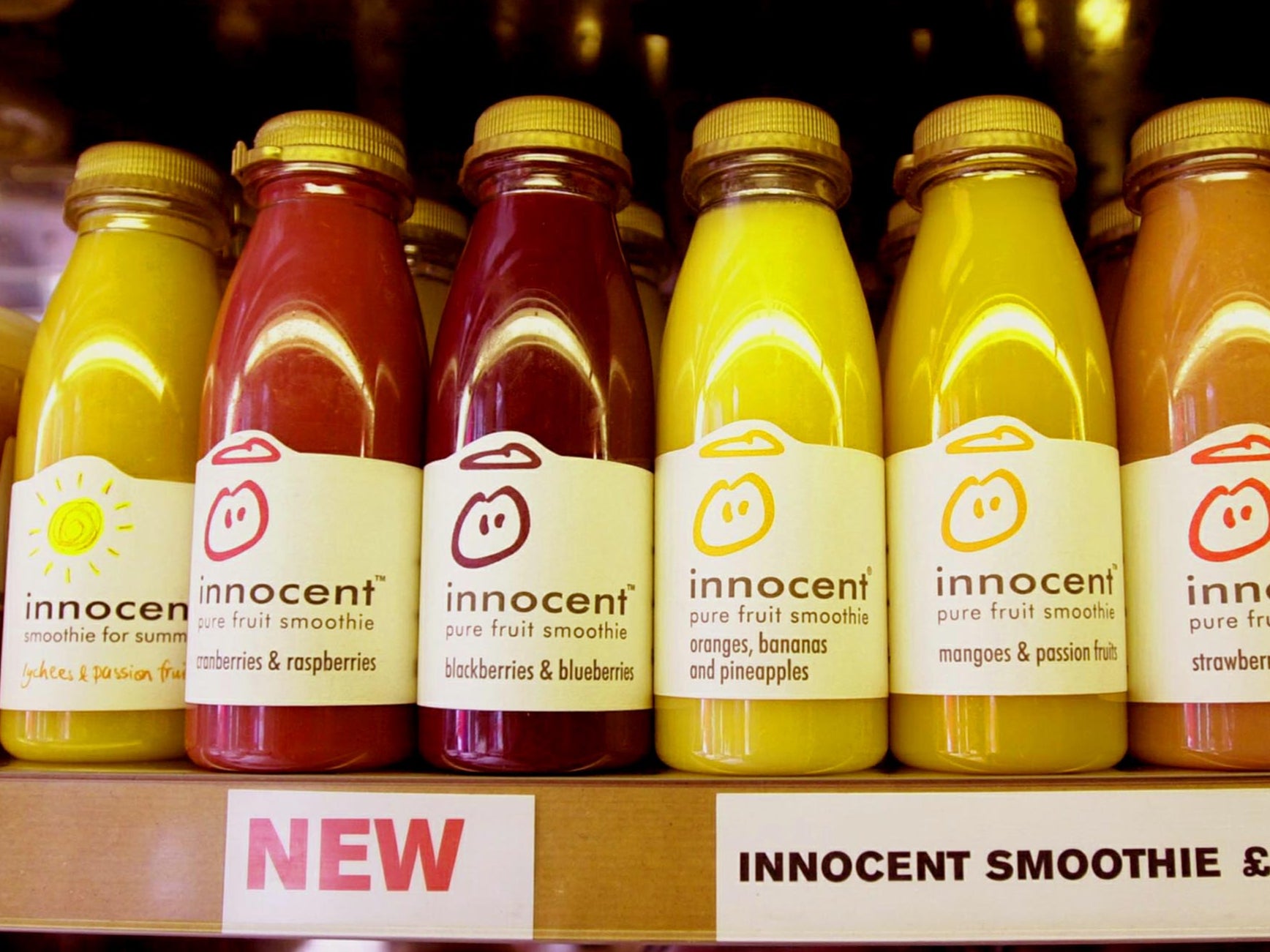 Innocent Drinks has been accused of "greenwashing", after the UK's advertising watchdog banned an advert encouraging consumers to "get fixing up the planet" by choosing their products.
Concluding its investigation, launched after dozens of complaints, the Advertising Standards Authority (ASA) ruled on Wednesday that the advert was "misleading".
The watchdog acknowledged that Innocent were undertaking various actions aimed at reducing the environmental impact of their products, which include a commitment to being carbon neutral by 2030 and an aim to recycle 70 per cent of their bottles by 2023.
But this "did not demonstrate that their products had a net positive environmental impact over their full lifecycles", the ASA said.
"Because the ads implied that purchasing Innocent products was a choice which would have a positive environmental impact when that was not the case, we concluded that the ads were misleading," the watchdog added.
In the adverts – made for TV, YouTube and video on demand – animated characters sang the lyrics: "We're messing up the planet. We're messing up real good", against a backdrop of buildings and vehicles expelling pollutants, litter and dirty rivers.
An otter then produces a guitar and continues: "OK, let's try this instead", then sings: "Let's get fixing up the planet. Fix it up real good", as the background changes to a greener, brighter colour scheme with images of trees being planted.
Accompanied by images of people relaxing in a lush green environment, with many of them alongside bottles of Innocent drinks, the song concludes: "Reduce. Re-use. Recycle. Because there is no planet B. If we're looking after nature she'll be looking after me."
At the end of the ad, a voice-over states: "Innocent. Little drinks with big dreams for a healthier planet."
Innocent, which is owned by Coca-Cola – ranked consistently by campaigners as the world's top plastic polluter – had argued that the ads did not suggest buying the products themselves would lead to a positive environmental impact, but were rather a statement about its wider environmental goals.
Innocent said it was "disappointed" to see the ruling from the ASA, and claimed that upholding the complaints could stifle other brands and manufacturers from taking steps towards and communicating positive environmental actions they were taking.
"Our advert was always intended to highlight important global environmental issues and the need for collective action to make a change. We transparently share more about the work that we do on sustainability on our website," it said.
"As with any new guidelines, we'd like to work with the ASA and other brands to understand how to align to them to continue the conversation on these important topics."
The advert drew 26 complaints, including from an individual representing the protest group Plastics Rebellion.
Having demanded in June 2021 that Innocent immediately take down and publicly apologise for the advert – which it alleged constituted "greenwashing" – Plastics Rebellion then went on to stage a sit-in outside the company's Fruit Towers headquarters later that month.
Six members of the group were arrested on suspicion of aggravated trespass and intent to cause criminal damage, the group said, adding that no damage was caused and no further action was taken.
In response to watchdog's ruling, Plastics Rebellion said: "Innocent are being disingenuous about the dangers of plastic's threat to human health and environment, as well as trivialising the horrific scale of the problem by repeating the mantra, 'reduce, reuse, recycle'."
It added: "The truth is that the lifecycle of plastic is more carbon intense than aviation; incineration and chemical recycling are toxic; microplastics in the sea and air are a threat to human and animal health; recycling only happens 9 per cent of the time, much plastic waste is still landfilled which is unsustainable – and anyone involved with profiting from plastic knows this."
On Tuesday, a major new report found that global plastic waste has more than doubled since the turn of the century, hitting 353 million tonnes last year.
"After taking into account losses during recycling, only nine percent of plastic waste was ultimately recycled, while 19 per cent was incinerated and almost 50 per cent went to sanitary landfills," the Organisation for Economic Cooperation and Development (OECD) report said.
"The remaining 22 per cent was disposed of in uncontrolled dumpsites, burned in open pits or leaked into the environment."
Additional reporting by PA
Join our commenting forum
Join thought-provoking conversations, follow other Independent readers and see their replies