Biodiversity crisis: Insect numbers collapse by 25 per cent around the world since 1990
Findings 'paint an apocalyptic picture' for Earth's insects, scientists say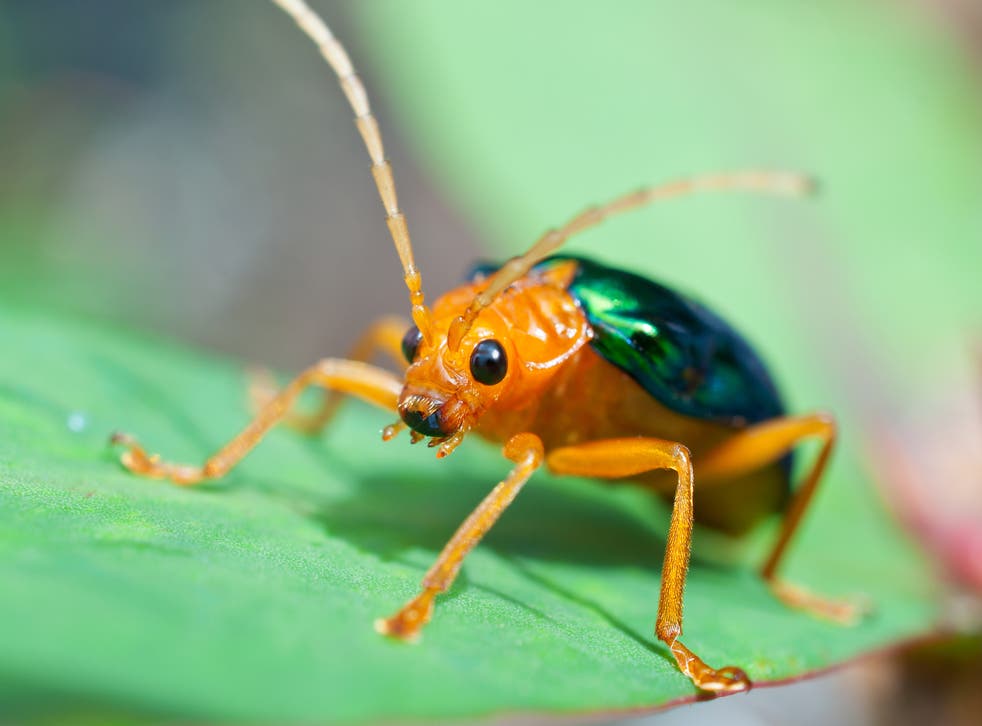 A global study of insect populations indicates an enormous collapse in our planet's biodiversity is underway, with numbers falling by at least a quarter in just the last 30 years.
Declines have gained pace in some areas, including in Europe, but the analysis revealed a high variation in trends, even between sites near one another.
An international team of scientists collaborated to compile data from 166 long-term surveys performed at 1,676 sites worldwide, with data recorded between 1925 and 2018, and found that while some freshwater insect numbers were up, among terrestrial insects, which spend their entire lives on land, like butterflies, ants or grasshoppers, there was an average decrease of 0.92 per cent a year.
First author Dr Roel van Klink, a scientist at the German Centre for Integrative Biodiversity Research (iDiv) and Leipzig University, said: "0.92 per cent may not sound like much, but in fact it means 24 per cent fewer insects in 30 years' time and 50 per cent fewer over 75 years.
"Insect declines happen in a quiet way and we don't take notice from one year to the next.
"It's like going back to the place where you grew up. It's only because you haven't been there for years that you suddenly realise how much has changed, and all too often not for the better."
Wildlife Photographer of the Year: LUMIX People's Choice shortlist

Show all 25
Insect declines were strongest in some parts of the US (West and Midwest) and in Europe, particularly in Germany. For Europe in general, trends became on average more negative over time, with the strongest declines since 2005, the researchers found.
Insects are among the most abundant and diverse animals on the planet, with a total biomass 17 times greater than all of humanity, and serve innumerable critical roles across ecosystems and in the food web.
The declines are an indicator of the worsening biodiversity crisis caused by human activity.
Insect loss is driven by light pollution, habitat destruction and widespread use of pesticides.
The team found there are now fewer insects in the air, and cited the so-called "windscreen phenomenon" – people's perception there are fewer insects being splattered on the windscreens of their cars now compared to some decades ago.
The new study confirms this observation, at least on average. Last author Jonathan Chase, professor at iDiv and Martin Luther University Halle-Wittenberg, said: "Many insects can fly, and it's those that get smashed by car windshields. Our analysis shows that flying insects have indeed decreased on average. However, the majority of insects are less conspicuous and live out of sight – in the soil, in tree canopies or in the water."
The research also acknowledged several recent studies which reported more drastic declines in insect abundance and species richness – with some global regions estimating biomass losses as high as 25 per cent per decade.
In 2014, an international team of biologists estimated that, in the past 35 years, the abundance of invertebrates such as beetles and bees had decreased by 45 per cent, and a 2017 study showed a 76 per cent decrease in flying insects in the past few decades in German nature preserves.
The researchers said when extrapolated globally, such findings "paint an apocalyptic picture for Earth's insects", a suggestion which has sparked serious concern among policymakers, scientists and the public.
But the research team said despite the alarm, insects remain critically understudied and it is uncertain just how widespread these patterns of decline are.
The scientists said the average decline in terrestrial insect abundance they found – of roughly 9 per cent per decade – while lower than other published rates, confirms the general trend.
The data indicates the increase in abundance of freshwater insects (such as midges and mayflies) stands at nearly 11 per cent each decade, which they said was perhaps partly due to successful clean water efforts.
The research is published in the journal Science.
Register for free to continue reading
Registration is a free and easy way to support our truly independent journalism
By registering, you will also enjoy limited access to Premium articles, exclusive newsletters, commenting, and virtual events with our leading journalists
Already have an account? sign in
Register for free to continue reading
Registration is a free and easy way to support our truly independent journalism
By registering, you will also enjoy limited access to Premium articles, exclusive newsletters, commenting, and virtual events with our leading journalists
Already have an account? sign in
Join our new commenting forum
Join thought-provoking conversations, follow other Independent readers and see their replies