Climate change march: Investors pledge to take their money out of firms blamed for climate change
700 financial institutions with £30bn at their disposal join 'dirty-energy divestment' campaign
Tom Bawden
Monday 22 September 2014 11:34 Comments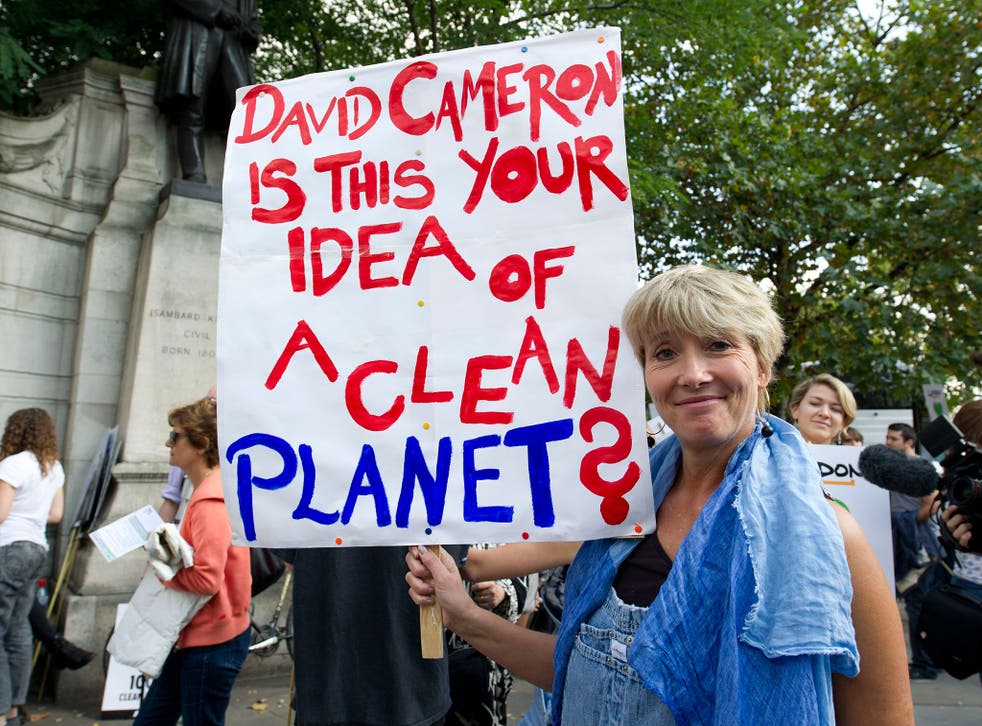 The backlash against fossil fuels is growing so fast that nearly 700 financial institutions controlling £30bn of assets have pledged to pull their money out of investments that exacerbate climate change, it emerged yesterday.
Among the institutions switching into cleaner power sources are the British Medical Association, the Joseph Rowntree Charitable Trust, and the Quakers, all of whom are part of the "dirty-energy divestment" campaign.
Around 40,000 people marched in London yesterday to demand urgent action on climate change as new research shows the world is billowing record quantities of carbon dioxide into the atmosphere.
The three-year-old divestment campaign, which also includes Stanford University, the Rockefeller Brothers Fund and the city of Oakland in California, has doubled its membership this year and the organisers say new groups are signing up at an accelerating rate – a trend campaigners say is urgently needed.
In pictures: Climate Change Protests Around the World

Show all 6
Carbon emissions from burning fossil fuels are set to rise by 2.5 per cent to a record 40 billion tons this year, according to new research from the University of East Anglia (UEA). At this rate, within 30 years the world will use up its "CO2 emission quota" – the amount of carbon dioxide it can pump into the atmosphere before catastrophic climate change becomes inevitable – the researchers say.
Scientists have calculated that the world's future carbon emissions cannot exceed 1,200 billion tons if it is to have a reasonable chance of keeping global warming to 2C – the point beyond which the consequences become increasingly devastating. Once in the atmosphere, CO2 can remain there for hundreds of years.
The demonstration comes ahead of a UN climate-change summit in New York tomorrow where world leaders including David Cameron and the US President, Barack Obama, are expected to announce a major forest-restoration programme as they seek to inject some momentum into talks to agree a meaningful treaty to tackle climate change next year.
The divestment movement has 500 wealthy individuals and 168 institutions, mostly from the US, but also from Europe, Australia, Africa and the UK. The UK's contribution comprises seven institutions with a combined investment portfolio of just £250m.
"It is disappointing that only seven of the 168 institutions who have pledged to invest in greener energy rather than fossil fuels are British," said James Arbib, the founder of the UK's Tellus Mater Foundation, a grant-making environmental trust that is one of the seven.
"UK organisations need to wake up and join the global movement away from non-renewable energy before it is too late," he added.
The World Council of Churches – a fellowship of about 300 churches that represent 590 million people in 150 countries – is another recent addition to the dirty-energy divestment campaign.
Professor Dave Reay, of the University of Edinburgh, said the latest UEA research about the escalation in carbon emissions – which exacerbate global warming by trapping heat in the atmosphere – was very concerning. "If this were a bank statement it would say our credit is running out. We've already burnt through two-thirds of our carbon allowance," he said.
Register for free to continue reading
Registration is a free and easy way to support our truly independent journalism
By registering, you will also enjoy limited access to Premium articles, exclusive newsletters, commenting, and virtual events with our leading journalists
Already have an account? sign in
Join our new commenting forum
Join thought-provoking conversations, follow other Independent readers and see their replies