Irma: Florida pounded hard by 'some big monster', says President Donald Trump
Millions of people are without power and several states are next in line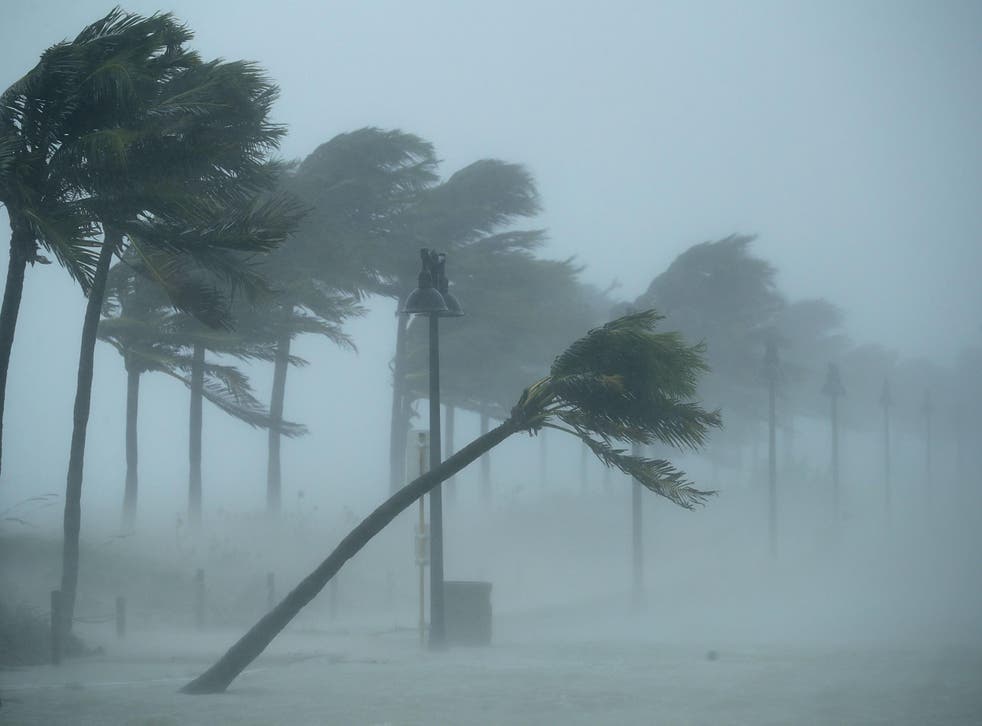 Florida has been pounded hard by what President Donald Trump called "some big monster", as Hurricane Irma tore into the state, leaving a trail of damage and death and causing destruction that will likely take weeks or months to repair.
At least three people were killed as the category four hurricane made landfall in the Florida Keys and worked its way up the southwest coast, leaving more than three million properties and businesses without power and millions of people hunkering down in their homes or emergency shelters.
As Florida Governor Rick Scott asked "everybody" to pray for the state, Irma passed over several cities, striking land for a second time close to Naples and making its way towards Tampa. It weakened slightly as it moved, down to a category two hurricane with winds of at least 105mph.
The US National Hurricane Center said the path of Irma should move over or near the western coast of Florida before moving over inland northern parts of Florida and Georgia into Monday afternoon.
Television footage from various locations across the east of the state showed palm trees bent over under the force of huge winds, driving rain and flash floods caused by the storm surge. Naples was expected to see a surge of up to 10ft and the city's airport reported a peak wind gust of 142 mph.
In Naples, Judy and Herve Ligeos said they had prepared for the potential of three to four days without access to amenities. They stocked up on propane to cook with, and on food and water.
Roughly half-an-hour before Irma passed over she told The Independent they could not see anything out their hurricane-proof windows, but were happy their cinder block home had managed to hold onto its roof. "It's almost like a white out. You can't see," she said, likening her view to a heavy fog that a skier might encounter. "There's so much rain that all you can see is white."
At the White House, Mr Trump was briefed about the path of the storm and the preparations that had been made by the director of the Federal Emergency Management Agency.
"The bad news is that this is some big monster," Mr Trump told reporters. "Right now, we are worried about lives, not cost."
He vowed he would soon pay a visit to Florida.
The White House said the President, who was with his cabinet at Camp David, also spoke to the governors of Alabama, Georgia, South Carolina and Tennessee, as Irma moved northwards.
Hurricane Irma: Storm changes path towards St Petersburg
In Hollywood, on Florida's east coast, streets were largely deserted as winds picked up, bending palm trees and downing power lines, even though the city is more than 100 mph from the centre of the path of the storm. By evening, as Irma moved up the west coast and lost a little power, hurricane winds extended 80 miles from the centre and due to its size tropical storm-force winds extended up to 220 miles from the centre of the storm.
While certain cities were preparing for the full force of the storm, the size of which has not been seen by some locations close to a century, the power of Irma is likely to be felt by millions of people. Before Irma made landfall, up to seven million in the country's southeast people received warnings to either leave.
The hurricane first made landfall at Cudjoe Key in the lower Florida Keys at 9.10am with top sustained winds of up to 130 mph. It struck land a second time at Marco Island, close to Naples, with 115 mph winds at 3.35pm.
Barbuda, Hurricane Irma – in pictures

Show all 7
In the Florida Keys, a 120-mile string of islands that start south of Miami and run down to the fabled resort of Key West, up to 30,000 people listened to urgent requests for residents to evacuate with Irma bringing a 10ft storm surge. However, an untold number of residents declined to leave; many said they had faced and survived similar storms many times before.
John Huston, who was riding out the storm at his Key Largo home, was already seeing flooding in his yard before the arrival of high tide. "Small boats floating down the street next to furniture and refrigerators. Very noisy," he told the AP by text message. "Shingles are coming off."
In the centre of Miami, one of two dozen construction cranes that stand on the skyline, collapsed onto a high-rise building under the force of Irma's winds.
There was no immediate word on any damage or injuries. City officials said it would have taken about two weeks to have moved the cranes out of the course of the storm.
"Once this system passes through, it's going to be a race to save lives and sustain lives," Brock Long, the FEMA chief, told Fox News.
The state's governor has activated all 7,000 members of the Florida National Guard, and 30,000 guardsmen from elsewhere were on standby.
A Miami woman who went into labour was guided through delivery by phone when authorities couldn't reach her in high winds and street flooding. Firefighters later took her to the hospital.
An apparent tornado spun off by Irma destroyed six mobile homes in Palm Bay, midway up the Atlantic coast. Flooding was reported along Interstate 4, which cuts across Florida's midsection.
Curfews were imposed in Miami, Tampa, Fort Lauderdale and much of the rest of South Florida, and some arrests of violators were reported. Miami Beach barred outsiders from the island.
Fort Lauderdale police arrested nine people they said were caught on TV cameras looting sneakers and other items from a sporting goods store and a pawn shop during the hurricane.
After Irma had smashed through the Caribbean as a category five storm, killing around two dozen people, more than seven million US residents were told to evacuate inland - including more than six million in Florida alone. Many will not know what they will face upon their return.
Given its sheer size and strength - and its projected course - Irma could prove one of the most devastating hurricanes ever to hit Florida and inflict damage on a scale not seen here in 25 years.
Hurricane Andrew smashed into Miami in 1992 with winds topping 165 mph damaging or blowing apart over 125,000 homes. The damage in Florida totaled $26bn, and at least 40 people died.
Hurricane Harvey - which hit Texas last month - and Hurricane Irma have both had their names retired, meaning no storm can take that moniker again. It is the first time two consecutive hurricanes have had their names retired in the region since Rita and Stan in 2005.
Join our new commenting forum
Join thought-provoking conversations, follow other Independent readers and see their replies