Is a controversial breeding project the saviour of wild salmon, or is it wreaking havoc with nature?
Project has led to dramatic increases in stock in a Highland river, but conservationists are wary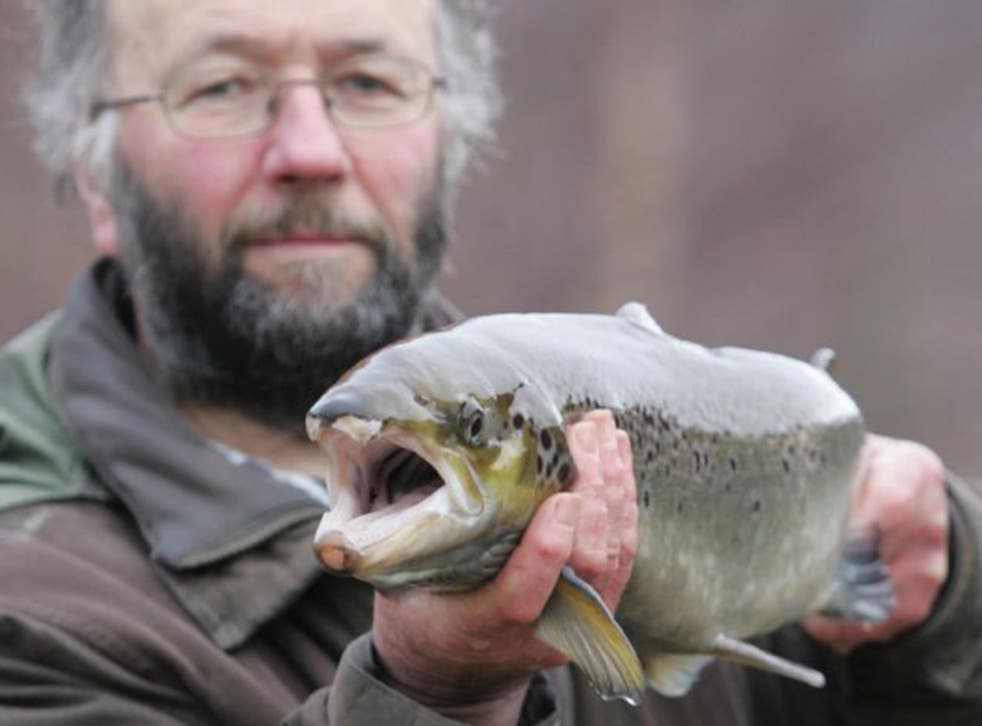 Bob Kindness makes fishing look easy. It seems that no sooner has he cast his line into the fast-flowing river Carron in Wester Ross than he's playing the rod, smiling and reeling in a marvellous-looking wild Atlantic salmon.
Despite this success, wild salmon numbers across Scotland are at their lowest level for a decade, with catches in some areas down by 50 per cent. The situation is so dire that SNP ministers in Holyrood have just announced a plan to ban anglers taking salmon from Scottish rivers under a "licence to kill" scheme.
"Last year's wild salmon figures were grim reading for conservationists and anglers," says Mr Kindness, as he releases the fish back into the river. "Luckily, it seems things are different here."
As if to prove this, it has taken Mr Kindness, manager of the River Carron Restoration project only five minutes to land a fish, giving credence to his belief that his unorthodox "stocking programme" has turned around the river's fortune in the face of scientific consensus.
For nearly 20 years, Mr Kindness, a lecturer at Inverness College, has been running a project to boost salmon numbers using controlled fertilisation and restocking. The process has been dubbed by some, incorrectly he says, as "IVF for salmon"; in reality, it is more hands-on and less scientific.
Animals in decline

Show all 8
Mr Kindness's operation is based at a site with 16 large tanks and several pools near the village of Strathcarron in western Scotland.
There he breeds female salmon from wild eggs (taken from fish he has caught on the Carron), later "stripping" them of their eggs to spawn a unique generation of new fish, which he allows to grow in captivity before releasing them into the wild.
"The conventional logic is that you need to restore the habitat for salmon to flourish," says Mr Kindness, "but this river has been pristine for generations – that wasn't the problem here."
Instead, he points to the effects of climate change, which led to deluges of rain in the late 1990s, causing spates that washed away young fish and the gravel needed for breeding. Also to blame, he speculates, is "the rise of predation": seal numbers have soared off the Scottish coast and salmon-eating merganser ducks have gained environmental protection.
"Our problem was that we didn't have young fish in the river. The pressures from predation and the changing weather patterns made it difficult for them to survive.
"Mother Nature wasn't going to bring them back, so we had to step in to create them," says the man whom many conservationists find controversial because of his willingness to co-operate with fish farms.
In 2001, Mr Kindness begged, borrowed and stole research funding and equipment, some from nearby fish farms, to create a "captive breed stock from wild eggs". It has been a long haul but he claims his success rate is far better than in nature, meaning that, last year, he was able to release 330,000 young fish into the river. Since his project started, catches by anglers on the river have gone from a handful a year to an annual average of 300 today.
The Loch Carron area is an important one for the fish farm industry, with several major businesses in the area supplying supermarkets with a "large annual volume" of farmed salmon. This has led to suggestions by some that Mr Kindness is too close to the industry, which critics blame for the rise of sea lice and the decline in wild salmon numbers.
For his part, Mr Kindness admits that he is a supporter of the industry, but that his long-term trial seems to show that wild salmon and farmed salmon "can both thrive on the same river". This hasn't stopped conservationists dubbing him "Mr Killing Them with Kindness" for playing god with the genetic make-up of the region's wild salmon.
"The scientific evidence from around the world is crystal clear: hatcheries harm wild salmon," says Don Staniford, from the Global Alliance Against Industrial Aquaculture. "Hatchery-reared salmon, like farmed salmon, can spread genetic pollution and precipitate an extinction vortex in wild salmon."
Back on the Carron, salmon numbers are clearly up, but Mr Kindness knows there is another problem down the line. His scheme is labour intensive: he is out on the river every day in all weathers and hasn't taken a holiday since 1996.
He should be retiring next year, but doesn't know what will happen if his 20-year labour of love is brought to an end.
"Fish numbers will decline, that's for sure. We just don't know by how much."
Join our new commenting forum
Join thought-provoking conversations, follow other Independent readers and see their replies