Is fracking a mortal threat to our livestock?
The toxic chemicals in fracking fluid cause reproductive problems, sickness and even death in farm animals, according to US research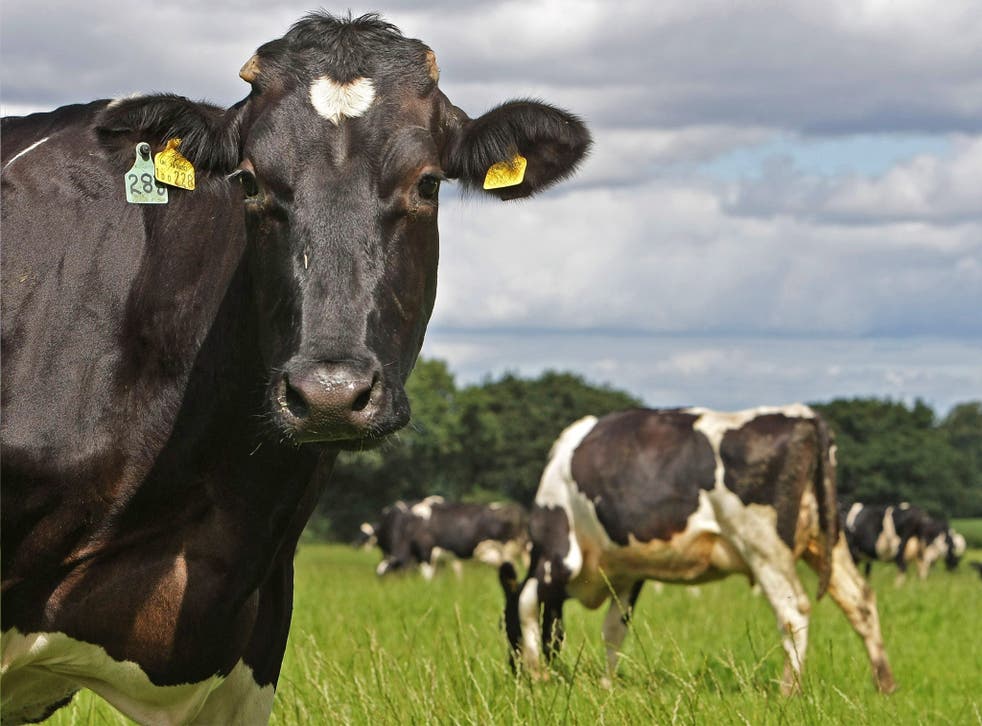 Close to the Sussex village of Fernhurst lies a body of brackish water which attests to the ravages of industrialisation. Surrounded by trees, it is a large "furnace pond" dug out of the countryside at least 300 years ago to provide water for the iron industry that once pockmarked the Weald.
These days, heavy industry is once more looming large over this historic and pristine landscape, only this time the impact is likely to be felt both below ground and above it as planners consider whether to allow exploratory drilling for hydraulic fracturing, or "fracking".
Opponents within the West Sussex community have not been slow to show their opposition. Among the protest placards lining local roads is an image of a young woman with a syringe being held to her neck with the slogan: "A Lethal Injection."
But while the same concerns seen some 40 miles away in Balcombe, Britain's anti-fracking epicentre in recent weeks, such as environmental pollution and the impact of traffic, have been raised in Fernhurst, a new debate is also beginning about what the industry might mean for farmers and food production on the land above where gas and oil could be extracted.
Pioneered in the US, fracking's advocates, including David Cameron, say it is safe for people and the environment, and reduces reliance on imported gas, thus boosting energy security. But critics argue it involves an unacceptable level of water usage, contaminates supplies and spills potentially toxic waste into the environment.
At Fernhurst, the energy industry wants to carry out exploratory drilling. If granted planning permission, operators will construct a compound and access road, and carry out test drills. If commercially viable deposits are identified, they could apply for permission to carry out fracking. Drilling is also planned at a second site.
The Government insists that shale gas fracking will only be allowed to take place "in a safe and environmentally sound way". A spokesman for the Department for Energy and Climate Change said: "There are regulations in place to ensure on-site safety, prevent water contamination, air pollution and mitigate seismic activity." But Sussex residents, are worried. Fernhurst lies within the South Downs National Park and is rich in dairy farms.
In a formal response to an initial planning application submitted to the South Downs National Park Authority, one farmer said: "The impact of drilling and possible future fracking will change our lives forever, as it is known that this process both pollutes the land and causes serious health issues. There are two babies and three children under 10 living [nearby] – will you be responsible for their future health and wellbeing if this goes ahead?"
Another farmer said: "We don't know enough, nobody does. Not us or them. If they get it right, fine, but if it goes wrong and we end up with pollution and sick animals, it'll be us, not [the gas industry] who will suffer."
While concern about any potential link between fracking and food production has gone largely unremarked in Britain, that is not the case on the other side of the Atlantic.
Now, in an outspoken warning, US academics behind research linking fracking to sickness and reproductive problems in livestock – including failure to breed, abortions and stillbirth – have told The Independent and The Ecologist that British authorities must halt fracking until more research has been carried out and the health of farm animals can be guaranteed.
Robert Oswald, a professor of molecular medicine at Cornell University, and Michelle Bamberger, a veterinarian, recently published the first peer-reviewed research suggesting links between fracking and sickness in farm animals. They compiled evidence from 24 farmers in six different states whose livestock suffered reproductive, gastrointestinal and neurological problems after exposure to fracking chemicals in the water or air.
Among the case studies uncovered were 17 cows that died of suspected respiratory failure after exposure to spilled frack fluid in Louisiana, and around 70 in Pennsylvania that died after 140 of them were reportedly exposed to frack wastewater – of the survivors, less than a dozen produced calves, only three of which survived.
Another Pennsylvania herd recorded a 50 per cent stillbirth rate after cows had grazed in fields contaminated by fracking chemicals spilling from a waste pit. The following year saw an abnormally skewed sex ratio, with 10 female and two male calf births.
Asked what would happen if large-scale fracking went ahead in Britain, Oswald told The Ecologist: "Farmers should be very concerned about potential exposures of their crops and herds to shale gas contaminants in the water, air and soil." He added it was vital farmers are made fully aware of which chemicals are being used and operators adhere to rules requiring disclosure of the full breakdown of the fluid used in drilling.
Prof Oswald said: "Farmers have a right to know what their families and their herds are being exposed to. That is, the components of fluids and drilling muds to be used in a well near a farm should be reported in advance of drilling to the farmers – with no [exemptions] for proprietary information or trade secrets. This would allow testing [of] air, water and soil prior to the commencement of drilling for those specific components."
Campaigners say an array of additives are added to fracking fluid, including some linked to cancer. They claim that kerosene and diesel fuel, which can contain benzene, ethylbenzene, toluene, xylene and naphthalene are reportedly used, as are methanol and formaldehyde, ethylene glycol, hydrochloric acid and sodium hydroxide. Lead and crystalline silica have also been cited as ingredients.
Oswald and Bamberger believe research into the possible health effects of exposure to the chemicals must be undertaken before the practice is given the green light in Britain
Prof Oswald said: "First, we need to know the identities of all the chemicals used in drilling and hydraulic fracturing fluids. We need to know the MCLs (maximum contaminant level) for the chemical additives and wastewater constituents. We need to know the health effects of exposure to multiple toxicants because MCLs are set for exposures to one chemical only and not combinations."
He added: "We are reporting short-term health changes, but no one knows what the long-term health changes may be, especially those caused by low doses."
The academics believe it is possible that food safety could be compromised: "It's important to remember that although only one of the herds we documented was quarantined, all the herds were exposed to affected air, water and or soil.
"This is a major concern to us because we documented cases where farms in areas with known exposures are still producing vegetable crops, meat, eggs and dairy products without testing."
Oswald and Bamberger's study has been accused of being "political" rather than scientific. Both the gas industry and academics have criticised the authors, saying the research's reliance on un-named sources is "unscientific" as it allows no way for third parties to verify key material. The authors acknowledge the critics, but blame their use of anonymous sources on non-disclosure agreements preventing identification of farmers.
The National Farmers' Union (NFU) has yet to express concerns over fracking's potential implications, although in an official briefing paper, the body acknowledges worries over water contamination, earthquakes and water use.
The briefing states: "The fracking industry does represent an additional water user which could increase water stress in times of shortages... We would also engage with local frackers to make them aware of times of high water use by agriculture."
A longer version of this article is available at www.theecologist.org
Join our new commenting forum
Join thought-provoking conversations, follow other Independent readers and see their replies