Is the Thames Barrier overwhelmed? The winter storms saw it close for the 50th time this winter
Tom Bawden
Friday 07 March 2014 18:25 Comments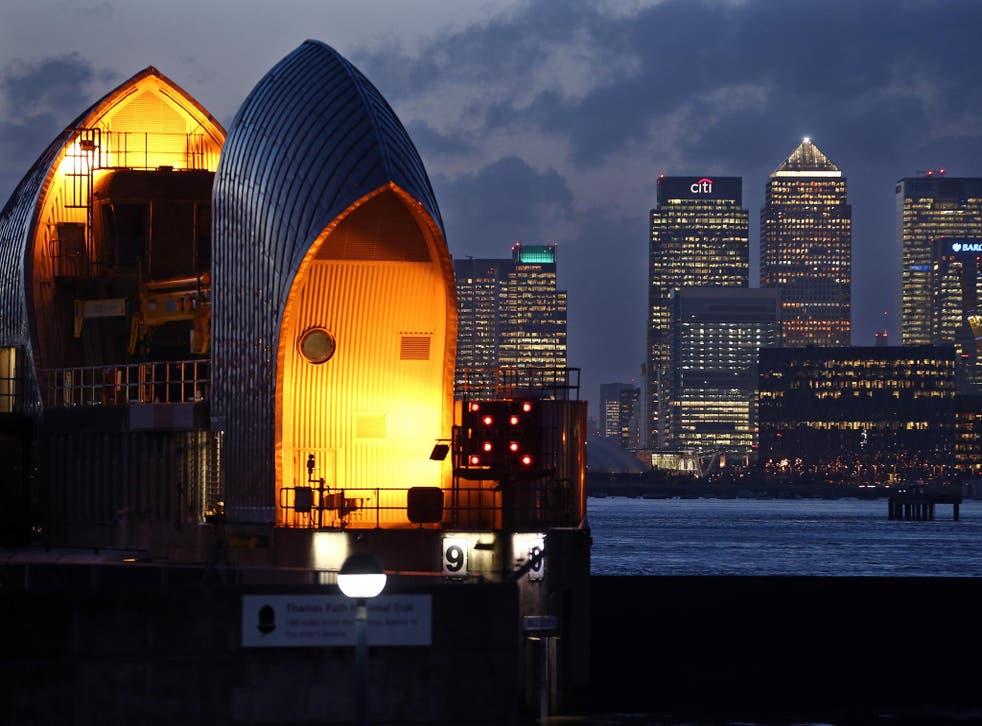 The Environment Agency is investigating the operation of the Thames Barrier after it breached the recommended annual limit of 50 closures for the first time this winter, The Independent has learnt.
The frequency of closures has raised concerns that so much time is being spent opening and closing the gates that there is not enough left for routine maintenance and the agency's investigation is in response to a request from London Mayor Boris Johnson.
When it was designed in the 1970s it was envisaged that it would only need to close once or twice a year, but the barrier was shut 28 times last month alone as record amounts of winter rainfall and rising sea levels have tested the system well beyond what was initially envisaged.
So far, the barrier has coped comfortably with the extra pressure, protecting 1.2m people and £200bn worth of property, but experts warn that the system could be threatened if the elevated level of closures continues in the coming years.
"It's a real threat that ultimately could get in the way. If the number of closures keeps being over 50 every year we will not be able to maintain it properly," warned David Wilkes, who was the Environment Agency's manager for the Thames Barrier between 1994 and 2000 and is now associate director of the Chartered Institution of Water and Environmental Management.
Maintaining the barrier is a full-time job, with most staff operating on a typical 37-hour week, and a skeleton staff operating around the clock to keep an eye on things. The process of closing the barrier – from making the decision, physically shutting it, waiting for high tide to come and go and re-opening it - takes eight or 10 hours, he said.
"While the staff are working away on this, they can't be doing tests, diagnostics and other maintenance work. You can't then ask them to do their day job – you've got to send them home to rest so that they can come back the next day," Mr Wilkes said. Other maintenance tasks include replacing seals, lubricating bearings, painting, and testing pumps and other operating equipment.
Mr Wilkes said it was too early to tell if this winter was a blip, or a sign of things to come, but says the Thames Barrier, which opened in 1982, could be seen as a barometer of a changing weather trend that looks set to continue.
"What is most scary is that we are getting more storms, more surge than we foresaw 10 or 20 years ago – let alone 40 years ago when the barrier was being designed and built," he said.
The Green Party representative on the London Assembly, Jenny Jones, said: "Whilst the barrier has performed superbly in protecting London, the unprecedented frequency of closures in recent months should serve as a wake-up call."
"The original designs did not take into account the impacts of climate change or protecting parts of west London from river flooding. That is why we need a review now," she added.
Last week, Ms Jones asked Mr Johnson at Mayor's question time whether he wanted to see a review of the Thames Barrier in the light of the unprecedented level of closures.
"The answer is yes, I do want a review of the Thames Barrier. It is absolutely fascinating how it has functioned in the last few months and how it has saved huge potential damage in London, in ways that I don't think its authors thought or conceived of," Mr Johnson replied.
"In view of the many times it has been in operation and continues to be in operation, over the past few weeks and months I think it is only prudent to have a full review of its operations," Mr Johnson added.
A spokesman for the Environment Agency, which is responsible for operating the barrier, said: "Due to unprecedented weather this winter there has been a spike in the closure rate of the Thames Barrier. The Thames Barrier can operate comfortably at this closure rate."
"The barrier protects London to a one in 1,000 year level and will continue to do so until 2070. As sea levels rise we will need to use the barrier more frequently year by year and will increase our maintenance accordingly to ensure it operates efficiently," he added.
The Environment Agency will report the findings of its review to Mr Johnson as part of a broader briefing on the barrier at a routine Thames Estuary steering group meeting in the early summer.
Register for free to continue reading
Registration is a free and easy way to support our truly independent journalism
By registering, you will also enjoy limited access to Premium articles, exclusive newsletters, commenting, and virtual events with our leading journalists
Already have an account? sign in
Join our new commenting forum
Join thought-provoking conversations, follow other Independent readers and see their replies