Outrage after Japan resumes whaling in 'scientifically reasonable' hunt of 333 minke whales in the Antarctic
The Australian environment minister said: 'We do not accept in any way, shape or form the concept of killing whales for so-called 'scientific research.''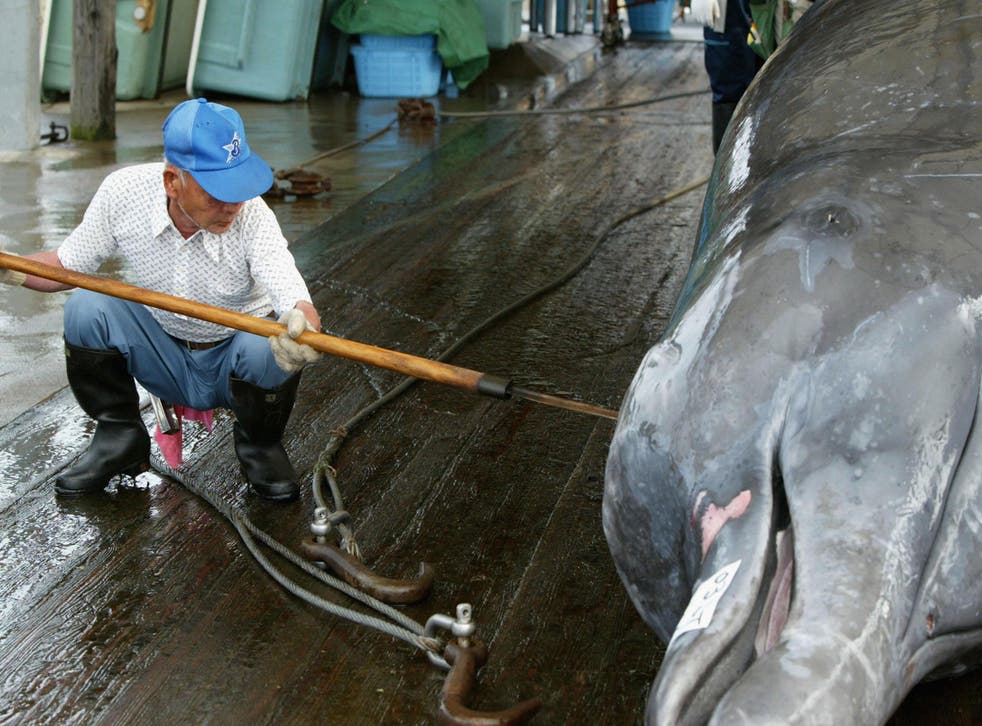 After a year-long hiatus following an International Court of Justice (ICJ) ruling last year, Japanese whaling boats have set off on what they call a "scientifically reasonable" whale hunt of up to 333 whales by the end of March.
In April last year, the ICJ ruled that Japan must stop its whaling programme in the Antarctic, ordering the Japanese Fisheries Agency (JFA) to revoke all whaling licenses and not to issue any more.
However, the JFA has now announced that it will resume whaling beginning with the 2015-16 season - killing up to to 333 whales a year for the next 12 years.
Many people, including celebrities and politicians, were outraged to hear that almost 4,000 whales could be killed over the next hunting period.
Australian environment minister Greg Hunt objected, saying: "We do not accept in any way, shape or form the concept of killing whales for so-called 'scientific research.'"
Australia is particularly opposed to Japanese whaling due to the proximity of the country to the whaling waters in the Antarctic.
New Zealand's acting foreign minister Todd McClay was similarly opposed, calling on Japan to stick to the 2014 ICJ ruling.
Beached whales rescued in Australia

Show all 4
Speaking to Agence France-Presse, a JFA official said: "It is crucial to get information as to whales' migration, reproductive rates and the age pyramid of the population..."
The official added that killing the animals was the only way to gather "essential information".
The International Whaling Commission issued a moratorium on whaling in 1982. Nations are allowed, however, to issue 'scientific permits' that allow researchers to kill whales for the purpose of scientific research.
Japan justifies its annual whale hunts by claiming the killings are for research, but this is disputed by anti-whaling bodies - at the time of the ICJ ruling last year, it was pointed out that over nine years of Japan's JARPA II research missions, Japan had only produced two peer-reviewed scientific papers based on the study of nine killed whales, a tiny fraction of the 3,600 minke whales which were killed over that period.
Rather, it is thought that the majority of whales killed in Japanese hunts end up being eaten, rather than studied.
Minke whales are not endangered, and classified in the lowest 'least concern' category on the IUCN Red List of endangered animals.
However, opponents of whaling object to what they see as the cruelty of the practice, citing the intelligence of the minke whale, and the long, painful deaths they sometimes suffer when killed with explosive harpoons.
Register for free to continue reading
Registration is a free and easy way to support our truly independent journalism
By registering, you will also enjoy limited access to Premium articles, exclusive newsletters, commenting, and virtual events with our leading journalists
Already have an account? sign in
Register for free to continue reading
Registration is a free and easy way to support our truly independent journalism
By registering, you will also enjoy limited access to Premium articles, exclusive newsletters, commenting, and virtual events with our leading journalists
Already have an account? sign in
Join our new commenting forum
Join thought-provoking conversations, follow other Independent readers and see their replies