Work begins in Japan on the world's biggest floating solar power plant
The new power plant will be more than seven times bigger than a similar one built last year in Hyogo Prefecture
Doug Bolton
Wednesday 27 January 2016 15:05 Comments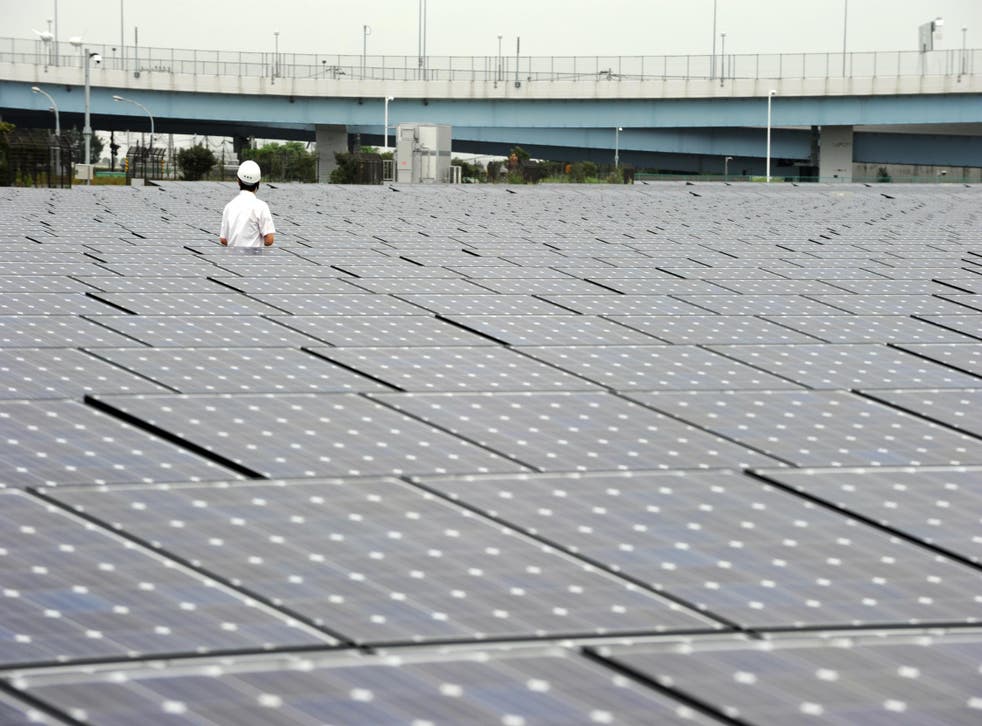 Work has begun in Japan on what is expected to be the world's largest 'solar farm', which will one day generate enough energy to power 5,000 homes every year.
In a joint project, electronics manufacturer Kyocera and the Century Tokyo Leasing Corporation began work on the giant solar farm on 21 January at the Yamakura Dam reservoir near Tokyo.
Scheduled to go into operation in 2018, the solar farm will be made up of around 51,000 solar cells, which will float on the surface of the reservoir.
Its manufacturers expect the planet to generate around 16,000 megawatt hours (MWh) a year, while offsetting around 8,170 cubic tones of CO2 annually - equivalent to the CO2 released by the consumption of approximately 19,000 barrels of oil.
Kyocera has previously embarked on similar projects, opening a large floating solar power plant in Hyogo Prefecture in the south of the country last year. However, the new plant at Yamakura will be more than seven times bigger than this one.
Japan's huge population consumes a lot of energy, much of which is generated through imported oil, coal and natural gas. The country invested has heavily in nuclear power in an effort to produce its own energy, but all of the plants were taken offline after the Fukushima disaster in 2011. Some have since been re-started, but they haven't significantly lessened Japan's reliance on foreign power.
In pictures: Flint water crisis

Show all 10
Japan is densely-populated and mountainous, and the large amounts of space needed to create renewable energy projects are scarce. Using otherwise unused space on the surface of the country's many lakes and reservoirs, however, could be a way to get around this problem.
The solution may have been borne out of neccessity, but there's a number of advantages to building solar farms on water. It's much easier to attach the panels to each other and push them out from the bank than it is to assemble and elevate them on the land, and Kyocera says the panels will shade the water on the reservoir, significantly reducing evaporation and algae growth.
According to World Bank data, around 94 per cent of Japan's energy was imported from other countries in 2013 - by comparison, only 43 per cent of the UK's energy was imported in the same year.
If Japan wants to decrease its reliance on other nations for energy, more floating power stations could be in order.
Register for free to continue reading
Registration is a free and easy way to support our truly independent journalism
By registering, you will also enjoy limited access to Premium articles, exclusive newsletters, commenting, and virtual events with our leading journalists
Already have an account? sign in
Join our new commenting forum
Join thought-provoking conversations, follow other Independent readers and see their replies