Massive barrel jellyfish descending on the UK in record numbers
Experts have admitted that they don't know what is behind the recent rise in jellyfish
Siobhan Fenton
Thursday 20 August 2015 09:35 Comments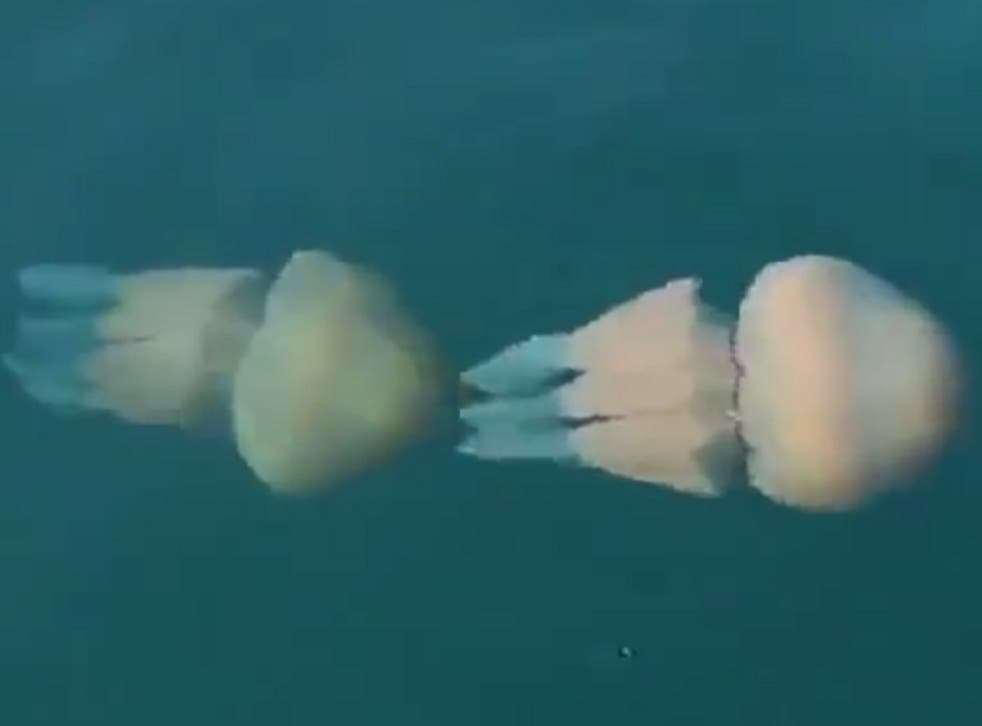 Huge barrel jellyfish have been spotted in record numbers in the UK, experts have warned.
The Marine Conservation Society says that jellyfish sightings are continuing to rise in the UK, with 1,000 of the animals being spotted so far this summer, before the peak month of August.
Large numbers of mauve stingers were reported off Guernsey in July and a potentially dangerous Portuguese 'Man of War' has was found washed up on beaches in Devon and Cornwall.
The society has called for more research into why the numbers are rising, as experts are currently at a loss as to what is behind the phenomenon.
Dr Peter Richardson, biodiversity and fisheries programme manager at the Marine Conservation Society, said: "Our National Jellyfish Survey suggests significant recent rises in the numbers of some jellyfish species in UK seas, most notably the barrel. The million dollar question is- why is this happening? At the moment we just don't know.
"We believe there is now a need for the UK Government to commission dedicated scientific research and monitoring to answer pressing questions about what is happening to jellyfish numbers, why it is happening and what this means for our precious and productive seas."
Although mostly feared by swimmers and beach-goers for their painful sting, jellyfish have further-reaching environmental and economic consequences. In the UK, large blooms of mauve stinger jellyfish have wiped out salmon stocks in fish farms, incurring huge financial losses.
With additional reporting by PA
Register for free to continue reading
Registration is a free and easy way to support our truly independent journalism
By registering, you will also enjoy limited access to Premium articles, exclusive newsletters, commenting, and virtual events with our leading journalists
Already have an account? sign in
Join our new commenting forum
Join thought-provoking conversations, follow other Independent readers and see their replies