Jellyfish in the UK: Huge blooms of barrel species found on coast after mini-heatwave
The jellyfish are harmless to humans as their stings are weak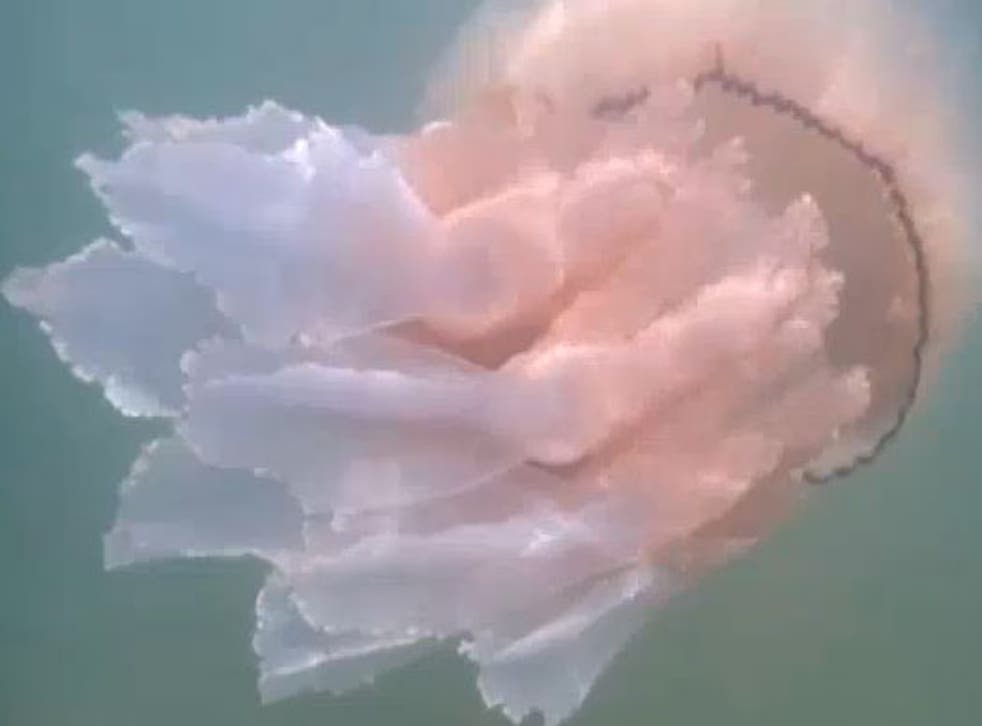 Scores of large jellyfish have been discovered on Britain's coastline after they have been attracted to warmer conditions brought on by a recent mini-heatwave.
Blooms of barrel jellyfish – that can grow up to the size of a dustbin lid – have been spotted on the south coast after a summer-like climate made a brief appearance.
The species can weigh up to 55lbs (24kgs) and have eight thick "arms", rather than tentacles, made from frilly-like tissue.
Although the jellyfish, which have no brain or bones, may appear frightening to some, they're actually harmless to humans as their stings are not strong enough to wound, however it is advised to not touch them.
British Society of Underwater Photographers 2014 DIVER competition winners

Show all 10
They live exclusively off plankton that thrive in warm weather.
A video filmed from a fishing boat show the blooms of jellyfish floating about not far from Falmouth Bay in Cornwall.
The two heatwave days – which saw temperatures reach 25C and were hotter than some parts of the Mediterranean – are likely to have encouraged the rapid growth of plankton in our waters.
A diver faced one of the tentacle creatures during an exploration in Plymouth Sound on Friday evening.
Todd Palmer told the Plymouth Herald: "It's the biggest one I've seen. I was looking for nudibranchs and just happened to look up and see it.
"I've seen three recently. They're not too rare but usually it's a sign of a good summer."
Last year saw the most barrel jellyfish on the UK coast since 2002, according to nature website Bug Life.
One weighed just over 44lbs (20kgs), which is impressive considering jellyfish consist of more than 90 percent water.
If this summer is as warm as the last then the number of them could be even higher. In winter, the jellyfish usually swim deeper and further away from the UK.
Register for free to continue reading
Registration is a free and easy way to support our truly independent journalism
By registering, you will also enjoy limited access to Premium articles, exclusive newsletters, commenting, and virtual events with our leading journalists
Already have an account? sign in
Register for free to continue reading
Registration is a free and easy way to support our truly independent journalism
By registering, you will also enjoy limited access to Premium articles, exclusive newsletters, commenting, and virtual events with our leading journalists
Already have an account? sign in
Join our new commenting forum
Join thought-provoking conversations, follow other Independent readers and see their replies