World's oldest giant panda Jia Jia dies aged 38 in Hong Kong
'With deep sadness and sorrow, we announce the passing of the celebrated life of 38-year-old Jia Jia, the world's oldest giant panda to have lived under human care', say owners
Peter Walker
Monday 17 October 2016 15:28 Comments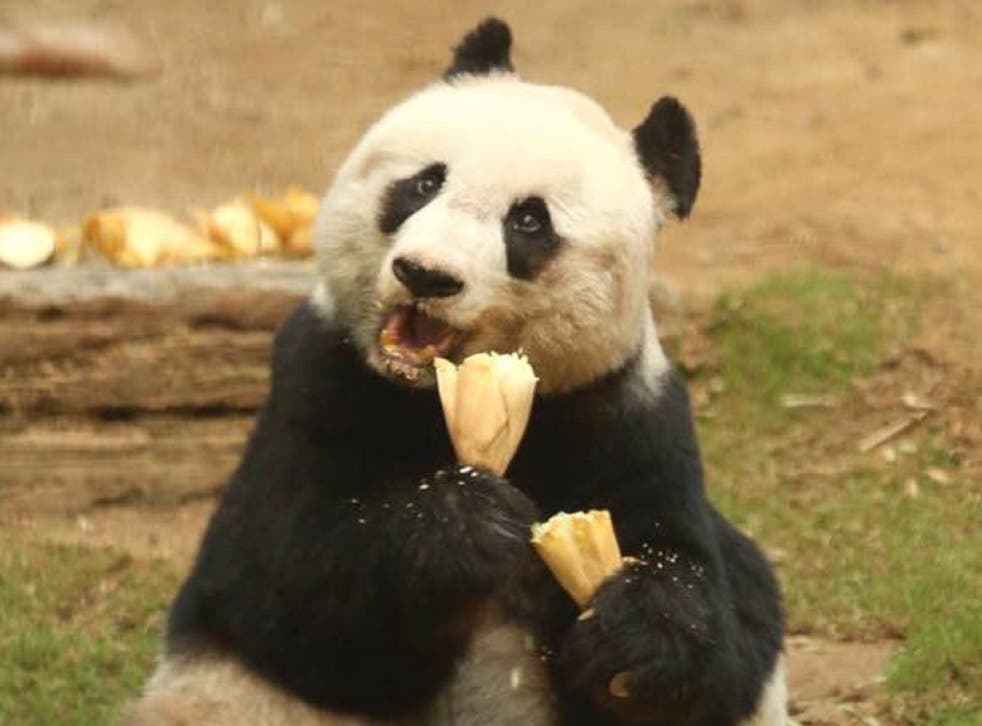 The world's oldest giant panda has died aged 38 after her health declined rapidly over the last fortnight.
Jia Jia, who lived at the Ocean Park zoo in Hong Kong, was euthanised for "ethical reasons" and to "prevent suffering" on Sunday.
The stalwart bear was given as a gift, along with another panda, to celebrate the second anniversary of the city's independence from Britain, its former colonial ruler.
Over the last two weeks, Jia Jia's food consumption dropped sharply from over 10kg to less than 3kg per day.
Her average weight dropped from 71kg to around 67kg.
In a statement on the park's Facebook page, owners said: "With deep sadness and sorrow, we announce the passing of the celebrated life of 38-year-old Jia Jia, the world's oldest giant panda to have lived under human care.
"All of us at Ocean Park are saddened by the loss of our giant panda, Jia Jia.
"Over the past few days, she has been spending less time awake and showing no interest in food or fluids.
"Her condition became worse this morning. Jia Jia was not able to walk about without difficulties and spent the day lying down.
"Her state became so debilitated that based on ethical reasons and in order to prevent suffering, veterinarians from the Agriculture, Fisheries and Conservation Department and Ocean Park agreed to a humane euthanasia for Jia Jia."
The average life expectancy for a giant panda in the wild is below 20 years.
A Chinese government survey in 2014 estimated 1,864 pandas live in the wild, up 17 per cent from 2003.
Kung fu panda: The fight to save China's favourite bear

Show all 8
They also have an exceptionally short breeding season, with females fertile for just 24 to 36 hours a year, according to non-profit body Pandas International.
The statement added: "This is a day we knew would eventually come, but it is nevertheless a sad day for everyone at the park."
Conservation experts last month downgraded the giant pandas' status from "endangered" to "vulnerable".
Register for free to continue reading
Registration is a free and easy way to support our truly independent journalism
By registering, you will also enjoy limited access to Premium articles, exclusive newsletters, commenting, and virtual events with our leading journalists
Already have an account? sign in
Join our new commenting forum
Join thought-provoking conversations, follow other Independent readers and see their replies