Jochen Zeitz: The businessman who uses his millions to change opinions on climate change
'The more business speaks out, the easier it will be for politicians to set the agenda'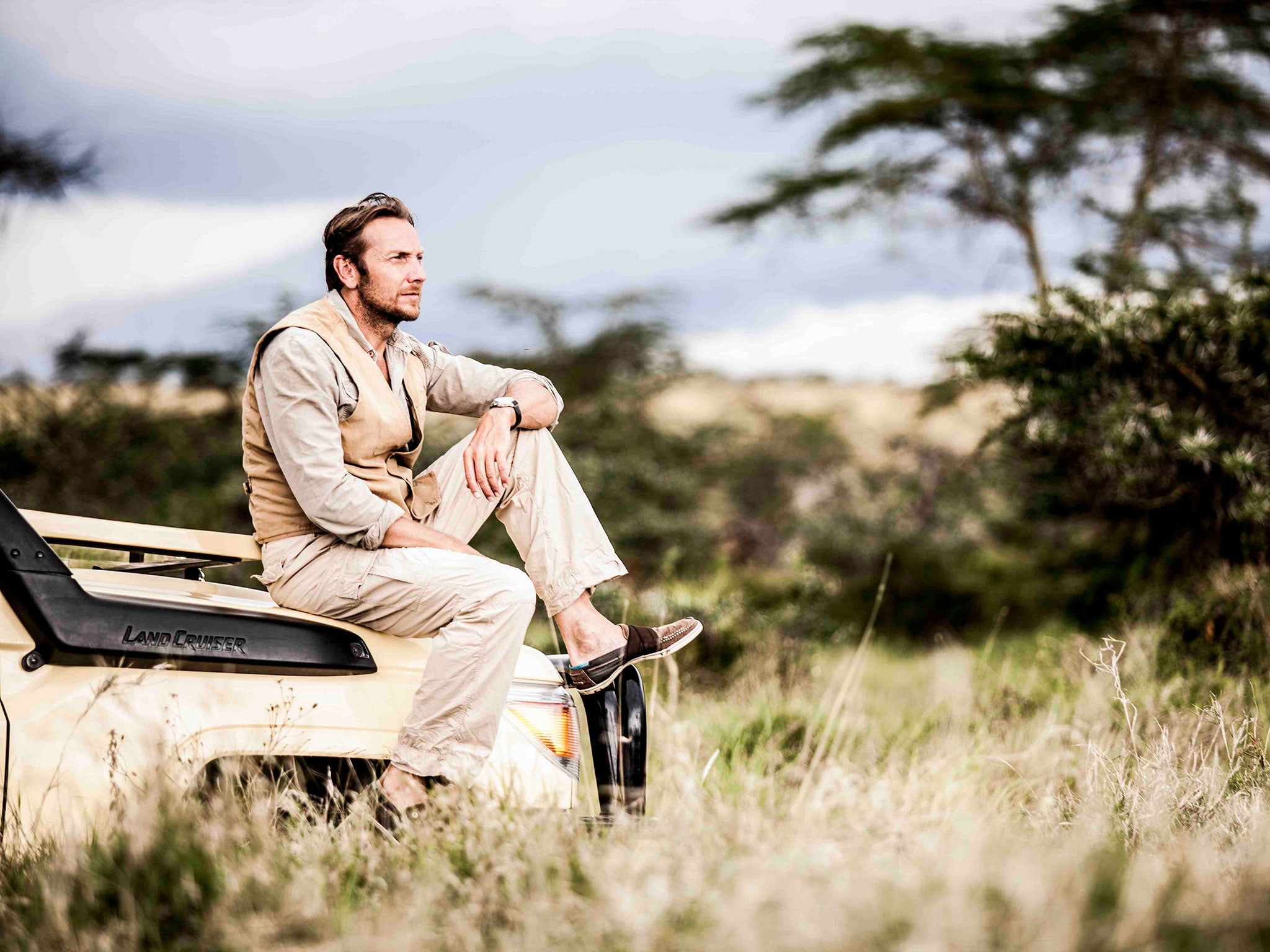 For someone so concerned with conservation, how fitting that Jochen Zeitz was present on the day that the world's most famous athlete nearly became extinct.
On safari in Segera, Zeitz's vast Kenyan ranch, an excited Usain Bolt leapt out of the vehicle to strike his signature "lightning bolt" pose after seeing a giraffe and elephants roam free. "I said: please come back, I don't want you to get killed," says Zeitz, laughing about the incident six years on. Bolt had been in Africa to launch Zeitz's charitable foundation. The pair became friends when the tall, sandy-haired German sponsored Bolt as part of the revival of Puma, the sportswear brand he led. These days, the running shoes are behind him, but Zeitz is still in a race – to save the world.
With Sir Richard Branson, he launched The B Team, a group of business leaders including Paul Polman of Unilever and Indian industrialist Ratan Tata, who believe there is more to corporate life than Plan A, the relentless pursuit of profit. Plan B involves people and the planet as part of the equation too.
Just what the world needs: another multi-millionaire telling others how to behave better once they have made their own fortune. But Zeitz isn't merely on the lecture circuit, he has tried to live the green corporate dream for almost as long as he has been in business.
At Puma, he devised an environmental profit-and-loss account that put a figure on what a company's air pollution, land use, water use and carbon consumption cost the planet. As he explained recently at a dinner hosted by the investors' club Pi Capital, Zeitz foresees a day when running shoes will detail the "environmental calories" consumed in making them on the side of the box, rather like sugar and salt content is listed on cereal packets today. I can see why consumers might take to such initiatives, but why should investors care?
"You always need to come at it from various angles: the consumer, the public, business, product, supply chain," says Zeitz, sat in the bar of a Mayfair hotel in a black suit and suede shoes, tugging occasionally at his beard. "You know it is not one thing that will ultimately move it along, it is the combination of a lot of things. The more we try to find tangible solutions to the problems the bigger the chance of actually finding them."
The B Team threw down the gauntlet in February, challenging world leaders to commit to a global goal of net-zero greenhouse gas emissions by 2050 and urging business leaders to set their own long-term targets. There is more to come. Zeitz says the organisation will soon publish a manifesto of 10 challenges for industry and politicians.
It's a banner year for climate change. Talks in Paris in December are meant to produce a global agreement to replace the Kyoto protocol and cut carbon emissions to limit the average temperature increase to 2C. Any higher, and scientists predict the chaos of drought and melting ice caps. Zeitz does not overwhelm me with his optimism about Paris.
"It's a stepping stone and an important one but as you say, rarely will these events have magic decision-making. We certainly hope every time to make some progress."
Zeitz, who is 52 today, succeeded in reviving Puma despite being promoted to run the company at the tender age of 29. Born into a medical family near Heidelberg, Zeitz dropped out from training to be a doctor and switched to business school, later becoming a marketer with Colgate-Palmolive in New York. He leapt at the chance to return to Germany when a marketing job at Puma cropped up.
After years of losses, Zeitz reignited the excitement the brand had enjoyed down the years when it had equipped football players including Pele and Diego Maradona. With a tiny marketing budget compared with market leaders Nike and Adidas, he focused on sponsoring African teams that were cheaper but were also intended to epitomise Puma's adventurous spirit. Signing up a young Bolt was another fortuitous move. Zeitz also pushed harder to turn Puma into a lifestyle brand, which meant his travel itinerary involved jetting between fashion shows and the top football tournaments.
In 2011, after 18 years, he quit the hands-on role, partly so he could spend more time on his environmental work.
"I just felt I could take a similar approach but much broader. Being able to dedicate 100 per cent of my time to impacting more businesses without being operational, it just gives me a bigger platform." One achievement has been to help Harley-Davidson, where he sits on the board, become a little eco-friendlier.
"When it came to the discussion about would Harley do an electric bike, I said, 'absolutely, this is a no brainer'. Let's define the sound of the future," he says. Of course, it helps that Puma made Zeitz incredibly rich, especially in 2007 when a stake was sold to the luxury goods house PPR, now called Kering, which is also home to Gucci and Alexander McQueen.
It means he can fund projects such as Segera, an old cattle farm which at 50,000 acres is more than three times the size of Manhattan. When he bought it nearly a decade ago, Zeitz ripped out many of the fences to liberate the animals. Now it houses three endangered species, honey production and part of his extensive art collection. He tours it in a 1929 Gypsy Moth biplane used in the movie Out of Africa. Guests have included the fashion queen Dame Vivienne Westwood, the actress-turned-activist Darryl Hannah, and the sustainability consultant Leo Johnson, London Mayor Boris's brother.
"I didn't want just to be a frequent traveller to Africa, I also wanted to be on the ground there at some point," he says. "I just bought the place for me to put my philosophy and passion into action on my own piece of land."
There are also six thatched villas for tourists because "in order to get people excited you need to get them to visit", Zeitz explains. He adds: "Hopefully in the long term it can help sustain the place or at least make it tolerable in terms of how much money you have to put in."
And how much has that been, exactly? No answer. "I always think that money has to last as long as you live, and after that… I don't have children at this point."
Maybe that will change. He is engaged to the TV and movie producer Kate Garwood, whose work includes House of Lies, Californication and the upcoming Jesse Owens biopic. That is the reason he is spending more time in London: she is Los Angeles-based, he is in Kenya whenever possible, so "we kind of meet in the middle".
Zeitz has also invested much of his wealth in African art. In 2017, the collection will be moved into a permanent gallery home in an old grain silo on Cape Town's waterfront, converted according to a design by Thomas Heatherwick, who created the cauldron of flames for the London 2012 Olympics.
After he stepped back from Puma, the company lost momentum. Its latest boss is trying to slim the product range and refocus on sport, even though it recently signed up Rihanna as a brand ambassador. It also scored when Arsenal dropped its 20-year association with Nike last summer, opting to switch to Puma in a £30m-a-year, five-year deal. Zeitz has little to add on the company's performance, saying: "I just don't like to talk about the past." Much better the future.
"It is important that business becomes a positive force to help find solutions and sets itself targets that are required in order to solve a potential devastating problem," he says. "The more business speaks out, the easier it will be for politicians to set the agenda."
Profile: Jochen Zeitz
Education: Karl-Friedrich Gymnasium, Mannheim, south-west Germany, and then international marketing and finance at the European Business School near Wiesbaden.
Career so far: Joined Colgate-Palmolive in marketing in 1987. Moved to Puma in 1990, serving in several marketing roles before becoming chief executive and chairman in 1993. Stepped back in 2011, becoming a director of parent company Kering and chairman of the group's sustainability committee. Co-founded The B Team in 2013.
Personal: Keeps homes in Switzerland, Santa Fe, Los Angeles, a 50,000-acre ranch in Kenya and has just bought a property in west London. Divorced from first wife Birgit. Engaged to LA-based film producer Kate Garwood. Collects African art, runs, meditates.
Join our commenting forum
Join thought-provoking conversations, follow other Independent readers and see their replies