Keep off the grass: Research confirms that highly manicured lawns produce more greenhouse gases than they soak up
Urban gardens were always considered good for the planet, but a new study has turned that belief on its head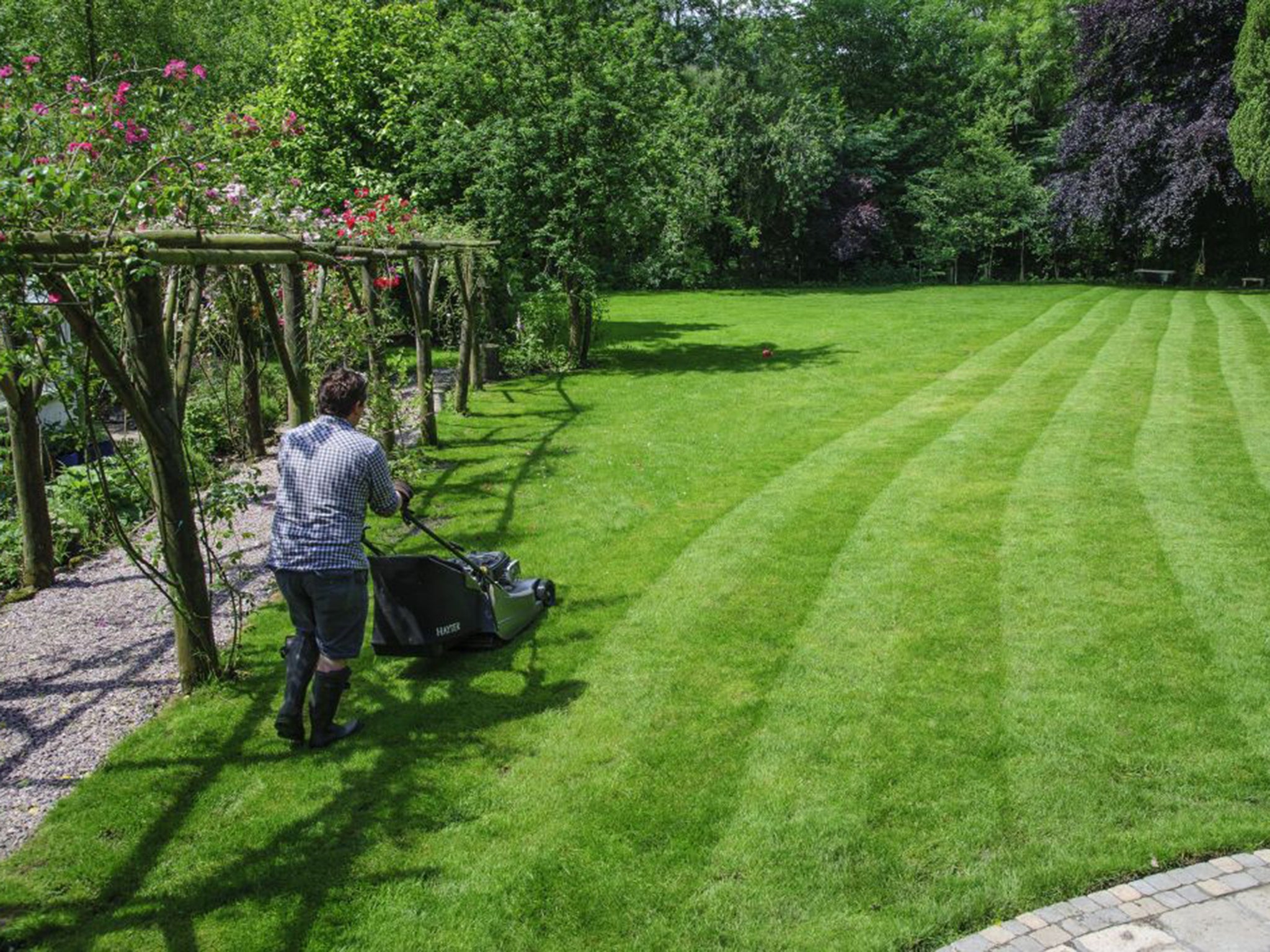 A well-kept lawn has a special place in the hearts of many a house-proud gardener. It has been described as Britain's "greatest contribution to the visual culture of Europe", while in the French comic book Astérix in Britain, the Romans are prevented from chasing after the heroes by a Briton armed with a spear who is furious they are ruining his highly manicured turf despite a Keep Off the Grass sign.
However, new research confirms what some environmentalists have long suspected: that the lawn has a bigger problem than rampaging legionaries. It is a significant source of the greenhouse gases that contribute to global warming.
But the scientists behind the study believe it is still possible to create a magnificent expanse of green sward if a number of simple steps are taken to reduce its impact on the planet.
Grass lawns soak up carbon dioxide, which is stored in the soil after the cut grass rots and so, like trees, they are considered good for the planet. But Dr Chuanhui Gu of Appalachian State University in the US says that once the energy expended by mowing, fertiliser use and watering are taken into account, lawns actually produce more greenhouse gases than they soak up.
In a paper for the Journal of Environmental Management, he and his co-authors said they had found that a hectare of lawn in Nashville, Tennessee, produced greenhouse gases equivalent to 697 to 2,443kg of carbon dioxide a year. The higher figure is equivalent to a flight more than halfway around the world.
Dr Gu said the findings would vary based on the local climate, but the general message would apply to most areas. Nashville gets about the same amount of rain as Glasgow and temperatures range from 30C in summer to below freezing in winter.
"Climate change emissions from urban lawns and gardens are often kind of neglected by people, even scientists," he said. "We found that the urban turf grass system actually contributes to global warming. It's a lot. It's about two-thirds of the carbon emissions from agricultural fields [of the same area]." This contradicts previous beliefs that urban lawns generally absorb more carbon dioxide than they produce and are therefore good for the planet.
However, there is hope for environmentally friendly gardeners loath to dig up their lawns. "We had to find a balance between aesthetic concerns and environmental concerns," Dr Gu said. "On the one hand, we want to reduce fertiliser use, but on the other hand people want to have a nice, green, beautiful lawn in their garden."
His team developed a maintenance plan that he said typically reduced the emissions by up to 70 per cent, while still producing a pleasant effect. He said mowing should be done about half as frequently – perhaps once a fortnight instead of once a week – with watering kept to a minimum.
And fertiliser – which produces nitrous oxide, a greenhouse gas about 300 times more potent than carbon dioxide and uses a lot of energy to produce – should be used sparingly, ideally only when the grass is newly planted. Instead, grass cuttings should be left on the lawn as a natural alternative.
"Clipping recycling is a very good way to save the environment and also potentially save people money. It's a win-win situation," Dr Gu said. "Grass clippings are a perfect nutrient source for turf grass. It's actually better than fertiliser."
Guy Barter, chief horticultural adviser to the Royal Horticultural Society, backed the general approach. Mowing less often was a "good idea" and leaving cuttings on the lawn was also sensible, although he suggested using a mulching mower that chops up the leaves so they can sink down into the grass.
Maintenance depended on what the lawn was used for. "If it's just to look nice or for the children to have a kickabout, there's no reason why it shouldn't be taller," Mr Barter said. "You can treat it as a wild flower area, grow bulbs and just mow it twice a year or you could mow paths through it and let the rest grow taller."
Clive Aslet, editor at large of Country Life, said that lawns were "very much part of the English soul". He said: "It was not for nothing that we invented the game of lawn tennis. We think of ourselves as a nation of gardeners. The Picturesque movement, which brought the lawn up to the doors of country houses, has been called our greatest contribution to Europe's visual culture."
However, he added: "I'm not sure if the cult of the lawn isn't a bit outmoded now. A beautiful lawn requires a great amount of effort and probably chemical help for practically zero wildlife benefit. Nothing better than going to sleep on a good lawn during the summer, though."
Join our commenting forum
Join thought-provoking conversations, follow other Independent readers and see their replies