Landfill dumps across UK 'at risk of leaking hazardous chemicals'
Exclusive: Academics warn of 'toxic time-bomb' facing Britain with sites under threat from flooding or coastal erosion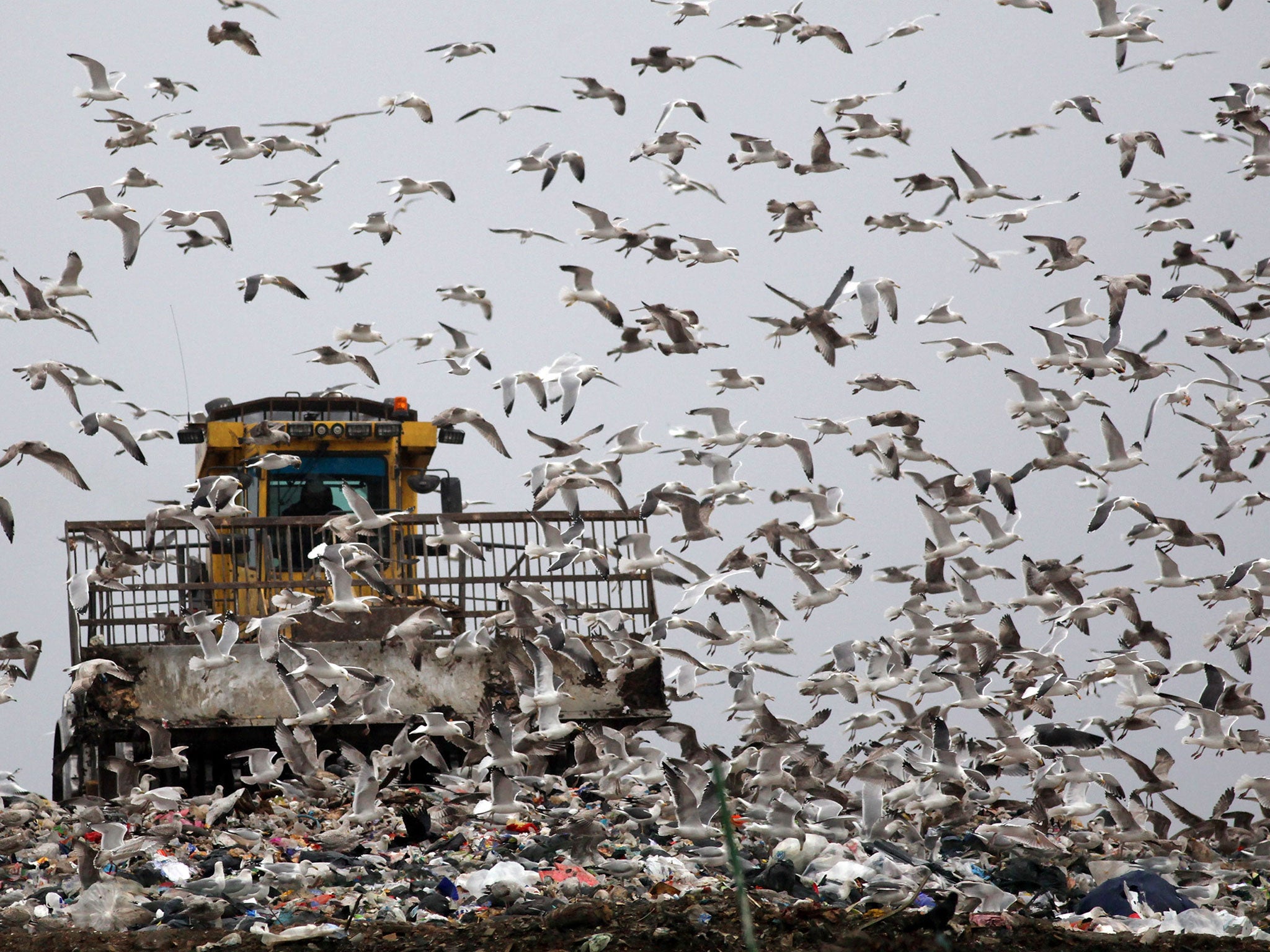 Thousands of landfill dumps around the UK are at risk of being compromised by flooding and coastal erosion, sparking fears that dangerous substances could spill into rivers, streets and beaches, academics warn.
The UK faces a "toxic timebomb" after an analysis of its ageing dumps revealed that 2,946 are located in flood plains, experts say.
Furthermore, 1,655 of these "historical" landfill sites contain dangerous materials such as hazardous chemicals and asbestos, according to calculations for The Independent by Dr Daren Gooddy of the British Geological Society (BGS).
Dr Gooddy is especially concerned about these sites because they are in areas with a high flood risk, and they are very unlikely to have a protective lining because they predate tough EU waste regulations introduced in the 1990s. These significantly strengthened requirements to insulate landfill waste from the surroundings and protect it from severe weather.
"The research is alarming," said Friends of the Earth Campaigner Guy Shrubsole. "Britain's leaky landfills could turn out to be a toxic timebomb – and it's clear that some are already leaching waste and chemicals into our watercourses."
Details about the contents of the UK's 21,027 historic landfills, which date from about 1890 to 1990, are sketchy, making it hard to assess their individual vulnerability to flooding and coastal erosion.
But with nearly 3,000 of them located in flood plains – and a further 1,264 in low-lying coastal areas, often by the sea – many waste sites risk being flooded from heavy rain, storm surges and coastal erosion.
Many of these landfill sites are protected by flood defences and will be able to withstand extreme weather. However, experts are concerned that many others may not be adequately protected and point out that heavy flooding in recent years demonstrates that even robust defences can be overcome by heavy rain.
"There are major gaps in our knowledge about historical landfills and huge uncertainty about the scale of contamination they have caused in water and on land," said Dr Gooddy, principal hydrogeochemist at BGS. "While it's hard to say for sure, I would suggest that many of these legacy sites are vulnerable to flooding."
Furthermore, historic landfill sites across the country pose a risk to their surroundings even if they don't flood because they can still discharge waste that eventually washes into the waterways.
"Even when flooding does not occur these sites leach out contaminated waste, which generally gets transported towards the nearest river," said Dr Gooddy.
His estimates relate to England and Wales but there are also numerous historical landfills in Ireland, Northern Ireland and Scotland which are thought to pose similar risks.
Last year, waves washed away the clay walls of a disused landfill north of Bray, near Dublin, giving an indication of the risks at other sites. Environmental group Coastwatch revealed that about 200 metres of the tip has been exposed, with asbestos, rusted metal, heavy plastics, bricks and bags seen at the foot of the eroded cliffs.
Waste has also been reported hanging out of the side of the riverbank near the village of East Tilbury in Essex as a result of erosion.
With climate change set to increase heavy rain, storms and storm surges, these historical sites will become increasingly vulnerable – putting marine wildlife at risk, scattering rubbish over river banks and beaches and posing a risk to people, especially children, coming into contact with the waste.
"The work we've done in the South-east suggests that there has already been widespread pollution from historic landfills," said Dr Kate Spencer, of Queen Mary University of London. "And at one site we actually found a blue poison bottle from a pharmacist that had a skull and crossbones on it, with a stopper and liquid inside."
She added: "These sites date back to a time when there were no protective linings, no regulation about what went in and little in the way of records about the contents. Many are on coastlines highly vulnerable to coastal erosion, storm surges and flooding and the big concern is that they will become even more vulnerable as climate change makes storms more frequent and intense."
Dr Spencer and her PhD student James Brand are working with the Environment Agency to create a "vulnerability" index ranking to identify those sites posing the greatest danger – based on the risk of flooding and the contents of the dump.
Francis O'Shea of University College London, who researched the state of Britain's historical landfill sites for his PhD at Queen Mary, said: "I was surprised how many historic landfill sites are lying in areas at risk from flooding or coastal erosion. With little information about their current state and what could be released if they flooded this is an area of considerable concern that needs to be investigated."
An Environment Agency spokesperson said: "We are supporting a research project by Queen Mary University of London to assess the potential impacts of flooding and coastal erosion on historic landfill sites close to the coast. We hope the research findings may provide a useful contribution to future shoreline management plans."
Join our commenting forum
Join thought-provoking conversations, follow other Independent readers and see their replies