Lewis Pugh to undertake 'world's most dangerous swim' in Antarctic for campaign to make Ross Sea a protected area
The human polar bear will be braving freezing temperatures in just Speedos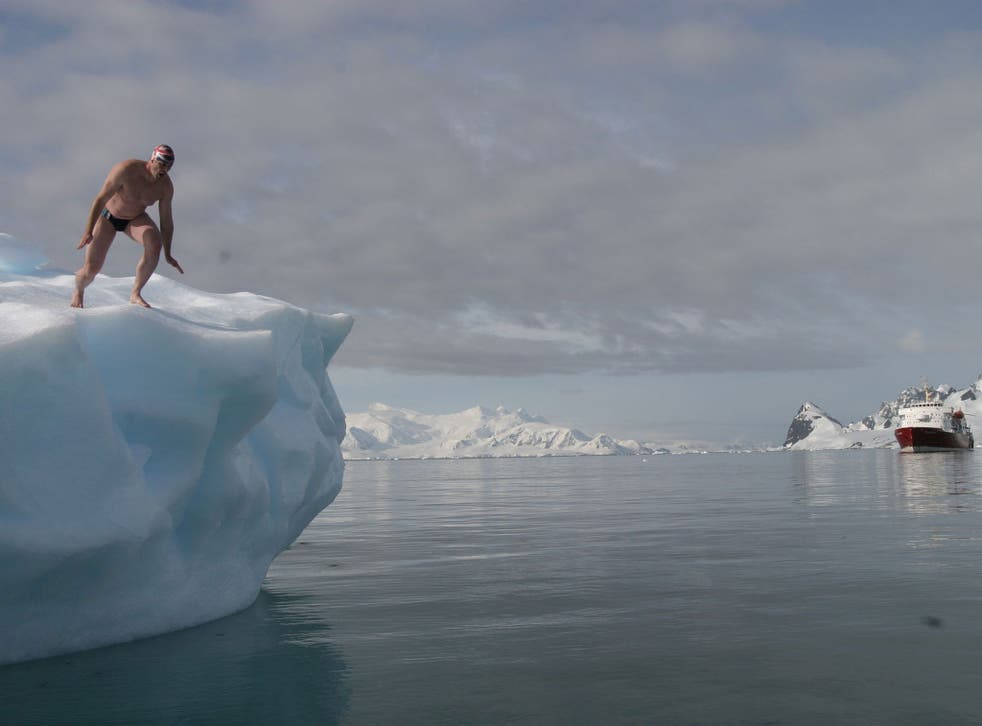 A man nicknamed the human polar bear for being the first person to ever swim to the North Pole is about to break his own world record with five consecutive one kilometre swims in the Antarctic.
Lewis Pugh will be swimming in waters expected to be as cold as around minus 1.7C as part of his campaign urging leaders to make the Ross Sea into a marine protected area (MPA) - wearing just a pair of speedos.
Mr Pugh, a maritime lawyer and UN Patron of the Oceans, is appealing to the Commission for the Conservation of Antarctic Marine Living Resources (CCAMLR), 24 countries and the EU responsible for creating marine protected areas in the region, to make the Ross Sea a MPA and prevent human interference in such a largely untouched area.
Over the next five weeks he will undertake five swims, four of which will be further south than the current world record - held by Mr Pugh - for the most southerly swim.
The Ross Sea, located in the Southern Ocean in Antarctica, contains species found nowhere else in the world and is almost completely free from pollution.
The swimmer, who has also swum in a lake on Everest and in the Seven Seas of Europe and the Middle East, wants to see a vast no-take zone established, which would be the biggest protected area on Earth and larger than the UK, Germany and France put together.
"The Ross Sea is one of the most incredible places on the planet," Mr Pugh told The Independent. "It has one of the most pristine eco-systems left on the earth. Scientists say it is crucial because it helps us understand how to protect the earth because it is the least impacted by humans."
Mr Pugh says he has been training in cold water temperatures of between two and 3C since August.
He said: "I have thought about wearing protective gear, but I just think it is better to go to world leaders and say: 'I've just come back from the Ross Sea and undertaken five swims because I feel so passionately about this area and I'm urging to you to set up a protected areas.'
"Swimming in Speedos shows commitment, courage and integrity and it opens doors and gives me access to world leaders. Without a shadow of a doubt I will be hypothermic at the end of all those swims. We take safety seriously but there comes a time when you have to dive in and just go for it."
Mr Pugh admitted he was feeling apprehensive about his swim. "No human has ever done a series of five swims like this before," he said. "The world is divided by pioneers and followers. To be a good pioneer I think you have to be ignorant because if you did know the dangers you probably wouldn't do it, and you have to really be passionate about something."
He will be setting sail on Tuesday with a team of people, including a doctor.
Stunning images of Antarctica

Show all 10
His swim is expected to be one of the most dangerous ever undertaken by a human being, not least because of the sub-zero temperatures; the area of the sea is also home to killer whales and extremely aggressive leopard seals. His strategy for dealing with either is simple.
"I'd just get out the water. I'm not going to try and negotiate with a leopard seal and I'd have no chance with a killer whale! One of the most important things in selecting the site is to make sure there are no penguins because killer whales and leopard seals are hunting penguins, so you don't want to be mistaken for a giant one. "
Join our new commenting forum
Join thought-provoking conversations, follow other Independent readers and see their replies