Lima convention: Few signs of progress as UN climate summit nears its end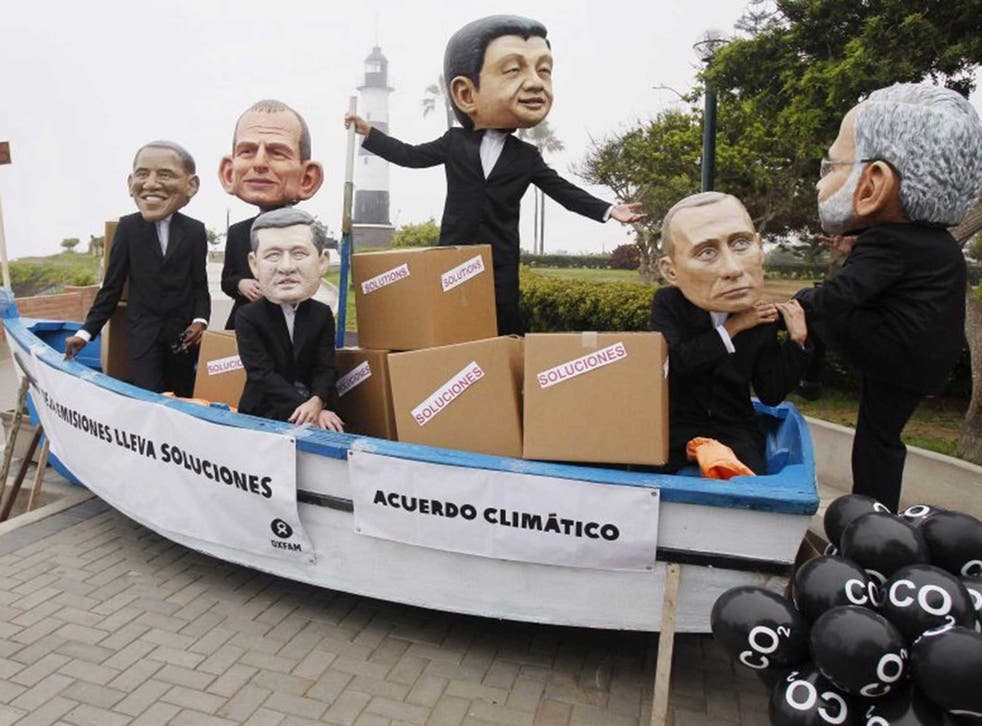 The battle to curb climate change faltered today as a UN summit drew to a close without making any real progress towards setting targets for essential reductions in greenhouse gas emissions.
As the formal deadline for a draft agreement drew near last night, discussions were hampered by divisions between rich and developing countries and China's reluctance to allow an official audit of its environmental pledges.
The aim of the summit, which has been taking place in Lima, Peru, over the past fortnight, was to pave the way for an international treaty on carbon reductions to limit global warming to 2C – beyond which the consequences become increasingly devastating. The plan was to sign the treaty at a UN meeting in Paris next December.
Talks were due to go on late into the night in Lima, but delegates were doubtful evening that anything significant would be agreed.
"Some [of the options presented] could put us on a barely workable path heading into Paris, while others may doom us to a dangerous future," said Jan Kowalzig, a policy adviser for Oxfam.
It looked as if the best to be hoped for was some kind of nebulous undertaking from governments to address climate change more intensively than they are at the moment, sources said.
John Kerry, the US Secretary of State, said in a speech to the convention on Thursday that no country should have a "free pass", adding that "today more than half of emissions are coming from developing nations, so it is imperative that they act too".
But a large group of countries known as the G77, which includes China and Brazil, say the wealthy countries should take on most of the responsibility for cutting emissions. They are pushing the idea that the developing nations adopt "common but differentiated responsibilities" – a formula agreed at the 1992 Rio Summit in which all nations are responsible for addressing environmental destruction, but developing nations are not expected to contribute as much.
Antonio Marcondes, Brazil's representative in the talks, summed up the gulf that remains between the two sides, saying: "This is a firm, basic proposition of G77. We stand behind the 'common but differentiated responsibilities' – these are issues we hold very strong and these are definite red lines."
Campaigners say the talks have been particularly disappointing in view of developments that had appeared to herald a new era in climate action. These include the recent pledges by China, the US and the EU to curb carbon emissions; a major summit in New York where leaders pledged to halt deforestation by 2030; and an unprecedented series of marches involving thousands of people around the world.
Bar a remarkable last-minute turnaround, the Lima convention suggests we are still in the old era of much talk and little action.
Register for free to continue reading
Registration is a free and easy way to support our truly independent journalism
By registering, you will also enjoy limited access to Premium articles, exclusive newsletters, commenting, and virtual events with our leading journalists
Already have an account? sign in
Register for free to continue reading
Registration is a free and easy way to support our truly independent journalism
By registering, you will also enjoy limited access to Premium articles, exclusive newsletters, commenting, and virtual events with our leading journalists
Already have an account? sign in
Join our new commenting forum
Join thought-provoking conversations, follow other Independent readers and see their replies