Local authorities cutting size of allotments in half to allow more gardeners to share same space
Smaller allotments and cleaned-up waiting lists get more would-be gardeners reaching for a spade, says Chris Green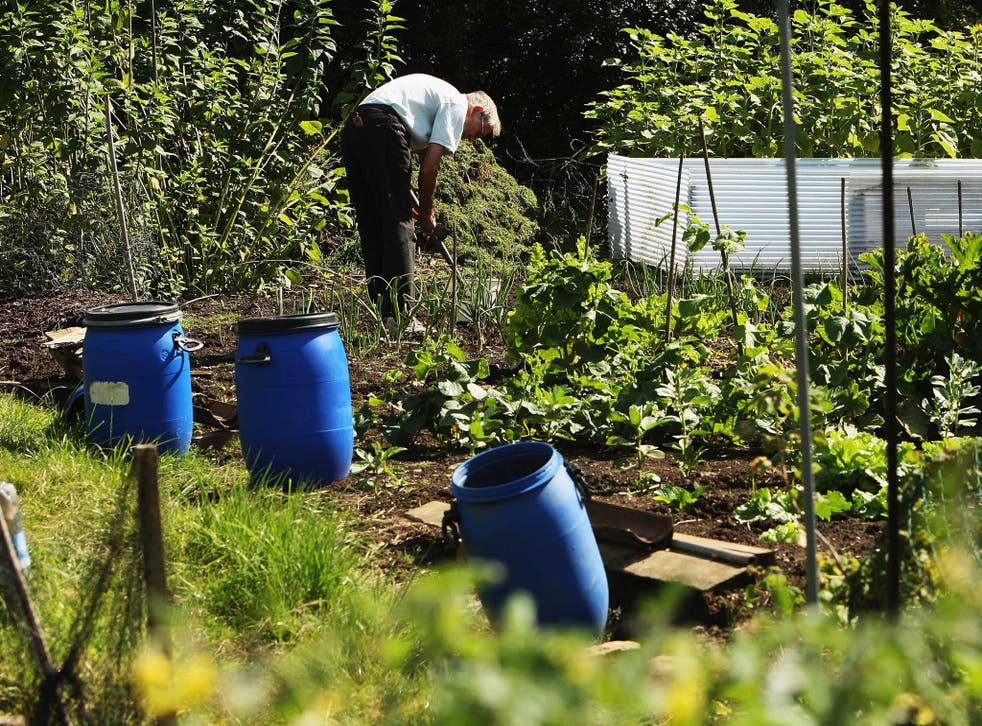 For green-fingered urbanites desperate to get their hands on a plot of land to grow their own fruit and vegetables, years-long waiting lists for allotments have long been offputting and frusrating. But that era appears to be coming to an end.
Local authorities across Britain are finally getting waiting lists under control by cutting the size of their plots in half, thereby allowing twice as many gardeners to share the same space, according to the National Allotment Society (NAS).
Local authorities have also been cleaning up their lists by preventing people from applying for multiple plots in the same area, and deleting applications which are no longer valid – some of which may have been put in by people who have since moved away from the area or died.
The result, according to Karen Kenny, president of the NAS, is that waiting lists are falling, despite continuing demand for plots in urban areas, especially from young couples and families interested in growing their own food. "The plot sizes are getting smaller so you can accommodate a larger number of people on a site," she said.
The move has attracted more young people to apply for their own allotment, she added, as they find a half-size plot measuring 125 square metres far more manageable than the standard 250-square-metre version. "We're still getting demand, but a lot of people are only wanting a half-plot." This means that allotment-holding is no longer the preserve of the retired or the more ambitious gardener.
"It started off with an attempt to address the waiting lists, but it continued because people only wanted a half-plot," Ms Kenny said. "In the past, you had more retired people who had a lot of time on their hands and they could manage a whole plot, but the young families have other things to do. A half-plot is ideal for them, as they can go and do a little bit in the evening or at the weekends."
A half-plot provides most people with enough room to grow a "nice variety" of fruit and vegetables and still have space to keep chickens, she said. A full plot could feed a family of four for a year, but a half-sized one still allows them to make "very good inroads" into their shopping bills.
In pictures: The Great British shed-away

Show all 22
According to a regular survey of English allotment waiting lists carried out by the NAS with the help of the Transition Town West Kirby community group, numbers of those waiting have been falling since 2010. Then, around 94,000 people were waiting for a plot; this fell to 86,000 a year later and 78,000 in 2013. The trend is continuing.
Diane Appleyard, mentor co-ordinator at the NAS, said that although it might appear that allotment-holding was "not at the height of interest it was", thelength of waiting lists may have been overestimated in the past because they were not being managed efficiently by local councils.
"In some areas allotments are still really, really popular and the waiting list is years, but in other places there are vacancies," she said.
"There's a four-year wait for a plot at the site I'm on in Bristol, but if I was prepared to go somewhere a bit further from where I live, I could get one tomorrow."
Ms Kenny said the NAS was confident it can keep waiting lists under control by "constantly looking to develop new allotment sites". It has increasingly been working with housing and land developers, encouraging them to include new allotments in their plans.
Case study
Karen Spall, 38, tends a half-plot allotment in Ipswich with the help of her husband Chris, 41, and their daughters Hannah, 9, and Phoebe, 3. They pay rent of £17 a year.
"Because there are so many people on the waiting list, they're only giving out half-plots now," she said. "I think a full one would be too much for us, to be honest. It would be too much to do, because if you've never grown your own fruit and veg before, it takes up a lot of time.
"For a family of four, a half-plot is big enough for potatoes, onions and everything on there that you need. We had to wait nine months for ours, but you can always go back on the waiting list and get another quarter-plot if you really want one.
"We've got a garden at home, but it's not really big enough to grow vegetables. On the allotment we've done courgettes, marrows, runner beans, strawberries, cucumbers, sweetcorn. We've also got two apple trees, a plum tree and a cherry tree. We grow peas, but the girls always eat those before I can get them home.
"In the past year, a lot of families have come on to the allotment, so my girls have made friends with other children. They have picnics, collect ladybirds and make mud pies. When we first started it was mainly very old people who kept themselves to themselves, but it's changed a lot as families and young couples have arrived.
"People used to say we were really sad to have an allotment, but now five of my friends are on the waiting list.
"Last year, we tried making jams and pickling things for the first time – some went well, some didn't. But I grow so many runner beans that people avoid me on the street, because I'm always trying to give them away."
Join our new commenting forum
Join thought-provoking conversations, follow other Independent readers and see their replies