Designer furniture retailer Lombok becomes first UK company to be fined under illegal logging laws
Authorities twice warned upmarket furniture firm after it failed to carry out required due diligence
Ben Chapman
Wednesday 01 November 2017 19:14 Comments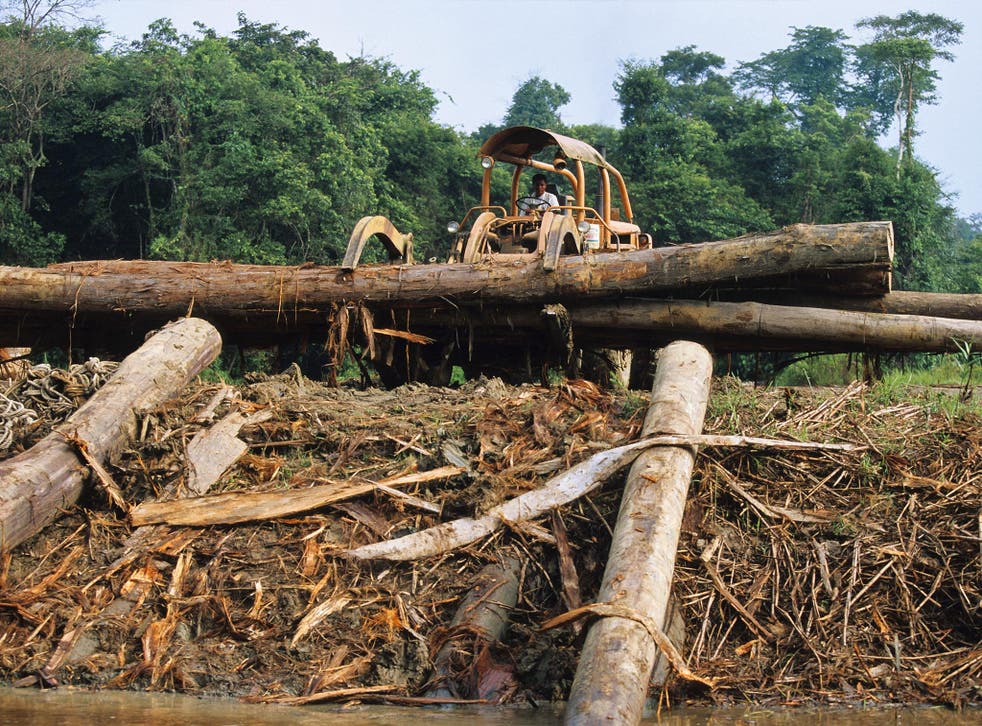 Designer furniture retailer Lombok has become the first UK company to be prosecuted and fined under illegal logging rules designed to stop the import of timber linked to widespread deforestation around the world.
Environmental groups said the prosecution was likely to be the "tip of the iceberg" as many firms, particularly in the furniture sector, still don't have a grip on where their raw materials come from.
Authorities twice warned Lombok in 2015 after it failed to exercise the required due diligence to ensure that items it had sourced from India were made out of wood from legal logging sites, but the company continued to sell those items, the Department for Business Energy and Industrial Strategy (BEIS) said on Wednesday.
Lombok disputes the title and tone of the department's public notice, which it says "clearly misrepresents the facts of the charge".
In October 2016, enforcement officers visited Lombok's central London showroom and found the company had again not made checks on an imported artisan sideboard it was selling, according to BEIS.
The company was prosecuted at Westminster Magistrates Court and fined £5,000 plus costs. The District Judge stated that enforcing illegal logging rules was "important" in addressing environmental and biodiversity concerns as well as instilling public confidence that companies do not endanger those.
Lombok's previous failures were taken as an aggravating factor, though the judge said in mitigation that the company had reacted proactively and entered an early guilty plea.
Lombok trades as a purveyor of "eastern-influenced and hand-crafted designer furniture, lighting and homewares".
Items listed on Lombok's website at the time of writing include a sideboard for £1,475 (reduced from £1,855) and a chest of drawers for £1,335.
A spokesperson for BEIS said the prosecution should act as a warning to other companies who might be importing uncertified timber.
Julia Young, global forest and trade network manager for WWF, said that her organisation was "extremely pleased" to learn that Lombok had been fined. "Companies must invest in the forests that they rely on, rather than exploit them," she said.
"It is surprising that Lombok ignored the warnings from the enforcement agency to take action, and it is the right outcome that they have been penalised for ignoring the law."
Ms Young said that Government and businesses must take urgent action to prevent the sale of illegal timber and that higher penalties than the one handed to Lombok would act as a more effective deterrent.
WWF's research has found that many businesses don't have policies on how they buy their timber, four years after the EU Timber Regulations (EUTR) were introduced. This often goes hand in hand with failure to carry out due diligence on suppliers and their sources, the environmental organisation said.
The EUTR requires importers or sellers of timber and wood products to keep records of the sources of their supplies.
The rules are intended to slow the global trade in illegal timber which Interpol estimates to be worth between $30bn (£23bn) and $90bn every year.
Daniela Montalto, Greenpeace UK forests campaigner, warned companies that they face huge damage to their reputations if they break timber rules.
"Deforestation, which illegal logging leads to, is not just about habitat loss – forests are of fundamental importance to life on Earth," she said
"They are vital resources for local communities but the impact of their loss can also be far reaching. Computer modelling has shown that deforestation in Asia could lead to changes in the route storms take over Europe, and Amazon deforestation could increase annual rainfall in northern Europe.
"Europe's market is still contaminated with timber from countries where forests are being illegally cleared and degraded and this is why it's essential the EUTR are executed consistently to tackle it."
Update, 3 November 2017: Lombok's managing director, Stuart Lewis, said on Thursday that the company accepted in court that its due diligence procedures had not been robust enough to comply with EUTR with regard to the item that the Department for Business Energy and Industrial Strategy had selected.
However, he said that the company took decisive action to reform its procedures after BEIS became involved in September 2016.
Mr Lewis said the suggestion in the Insolvency Service's public notice, reported by The Independent, that Lombok had not checked the sources of its products is untrue.
Lombok has long-standing due diligence processes, including visiting factories abroad, carrying out site inspections and assessing timber stocks in relation to production levels as well as other risk factors, Mr Lewis said.
He added: "There was never any suggestion that any illegal timber was ever identified nor that there was a significant or even modest risk of any having been introduced to the market.
"As the Judge pointed out in his comments, we reacted 'proactively and positively to involvement of BEIS and have, as good as they can, provenanced (sic) the item in question to be sure of its legitimate source'."
He said the company accepted that its actions came too late to avoid enforcement action in this individual case, but said it was confident that it now had industry-leading compliance processes in place.
This "significant remedial action" was reflected in the fine imposed, the company said via its solicitor.
Register for free to continue reading
Registration is a free and easy way to support our truly independent journalism
By registering, you will also enjoy limited access to Premium articles, exclusive newsletters, commenting, and virtual events with our leading journalists
Already have an account? sign in
Join our new commenting forum
Join thought-provoking conversations, follow other Independent readers and see their replies