London's entire public transport system to be zero emission by 2050, pledges Sadiq Khan
Number of car journeys to be cut by three million each day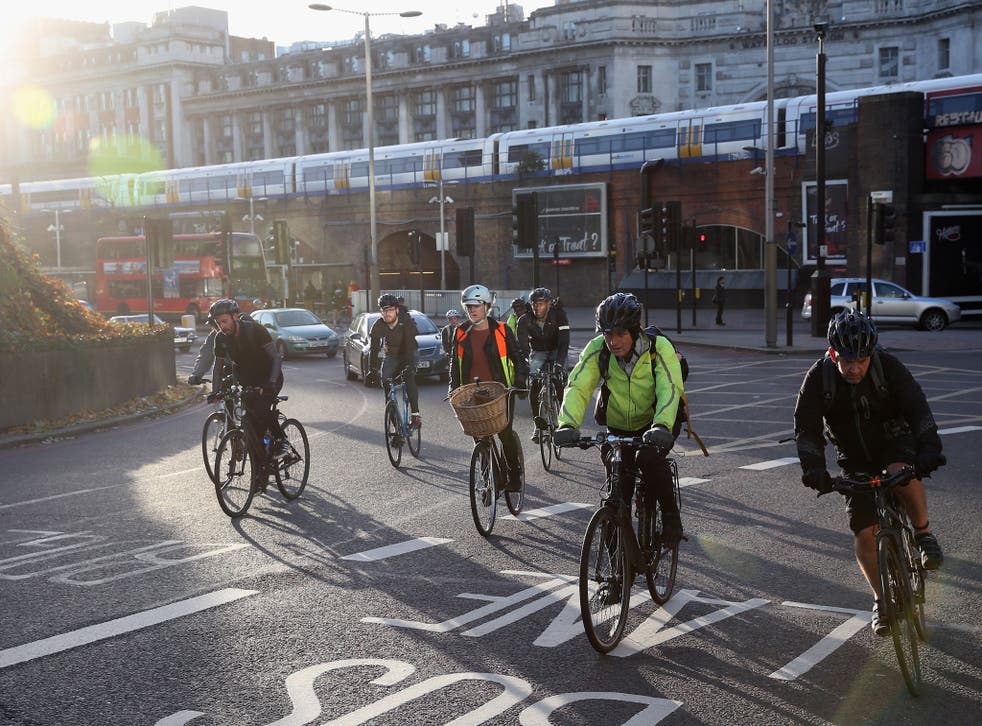 London's entire transport system will become zero emission by 2050 under radical plans outlined by the mayor, Sadiq Khan.
Included in the blueprint is a pledge to cut the number of car journeys by three million each day while increasing the number of people walking, cycling or using public transport to 80 per cent by 2041 – up from 64 per cent last year.
London's population is projected to rise to 10.5 million over the next 25 years and Mr Khan said a shift away from polluting vehicles was key to delivering a greener and healthier city.
A zero-emission zone will be created in central London by 2025 with the zone expanded to take in the whole of the capital by 2050.
All taxis and minicabs will be non-polluting by 2033 while the entire bus fleet, numbering 9,200 vehicles, will be zero emission by 2037, the mayor's office said.
Under the plans, all new road vehicles driven in inner London will need to be zero emission by 2040, paving the way for the city's entire transport system to be zero emission a decade later.
Paul Morozzo, clean air campaigner at Greenpeace, called it an "ambitious, well-thought-through long term vision for the London transport system".
The mayor's pledge for a "record investment" in walking and cycling was also welcomed by Cycling UK's policy director, Roger Geffen, who said the plans were "a breath of fresh air from our otherwise polluted capital".
"Sadiq Khan's Strategy has laid down the gauntlet to other city and county council leaders to set out similarly ambitious plans for their areas," he said.
"It's now down to national government to provide them with the support they need, as they tackle the problems plaguing our cities, particularly air pollution.
"A new Clean Air Act could really help local authorities not only to reduce road traffic and the pollution and congestion it causes, but also to invest in high-quality cycle networks and other healthy transport solutions for their areas."
The worst countries in the world for air pollution deaths

Show all 10
London Cycling Campaign (LCC) said it was particularly supportive of the mayor's aim for 70 per cent of Londoners to live within 400 metres of a "high-quality, safe cycle route" by 2041.
"A true network of safe, high-quality routes is vital if we are to reach the levels of cycling we see in many continental cities," Simon Munk, LCC's infrastructure campaigner, told The Independent.
"Mass cycling levels would reduce congestion and pollution and vastly boost the health of Londoners."
Public Health England's director for London, Dr Yvonne Doyle, added that promoting cycling and walking was "vital to the future of the city".
Among the other proposals announced today are improvements to Tube, DLR, rail and tram services, expanding access to the network to disabled and older people, and installing 4G mobile coverage on the London Underground.
It also makes the case for Crossrail 2 linking south-west and north-east London, and includes an aim for no one to be killed in or by a London bus by 2030, and for all deaths and serious injuries from road collisions to be eliminated from London's streets by 2041 .
Some of the plans outlined in the mayor's transport vision are already underway. An Ultra Low Emission Zone (ULEZ) is scheduled to come into force in central London from 2020, requiring all cars, motorbikes, vans and heavy goods vehicles to meet exhaust emission standards.
Sadiq Khan calls air pollution in London a killer
And from next year, all new double-deck buses will be hybrid, electric or hydrogen while all single-deck buses will emit zero exhaust emissions by 2020.
Mr Khan said: "It has been an incredibly difficult few weeks for London, but we must carry on as a city and that means pushing forward our work to keep Londoners moving around our city.
"We simply cannot afford to take the same old approach to travel as our growing population puts increasing pressure on our network."
The mayor's draft transport strategy is open for consultation until 2 October.
Join our new commenting forum
Join thought-provoking conversations, follow other Independent readers and see their replies