Look what's struggling to swim the Thames now… trout
Previously filthy watercourses are now teeming with fish, a new book reveals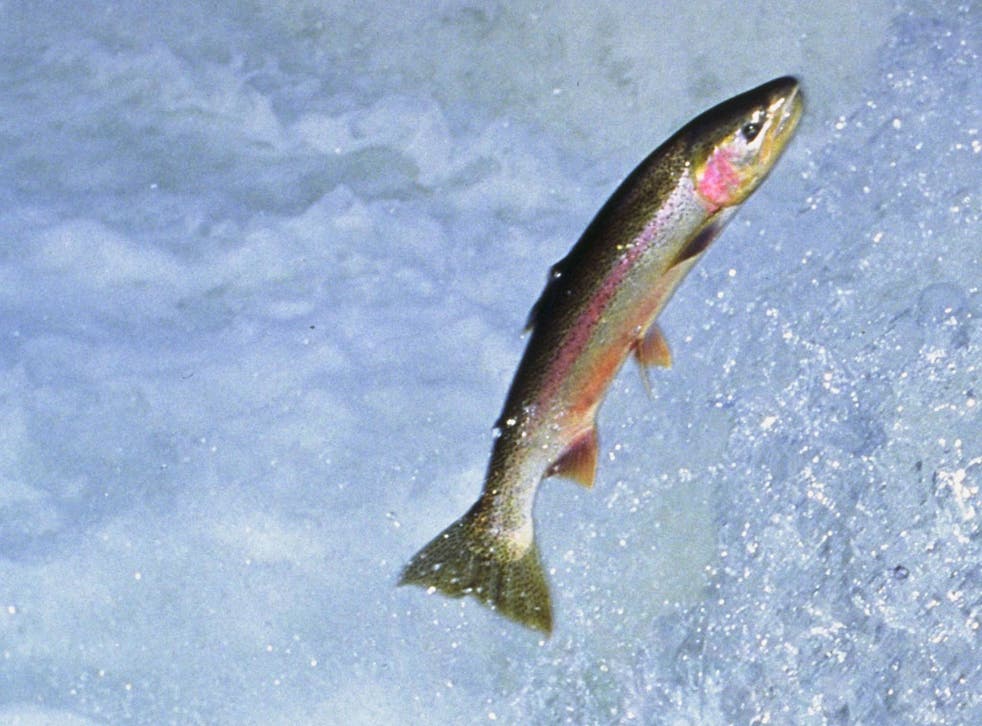 Increasing numbers of rivers in towns and cities in Britain are now so clean that anglers are fly-fishing in them for trout and grayling, which are specialised clean-water species, a new book says.
Many urban watercourses, polluted by heavy industry since the 19th century, have now shed so much of their pollution that they can support populations of the aquatic insects on which trout and grayling feed, such as mayflies, and fish populations are thriving.
The phenomenon is being seen across Britain, from south London to Sheffield, and from Merthyr Tydfil to Glasgow, according to conservationist and fisherman Theo Pike, in his book Trout in Dirty Places.
The change has been brought about by the decline of manufacturing industry, he says, and also by the fact that after privatisation in the 1990s, the water industry was compelled to spend huge sums on sewage treatment.
"This has been a quiet revolution over the last 30 years, and I have gradually come to realise that in Britain's towns and cities, there is probably now more water with trout and grayling living happily in it, than without," Mr Pike says. The great exception is the Thames in London, which is still polluted by sewage overflowing from the Victorian sewerage system, whenever there is significant rainfall. "While the Thames is an awful lot cleaner than it was a few decades ago, it still has major problems in that whenever more than 2mm of rain falls in west London, vast quantities of raw sewage get dumped into the river by the antiquated sewage system," Mr Pike says.
The particular sewage problems of the Thames are being dealt with by a special, 24-mile-long, £3.6bn "supersewer" – officially the Thames Tideway Interceptor Tunnel – beginning construction now, for completion sometime after 2020.
But in other urban centres, Mr Pike says, the improvements are already so great that even famous "industrial" rivers, such as Manchester's River Irwell, or Sheffield's River Don, now hold trout populations, and anglers are fishing for them.
In his book, he describes in detail 50 such rivers, like the River Stour at Kidderminster in Worcestershire, which, he says, was effectively destroyed by the town's celebrated woven carpet industry – fish that survived, such as gudgeon, were stained red and yellow by the dyes from the carpet factory. But now the carpet industry has gone and the water quality is significantly improving, and trout and grayling have returned.
Other such recovering and now-fishable watercourses include the Holme in Huddersfield, the Taff in Merthyr Vale, the Wear in Durham, and in Scotland, the Kelvin in Glasgow and the Water of Leith in Edinburgh.
A significant factor in recovery is that local communities have begun to reclaim ownership of their local rivers, such being the case with his own local river, the Wandle, in south-west London, which in the 1960s was officially classed as an open sewer. Now it is steadily improving, helped by members of the Wandle Trust, formed in 2000, who devote many hours to cleaning the watercourse – "forming alliances with other wet-wellied pioneers, clearing decades of fly-tipped rubbish, and gradually taking responsibility for restoring water quality and habitat".
It also helps, he says, that members of the salmon family like trout and grayling are natural adapters to new surroundings. "They're surreally suited to life amongst the decaying human infrastructure of post-industrial rivers," he says.
'Trout in Dirty Places' will be published by Merlin Unwin on 3 April (£20)
Thriving rivers: Fishing hotspots
River Wandle, London
Angler Andrew Farr tries his luck on the Wandle, just down the road from the bus garage in Merton in south-west London. Once a famous chalk stream, reputedly fished by Lord Nelson, the Wandle became a polluted sewer, but is now rapidly recovering.
River Don, Sheffield
Flyfisherman Stuart Crofts stalks trout right next to the stadium of Sheffield Wednesday FC. The River Don was "sacrificed to the steel industry" and rendered lifeless by pollution but now holds large trout and grayling.
River Kelvin, Glasgow
Angler Alistair Stewart watches the waters of the River Kelvin in the heart of Scotland's largest city. The Kelvin once carried away the effluent from a whole series of industries, but is now attracting salmon and sea trout as well as holding resident brown trout.
Join our new commenting forum
Join thought-provoking conversations, follow other Independent readers and see their replies