Lulu: Whale's death may mean the end for Britain's orcas
With their number down to eight, they could now have passed the point of no return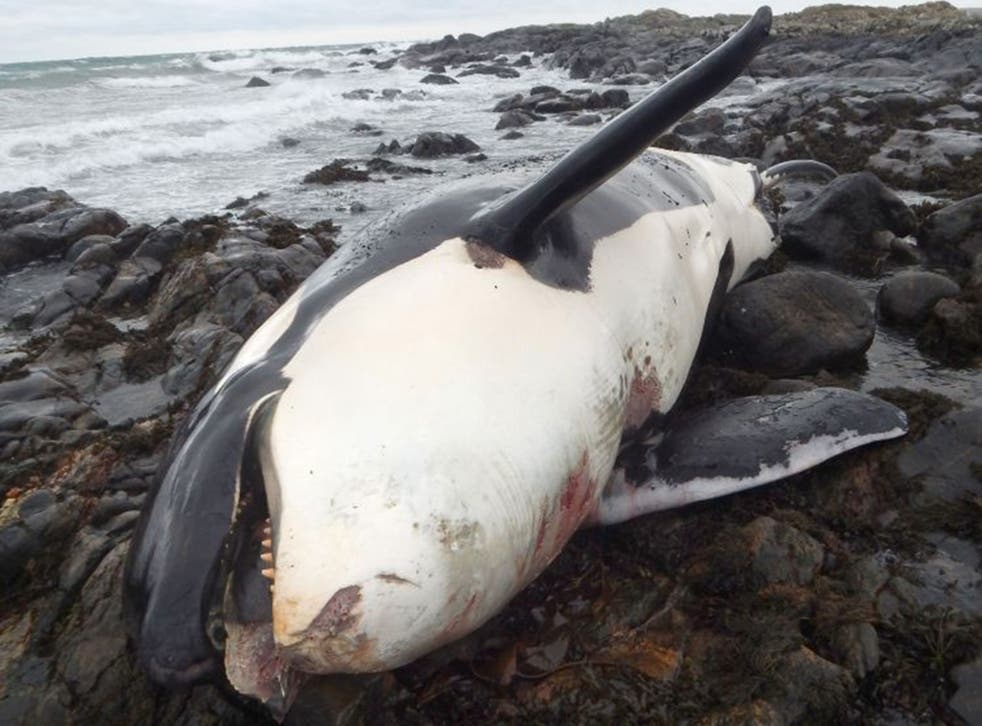 When Lulu, one of the last remaining members of Britain's only resident orca whale population, was found washed up on a the shores of a Scottish island earlier this week her death prompted an unprecedented outpouring of public concern.
Specialists say Lulu's demise harbingers even more tragedy, however. Her pod – a community of orca, or killer, whales with a unique set of characteristics – is now thought to be just too small for it to survive.
The so-called West Coast Community – an isolated population of killer whales, whose members are slightly bigger than other orcas thanks to hundreds of thousands of years of evolution – is now down to eight members; Nicola, Moneypenny, Floppy Fin, John Coe, Comet, Aquarius, Puffin and Occasus.
"The prospects for the population were never good but now they're worse. With a population as low as eight the chances of them recovering is slim to nil at this point," said Dr Conor Ryan, of the Hebridean Whale and Dolphin Trust, which has been monitoring the community since the 1990s.
The pod has been in long-term decline, producing not a single calf since monitoring began – although whether this is because the females are too old to reproduce, their food supplies are dwindling or pollution is taking its toll, is unclear said Dr Ryan.
Lulu, a 6.2 metre killer whale, is thought to have met an excruciating death after becoming entangled in a fishing rope that prevented her from swimming and drowned her gradually over a period of several days before she was washed onto the shores of the Scottish island of Tiree.
Her death has been met with a public outpouring of grief which the man in charge of her post-mortem says dwarfs anything he has seen in his seven years as Scotland's chief marine mammal pathologist.
Dr Andrew Brownlow, who runs the Scottish Marine Animal Stranding Scheme, has worked on 2,700 separate marine mammal strandings since 2009 – the vast majority of them involving dead animals – but says he has "never seen anything like this before."
"The response has been astonishing. It's the highest level of reaction I've seen by an order of magnitude. Killer whales are so charismatic and so iconic that they really capture the imagination. And people have been very affected by the images of Lulu stranded on the beach," said Dr Brownlow, who has yet to complete the post mortem but thinks it very likely that her death was caused by fishing rope.
"She is one of a very small population, she had a name, her death was unpleasant and unfortunately, directly or indirectly, it was due to human impact. When you stack these reasons up you can see why people have been so bothered about it," he said.
Although the population has been monitored by various parties for four decades, remarkably little is known about its membership because there are so few of them and they roam around thousands of square miles of sea. Lulu was found on the shore of the most westerly island of the Inner Hebrides but members of her community have been spotted everywhere from the Outer Hebrides, to the Moray Firth on the North East coast of Scotland, the coast of Donegal in Ireland and the Welsh coast. Their favourite hangout, however, is the Isle of Skye.
Given how little is known about the pod, the death of Lulu does at least have one silver lining – she is the first member of the population that has been found dead giving a unique opportunity to learn more about the community, says Dr Brownlow.
A genetic analysis of Lulu should provide valuable clues about how the population is genetically, behaviourally and socially different from other killer whale populations and an examination of her reproductive organs may tell us something about why the community hasn't produced any calves for decades.
Dr Brownlow will also conduct tests on Lulu's blubber layer for contaminants which could tell us the role pollutants are playing in the demise of the community.
But the results could take some time and people are going to have to be patient, he says.
"It's going to take months I'm afraid. It isn't CSI [US forensic crime drama] - it's not like you can put it in the machine and get the result by next week unfortunately."
Cartridge cargo spill threatens widlife
Thousands of printer ink cartridges are washing up beaches on the South-west coast of Britain, after a cargo spill that could pose a risk to birds and sea turtles.
The Hewlett Packard cartridges are believed to have floated in from a cargo ship spill more than a year ago.
Beaches in France, Portugal and the Irish Republic are among those where cartridges have been found, along with the Azores near Portugal and the Hebrides off Scotland.
Hewlett Packard said the cartridges were spilled in an Atlantic storm, and is setting up a fund to pay for local groups to collect and return them to be recycled.
Oceanographer Curtis Ebbesmeyer estimates as many as 370,000 cartridges could be at sea, based on the pattern of where they are emerging and the possible size of the containers.
Adam Barnett
Join our new commenting forum
Join thought-provoking conversations, follow other Independent readers and see their replies