The lynx could be reintroduced to the UK within months after a 1,300-year absence
'Lynx belong here as much as hedgehogs, badgers, robins, blackbirds,' say campaigners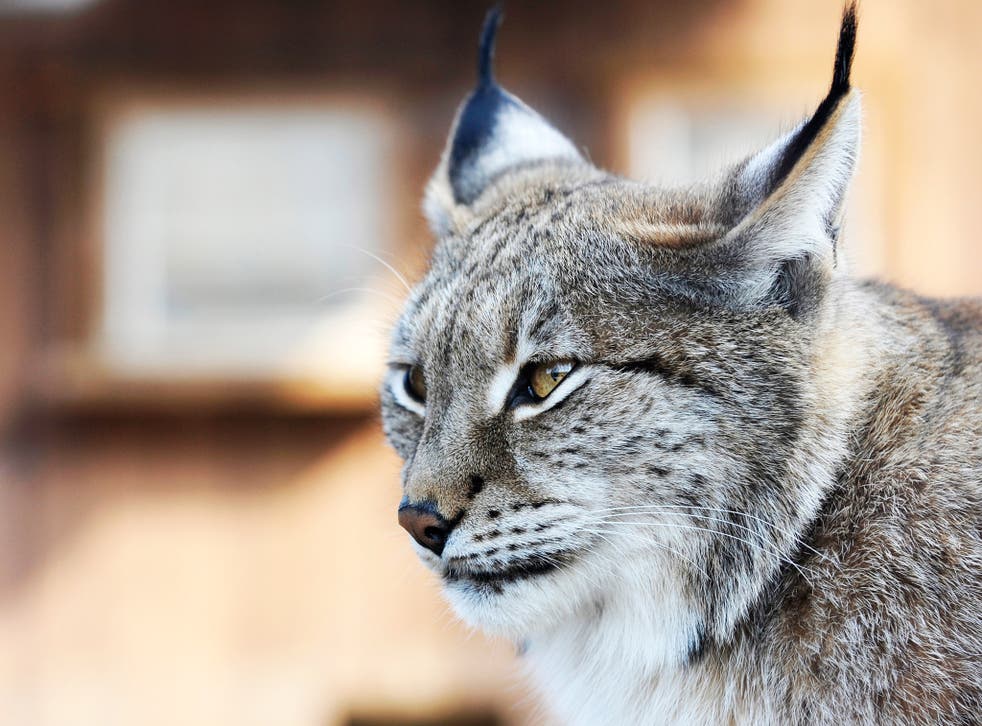 The Eurasian lynx could be stalking through British woodlands within months after plans were submitted to reintroduce the species, absent from Britain for about 1,300 years.
Campaigners have applied for a licence to import six of the wildcats, which were hunted to extinction in the UK, and release them in Northumberland's Kielder Forest.
The Lynx Trust said the animals, which can grow to 1.3m in length, "belong" in Britain and there was a "moral obligation" to bring them back.
The cats' return would also generate millions of pounds for rural communities by attracting tourists, according to the group.
But the proposal has met with opposition from sheep farmers, who claim their livestock would be put at risk.
The scheme would initially involve six lynx, four females and two males, being imported from Sweden and fitted with GPS tracking collars for a five-year trial.
The trust applied to Natural England for permission to release the cats after it carried out a 20-month consultation of locals and wildlife organisations. No date has been set for the proposed reintroduction but they cats could return to the UK by the end of 2017 if the plans are approved.
The trust said in a statement: "In many other countries Eurasian lynx reintroduction has proven exceptionally low-conflict and wonderfully beneficial for the local communities that live alongside them, and we do sincerely hope that these cats, which thrived here for millions of years, do have the opportunity to prove they can still fit into both our ecology, and alongside local communities like those across the Kielder region."
UK news in pictures

Show all 50
The group chose the forest for the trial due to its large size, few roads, and abundance of deer, the lynx's favourite prey.
"Lynx belong here as much as hedgehogs, badgers, robins, blackbirds - they are an intrinsic part of the UK environment," Dr Paul O'Donoghue, the trust's chief scientific adviser, told the Guardian. "There is a moral obligation. We killed every single last one of them for the fur trade, that's a wrong we have to right."
Conservation group working to reintroduce lynx to UK forests
He said the reintroduction of the lynx to Germany's Harz mountains had led to the region becoming a "thriving ecotourism destination", adding: "We thought we could do exactly the same for Kielder."
The National Sheep Association, which represents farmers, said it "fully opposed" the proposal.
"Even if compensation were offered, it will not make sheep mortalities acceptable and, given the general public's reaction to some of the harrowing images caused by domestic dog attacks and their expectation of high animal welfare, I cannot see how distressing attacks caused by a wild animal will be accepted," said chief executive Phil Stocker.
"The species has been absent from the UK for thousands of years, and our countryside now is far too fragmented and built up to support a viable population of lynx."
But the Lynx Trust insisted fear of the cats was not justified.
"You will never see a lynx running across an open field chasing down prey - they can't do it, " said Dr O'Donoghue. "They are the epitome of a forest specialist - their coat is dappled."
He said research across Europe, home to roughly 10,000 wild lynxes, had found the cats kill only one sheep every two-and-a-half years.
There are also no recorded attacks on humans by lynx.
Register for free to continue reading
Registration is a free and easy way to support our truly independent journalism
By registering, you will also enjoy limited access to Premium articles, exclusive newsletters, commenting, and virtual events with our leading journalists
Already have an account? sign in
Register for free to continue reading
Registration is a free and easy way to support our truly independent journalism
By registering, you will also enjoy limited access to Premium articles, exclusive newsletters, commenting, and virtual events with our leading journalists
Already have an account? sign in
Join our new commenting forum
Join thought-provoking conversations, follow other Independent readers and see their replies