Maersk to operate 'world's first carbon neutral liner' by 2023 as shipping faces pressure to reduce emissions
World's biggest shipping company to stop building fossil-fuel only vessels
Harry Cockburn
Wednesday 17 February 2021 17:47 Comments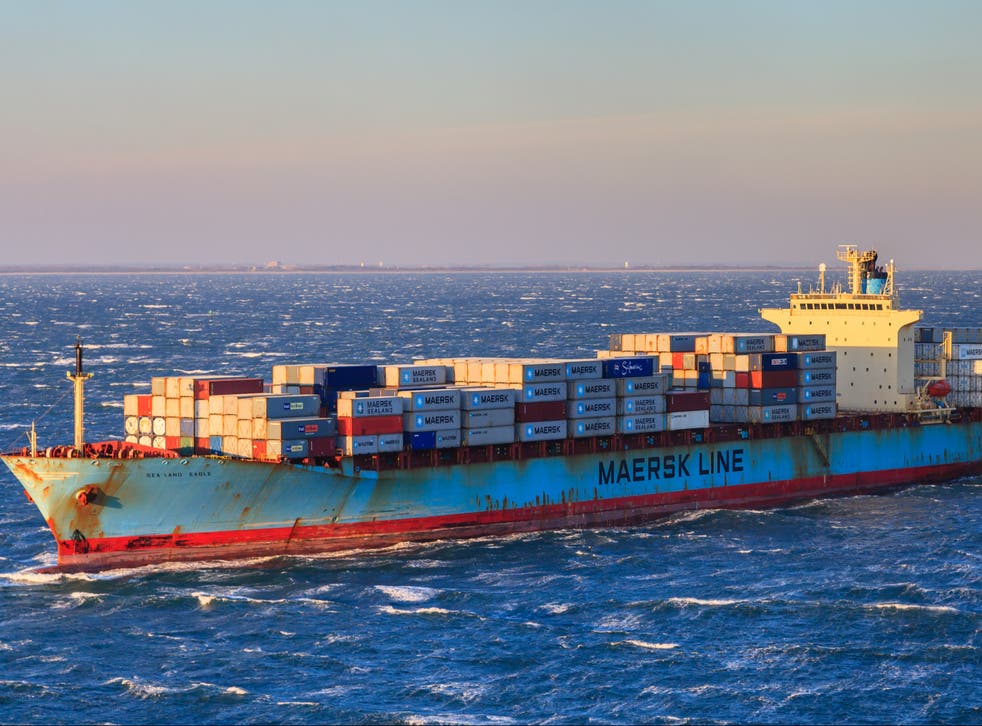 Though the world's shipping fleet once ran entirely on endlessly renewable wind power, for more than a century, it has operated largely using fossil fuels.
But now, the world's largest shipping company, Maersk, is signalling the beginning of the end of fossil fuels' domination of the industry with the announcement of the 'world's first carbon neutral liner vessel'.
The new ships are due to be operational by 2023 and will run on "carbon neutral e-methanol or sustainable bio-methanol from day one", but will have "dual fuel technology installed, enabling either carbon neutral operations or operation on standard very low sulphur fuel oil (VLSFO)", Maersk said.
The announcement comes three months after the industry's main regulator, the international maritime organisation, was accused of a lack of ambition over its new decarbonisation guidelines.
Maersk said the production of the vessels had been "fast-tracked by advances in technology", but they also cited "increasing customer demand for sustainable supply chains".
Søren Skou, the company's chief executive said the "ambition is to lead the way in decarbonising global logistics".
"Our customers expect us to help them decarbonise their global supply chains, and we are embracing the challenge, working on solving the practical, technical and safety challenges inherent in the carbon neutral fuels we need in the future," he said.
"Our ambition to have a carbon neutral fleet by 2050 was a moonshot when we announced in 2018. Today we see it as a challenging, yet achievable target to reach.
The fuel oils widely used in shipping are among the world's most damaging forms of fossil fuels, and are usually composed of low-quality crude oil which is too poor to be refined for use by other forms of transport such as road vehicles or aeroplanes.
The emissions from shipping largely occur far from land and therefore they have been out of sight, and out of mind for many governments.
But international dependence on shipping is growing rapidly, and as the climate crisis worsens, greater focus on the fuels used for transporting goods around the world is becoming a serious concern.
The shipping industry used around 3.8 million tonnes of fuel oil a day in 2017, according to energy consultants Wood Mackenzie. This is equivalent to half of all global fuel oil demand. Shipping accounts for 3 per cent of the world's carbon emissions, but as the sector surges, it could hit 17 per cent by 2050, unless there is a major shift to cleaner fuels.
Maersk is aiming to have net zero emissions by 2050. To reach that target the company has said it hopes to have the net-zero vessels fully operational by 2030, and play a major part in delivering a 60 per cent reduction in CO2 emissions compared to 2008 levels.
The company did not specify where it was sourcing the methanol for the new vessels, but noted the success of the project depends on finding a reliable source.
"It will be a significant challenge to source an adequate supply of carbon neutral methanol within our timeline to pioneer this technology," said Henriette Hallberg Thygesen, Maersk's chief executive of fleet and strategic brands.
"Our success relies on customers embracing this groundbreaking product and strengthened collaboration with fuel manufacturers, technology partners and developers to ramp up production fast enough. We believe our aspiration to put the world's first carbon neutral liner vessel in operation by 2023 is the best way to kick start the rapid scaling of carbon neutral fuels we will need."
Register for free to continue reading
Registration is a free and easy way to support our truly independent journalism
By registering, you will also enjoy limited access to Premium articles, exclusive newsletters, commenting, and virtual events with our leading journalists
Already have an account? sign in
Register for free to continue reading
Registration is a free and easy way to support our truly independent journalism
By registering, you will also enjoy limited access to Premium articles, exclusive newsletters, commenting, and virtual events with our leading journalists
Already have an account? sign in
Join our new commenting forum
Join thought-provoking conversations, follow other Independent readers and see their replies