Malaria mosquitoes wiped out with GM fungus in first controlled 'real world' tests
Tests with genetically engineered parasite move out of lab and into 6,550sq ft screened enclosure in Burkina Faso, west Africa to understand if it could help stop 400,000 deaths a year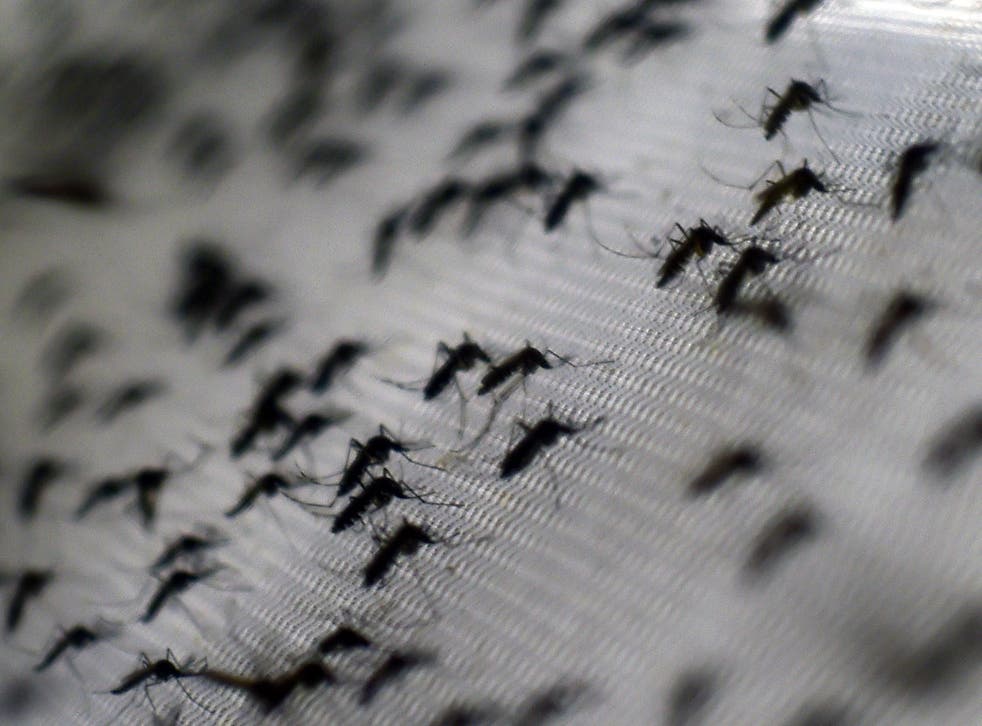 A genetically modified fungus wiped out malaria-carrying mosquitoes in a month and a half, in trials in west Africa which have come closer than ever before to studying the potential impact of releasing an engineered organism in the wild.
Researchers from Burkina Faso and the University of Maryland supercharged a naturally occurring parasite of the anopheles mosquitos, a major carrier of the malaria parasite which kills 400,000 people a year.
It wiped out more than 99 per cent of mosquitoes within the 45-day trial, which was conducted in a village enclosed in a 6,550sq ft (608sq m) fly net – dubbed the MosquitoSphere.
"No transgenic malaria control has come this far down the road towards actual field testing," said Brian Lovett, who was lead author of the study published in the journal Science on Thursday.
"This paper marks a big step and sets a precedent for this and other transgenic methods to move forward."
Science news in pictures

Show all 20
Gene editing techniques offer several potential ways to wipe out malaria or its mosquito host by adapting an existing parasite or predator, or by making mosquitoes infertile.
But their use, or even tests in the field, have been curtailed by the significant ethical and environmental considerations of releasing an organism which could have an unknown impact on the ecosystem.
In the latest study researchers used the fungus Metarhizum pingshaense and applied it to sheets hung inside test houses.
The fungus has been given genes to produce an insecticide, known as a "hybrid", first extracted from the Australian funnel-web spider and already approved in the US for treating crops.
By linking the insecticide-release mechanism to a gene which the fungus triggers to hide from its host's immune system the scientists were able to ensure it would only kill its intended target.
Laboratory tests in other important pollinating insects also showed it caused them no ill effects.
"These fungi are very selective," said Professor Raymond St Leger, another of the study's authors.
"They know where they are from chemical signals and the shapes of features on an insect's body. The strain we are working with likes mosquitoes.
"When this fungus detects that it is on a mosquito, it penetrates the mosquito's cuticle and enters the insect. It won't go to that trouble for other insects, so it's quite safe for beneficial species such as honeybees."
It also worked effectively in mosquitoes who were resistant to conventional insecticides, a growing problem which is undermining the control of malaria in many countries.
Dr Tony Nolan, a lecturer at Liverpool School of Tropical Medicine who has worked on genetic control of mosquitos through a method called "gene drive", said there was a pressing need for these techniques to complement mosquito nets and other strategies.
"The reason this is an advance is because the conditions are more realistic, and the mosquitoes are locally caught and therefore more relevant.
"That makes a difference because it needs to work across the range of variation out there."
Register for free to continue reading
Registration is a free and easy way to support our truly independent journalism
By registering, you will also enjoy limited access to Premium articles, exclusive newsletters, commenting, and virtual events with our leading journalists
Already have an account? sign in
Register for free to continue reading
Registration is a free and easy way to support our truly independent journalism
By registering, you will also enjoy limited access to Premium articles, exclusive newsletters, commenting, and virtual events with our leading journalists
Already have an account? sign in
Join our new commenting forum
Join thought-provoking conversations, follow other Independent readers and see their replies