Mammals such as deer, tigers and bears are being forced to become nocturnal because of humans
'We are encroaching more and more on those natural habitats and there is less and less space where mammals can go'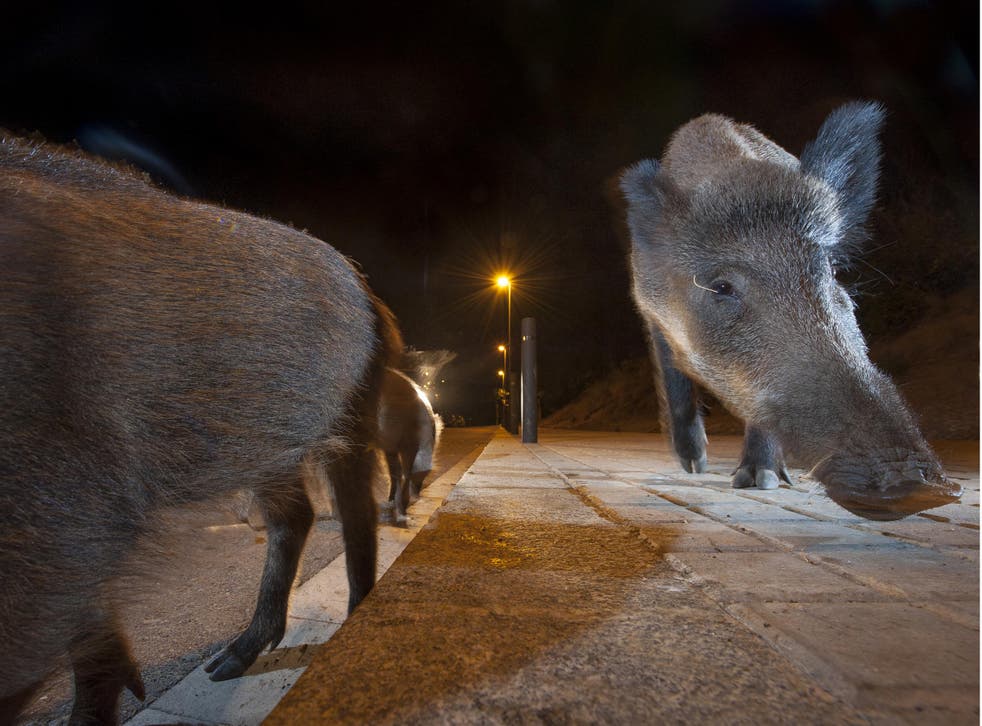 Humans are driving mammals including deer, tigers and bears to hide under the cover of darkness, jeopardising the health of the creatures that are only supposed to be active by day, new research his found.
The presence of people can instil strong feelings of fear in animals and as human activities now cover 75 per cent of the land, we are becoming increasingly harder to avoid.
Unable to escape during the day, mammals are forced to emerge during the night.
While this might be comforting to those who would rather avoid predatory cats, it could be interfering with the health and reproduction of creatures that are already vulnerable.
A team led by Kaitlyn Gaynor at the University of California, Berkeley arrived at this conclusion after analysing nearly 80 studies from six continents that monitored the activity of various mammals using GPS trackers and motion-activated cameras.
The scientists used this data to assess the night time antics of the animals during periods of low and high human disturbance.
Such disturbances ranged from relatively harmless activities like hiking to overtly destructive ones like hunting, as well as larger scale problems like farming and road construction.
Overall, the researchers concluded that from beavers to lions, there was an increase in nocturnal behaviour when humans were in the vicinity.
Their results were published in the journal Science.AR
The scientists warned that while hunting of animals by human "super predators" is the most obvious way in which we are impacting wild populations, the non-lethal effects of our presence "may have an even stronger influence on fitness and evolutionary trajectories".
Animals that have evolved to inhabit a daytime world cannot always switch to a nocturnal lifestyle without making major sacrifices.
"They all have adaptations to perform their activities in the day – foraging, mating, displays and so on – and if they are forced to do things during the night they are not going to be as good at doing them," Dr Ana Benitez-Lopez, an ecologist at Radboud University Nijmegen, who was not involved in the research, told The Independent.
Long term disturbances that force animals to take up a nocturnal lifestyle could therefore mean animals are in poorer condition and find it harder to successfully reproduce.
Fear of humans also makes animals spend more time being vigilant and less time looking for food, which further compounds these issues.
British mammals' fight for survival

Show all 11
In their analysis, the Berkeley team also expressed concern that removing key animals from daytime habitats could have far-reaching effects on entire ecosystems.
If tigers only operate at night, for example, and are less able to hunt their usual prey, the control they exert over those animals will be removed – leading to communities of species spiralling out of control.
The study is the first to establish this phenomenon as a global trend seen across dozens of mammal species, not just an isolated problem.
"The importance of this study is that they collated all the data from local studies all over the world and then tried to come up whether this was actually happening for all mammals or just anecdotal evidence," said Dr Benitez-Lopez. "And it seems indeed to be universal behaviour.
"We are encroaching more and more on those natural habitats, and there is less and less space where mammals can go."
Setting aside more land that is shielded from human activities is one obvious way of dealing with this problem, although a study released in May revealed a third of the world's wildlife sanctuaries and national parks face destruction due to human activities.
One more nuanced approach suggested by Dr Benitez-Lopez would be to restrict access to wildlife-rich areas during important times of the year – such as breeding seasons – and certain times of the day.
Join our new commenting forum
Join thought-provoking conversations, follow other Independent readers and see their replies