March breaks new global warming record despite absence of El Nino effect
'If El Nino were the main driver of record warmth, there is no way the last three months would have been as warm as they have been'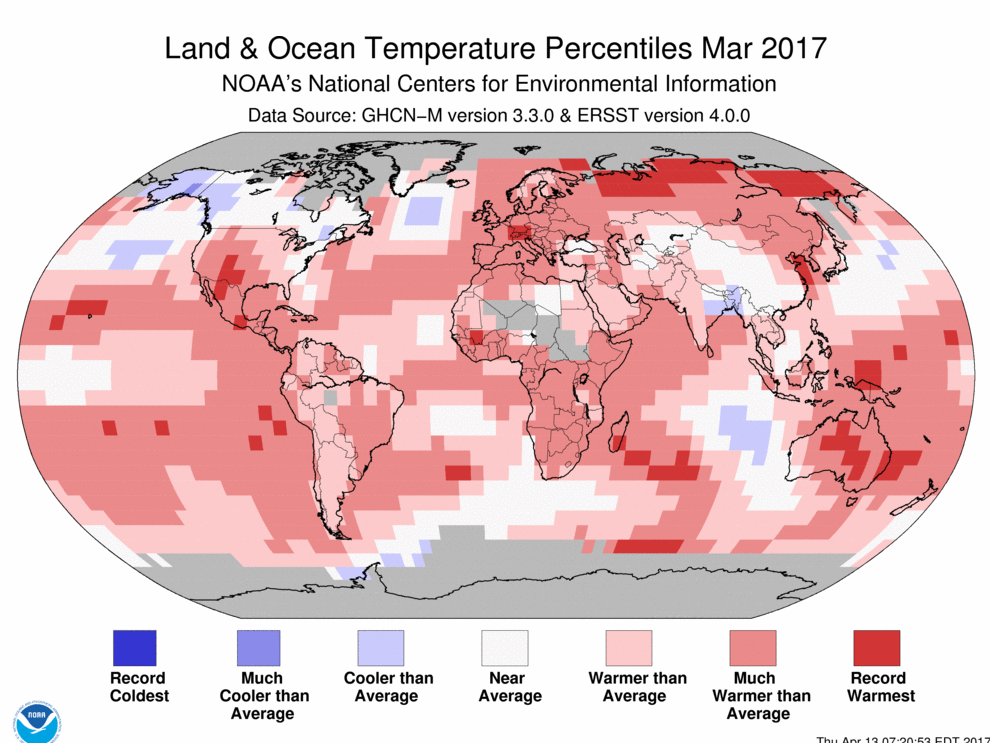 Last month was the hottest March on record in the absence of the warming effect caused by the natural El Nino weather system, US Government scientists have revealed.
Land and ocean surface temperatures were 1.05 degrees Celsius above the average of 12.7C during the 20th century, the National Oceanic and Atmospheric Administration (NOAA) reported.
This was the second highest figure for March since global records began in the 1880s, behind the 1.23C increase recorded in March last year. However temperatures then were boosted by the El Nino effect.
In the UK, temperatures were 1.8C above the average between 1981 and 2010.
A map of the world showing where temperatures were warmer or colder than average was awash with red with records set in northern Siberia, parts of Europe and the US.
Only a handful of places, including parts of Canada, Alaska and India, saw cooler conditions than average.
In a report, NOAA said: "The combined global average temperature over the land and ocean surfaces for March 2017 was 1.05C above the 20th-century average of 12.7C.
"This was the second highest for March since global temperature records began in 1880, behind the record year 2016 by 0.18C and ahead of 2015 by +0.15C.
"March 2017 marks the first time since April 2016 that the global land and ocean temperature departure from average was greater than 1C and the first time the monthly temperature departure from average surpasses 1 in the absence of an El Nino episode in the tropical Pacific Ocean.
"Overall, March 2017 tied with January 2016 as the fifth highest monthly global land and ocean temperature departure from average on record (1,647 monthly records). The record monthly temperature departure of 1.23C was set in March 2016."
It said the "most notable warm temperature departures" from the 1981-2010 average were recorded across the contiguous US, Europe, Russia, Mongolia, and Australia "where temperature departures were +3C or greater".
"Some areas in northern and eastern Russia, central Australia, and the south-central contiguous US had a record warm March."
10 photographs to show to anyone who doesn't believe in climate change

Show all 10
Some sceptics have tried to suggest El Nino was responsible for more of the warming in recent months than the level attributed to it by expert bodies like NOAA.
But Zeke Hausfather, a climatologist at University of California, Berkeley, told The Associated Press: "If El Nino were the main driver of record warmth, there is no way the last three months would have been as warm as they have been."
Join our new commenting forum
Join thought-provoking conversations, follow other Independent readers and see their replies