Government pledges 41 new marine conservation zones as May prepares to lobby G7 on plastics pollution
Harmful dredging and development to be blocked in 11,000 sq km of newly-protected areas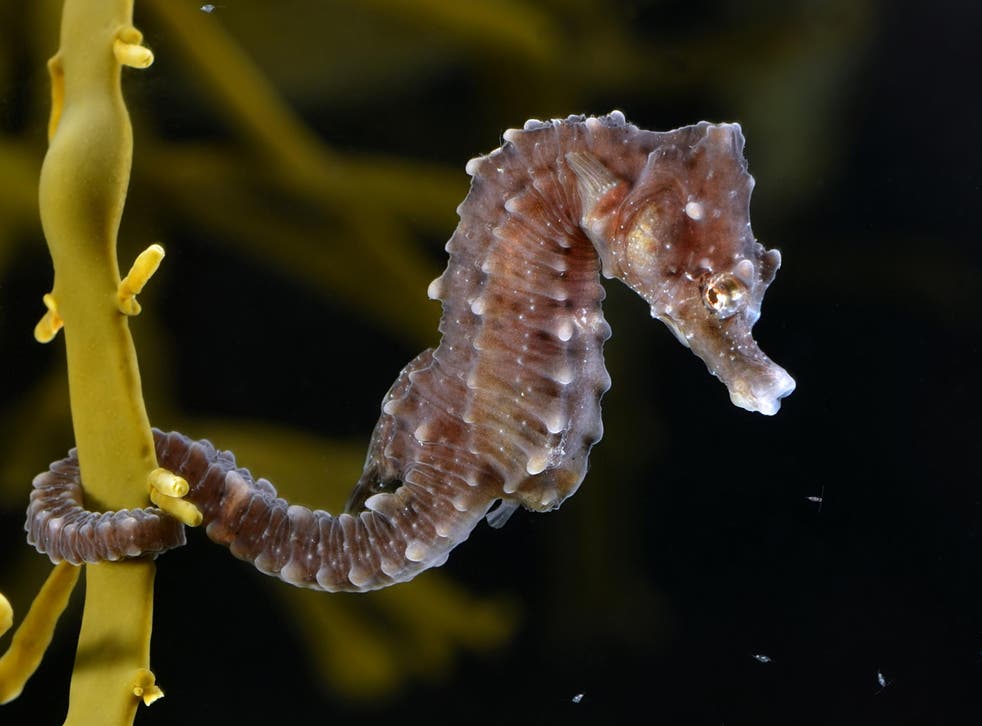 The government has pledged to create 41 new marine conservation zones (MCZ) around Britain's coastline that will block "harmful" activities like dredging, sea-bed trawler fishing and offshore development.
Michael Gove, the environment secretary, claimed extending the UK's so-called "blue belt" of protected sea zones would put it "at the forefront of marine protection".
A six-week consultation is planned after which the Department for Environment, Food and Rural Affairs (Defra) intends to designate some 11,000 sq km of coastline as newly protected – bringing the total area to 220,000 sq km, or two-fifths of the country's coastline.
The announcement was cautiously welcomed by the Marine Conservation Society, which urged the government to ensure the scheme was properly funded.
Its chief executive, Sandy Luk, said: "We really welcome the announcement that this final set of sites will be consulted on, and we think that all of the sites need to be designated to create a foundation for ensuring marine life can recover and thrive.
"Designation is only the first step to creating a network of sites, and adequate funding must be found to ensure these sites are not protected in name alone."
Defra said the designation of an MCZ would mean "no new activities deemed damaging – such as dredging, or significant coastal or offshore development – will be allowed to take place" in a given area.
It said that "existing harmful activities will be minimised or stopped" to allow habitats to recover.
The Independent asked Defra how this policy would work in practice and whether compensation would be paid to private companies engaged in business within an area later designated an MCZ.
A spokeswoman said: "We are not aware of any proposed offshore developments which will have a significant impact on any of these MCZs, and so changes to proposed developments are unlikely to be necessary."
Enforcing marine protections involves "a combination of monitoring, byelaws and voluntary measures", the department added.
Oysters, jellyfish, seahorses, peacock's tail seaweed and other species are among those Defra said would benefit from the scheme.
The government has already created 50 protected zones, with 27 designated in 2013 and another 23 three years later.
UK news in pictures

Show all 50
It comes as Theresa May prepares to call on the G7 group of countries to sign up to closer international efforts to combat pollution of the world's seas with plastics.
At a summit in Canada on Friday the prime minister is expected to say: "Marine plastics pollution is one of the greatest environmental challenges facing the world today.
"The UK government is a world leader on this issue, with our 25-year environment plan setting out a clear ambition to eliminate avoidable plastic waste to protect our rivers and seas.
"There is an urgent need for greater global action and co-ordination on marine plastics pollution, including working with business, industry and non-governmental organisations to find innovative and effective solutions.
"This is a global problem, requiring global solutions."
Ocean plastic pollution has been brought to the fore in recent months by the BBC's landmark Blue Planet 2 documentary series and campaigns in the media like The Independent's Cut The Cup Waste drive against reusable coffee cups.
The fear of damage from microplastics, the tiny particles created by the breakdown of larger plastic items – and which can be ingested by marine animals and thereby enter the food chain - has prompted bans on plastic straws and cotton buds in Scotland, and promises from corporations to reduce plastic consumption.
Register for free to continue reading
Registration is a free and easy way to support our truly independent journalism
By registering, you will also enjoy limited access to Premium articles, exclusive newsletters, commenting, and virtual events with our leading journalists
Already have an account? sign in
Register for free to continue reading
Registration is a free and easy way to support our truly independent journalism
By registering, you will also enjoy limited access to Premium articles, exclusive newsletters, commenting, and virtual events with our leading journalists
Already have an account? sign in
Join our new commenting forum
Join thought-provoking conversations, follow other Independent readers and see their replies