Marine energy projects approved for Scotland
Commercial wave and tidal projects at Pentland Firth will be world's first
Marine energy projects approved for Scotland

Show all 1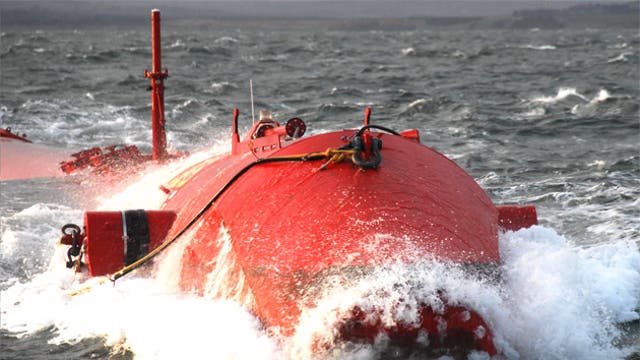 The seabed off the north coast of Scotland could be transformed into the "Saudi Arabia of marine energy" after seven power firms were awarded contracts for a landmark project designed to harness the area's potential for tidal energy and power up to 750,000 homes by 2020.
More than 20 firms were originally in the running for the project, billed as the world's first commercial wave and tidal scheme, in the Pentland Firth between northern Scotland and the Orkney Islands.
Yesterday, the seven successful bidders were informed by the Crown Estate, which owns much of the UK seabed and is funding the project alongside the Scottish government and local partners.
The tender, the largest of its kind, is a landmark step in British efforts to develop wave and tidal stream technology, helping to meet climate-change targets and reduce dependence on imported fossil fuels. Ten sites have been earmarked for the project, which aims to generate 1.2 gigawatts of electricity from the sites off the Orkney, and the Caithness and Sutherland coasts.
Successful bidders include Aquamarine Power and E.ON, whose plans for a controversial coal-based power station at Kingsnorth were shelved last October after pressure from protesters. E.ON has won leases for wave projects designated in West Orkney South and West Orkney Middle South.
Tidal schemes will be developed by SSE Renewables Developments off Westray South and jointly with OpenHydro Site Developments off Cantick Head, both on Orkney. Pelamis Wave Power will manage the Armadale site in the Pentland Firth off Sutherland.
Wave schemes will be developed by SSE Renewables Developments off Costa Head and also jointly with Aquamarine Power off Brough Head, both on Orkney. ScottishPower Renewables has the lease for Marwick Head, Orkney.
Marine Current Turbines has been leased the Brough Ness site on Orkney and ScottishPower Renewables will install devices in the Pentland Firth off Ness of Duncansby in Caithness.
The region – where the Atlantic meets the North Sea – has been dubbed the "Saudi Arabia" of marine energy by Alex Salmond, Scotland's First Minister, due to its powerful currents and tidal surges. Yesterday, Mr Salmond labelled the appointment a "major milestone". "These waters have been described as the Saudi Arabia of marine power and the wave and tidal projects unveiled today – exceeding the initial 700-megawatt target capacity – underline the rich natural resources of the waters off Scotland.
"Leading international energy companies and innovators continue to be drawn to Scottish waters, which boast as much as a quarter of Europe's tidal and offshore wind resource and a tenth of the continent's potential wave capacity."
Join our new commenting forum
Join thought-provoking conversations, follow other Independent readers and see their replies