Mary Robinson: The former Irish president fighting for climate justice
As a stateswoman, Robinson has made climate change a top priority – and in her new book 'Climate Justice', she tells the stories of other women across the world doing the same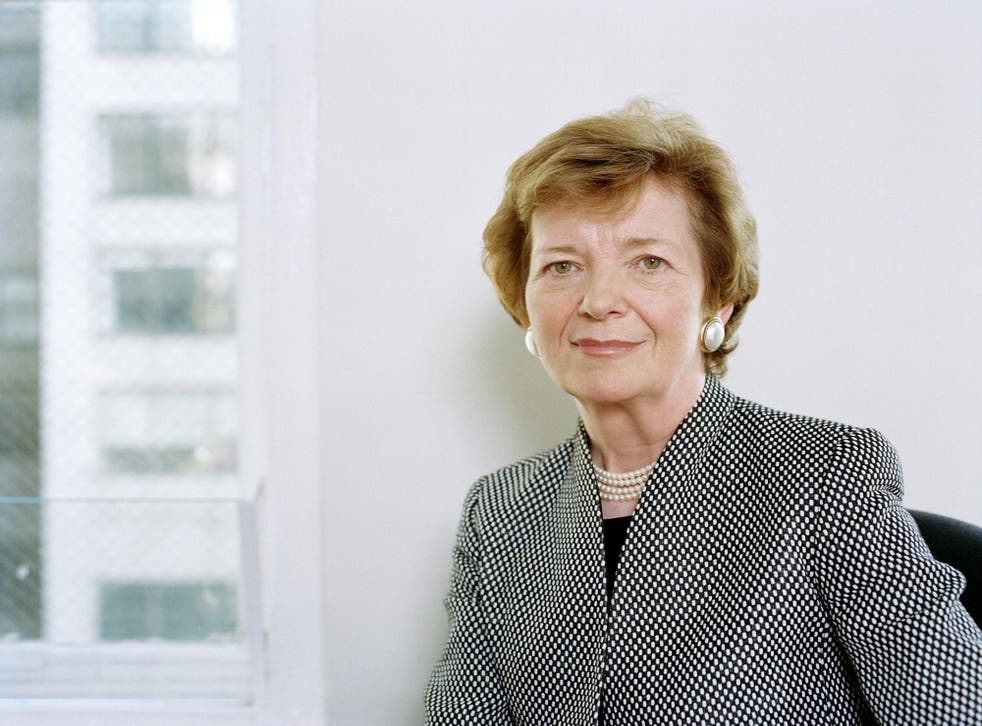 It's been 28 years since Mary Robinson was elected as the first female president of Ireland – an office she reimagined and reinvigorated.
She signed bills and shook hands, but also demonstrated that the head of state could act as a voice for minority groups, charitable causes, and the Irish diaspora. She has also set the bar for what can be achieved after leaving that office.
In 1997 she became the UN high commissioner for human rights, and it was during this tenure that her eyes were first opened to the threat posed to humanity by climate change.
"People talk about climate change in Europe and Australia and the US as if it was something far into the future," she says, "without any sense that people are already being buffeted and battered, and suffering, and showing great resilience in their communities."
Today, she channels her efforts through the Mary Robinson Foundation – Climate Justice which aims "to secure global justice for those people vulnerable to the impacts of climate change".
Her new book, also titled Climate Justice, explores how women often bear the brunt of the effects of climate change. From Uganda to Mississippi to the Arctic Circle, it looks at how individuals are crafting their own responses at local levels.
"I do think we need to make this a human story. Because of the science and the jargon, people can feel distanced. But when you read about other human beings, you can learn from that. Because we're all moving in that direction. We're all going to be affected."
Glacier collapse shows climate impact

Show all 20
Hours before speaking with Robinson, the UN released a terrifying report warning that urgent action is now needed to prevent global disaster, which could come as soon as 2040.
"I hope it will wake people up," she says. "This report gives us a real sense of the importance of regrouping and working together in the way we committed with the 2030 agenda and the Paris climate agreement. Getting back that sense of solidarity and purpose could carry us through."
One major setback to that progress came in June 2017, when Donald Trump fulfilled a campaign commitment by pledging to pull the US out of the Paris agreement.
"I was very distressed at the idea of President Trump pulling the US out, but he can't do that until 4 November 2020, after the next presidential election."
Irrespective of whether Trump is still occupying the Oval Office on that day, Robinson sees hope in a more grassroots effort to meet targets – including the crucial commitment to prevent the world from warming any more than 1.5C.
"I was very encouraged a few weeks ago at the climate summit in San Francisco. You saw so many states, cities, businesses, in the US and others from around the world, wanting to increase the ambition, and grow the momentum."
In Climate Justice, Robinson showcases how individuals, groups and small nations can lead the way with their endeavours – something she has experience of in her former presidential role. In July, she helped launch Ireland's bid for a temporary seat on the UN Security Council in 2022.
It is her belief that small countries can have a disproportionate, positive effect on the world stage. She points to nations like the Marshall Islands (population 50,000) that are under serious threat of submersion if rising temperatures lead to rising sea levels.
Support free-thinking journalism and attend Independent events
"If the Marshall Islands had a seat on the Security Council, this UN report would be a daily priority. We would never get away from it." She believes Ireland could convey a sense of that urgency if their bid is successful.
"I hope we have led in one area, which is our commitment to divest from fossil fuels – no other country has yet done that. But we are still – as the Taoiseach [Leo Varadkar] said – a laggard on climate policy, and we need to think about that very seriously."
From Trump's America to Brexit Britain, to countries across Europe, it is clear that resurgent nationalism and populism directly threaten the international cooperation needed to tackle this issue, and Robinson is concerned.
"I know as a human rights person that human rights don't always go in a good direction, with good results all around, there are setbacks. We're in a bumpy period where both human rights and multilateralism are suffering setbacks. The idea is to fight back strongly."
Ireland is a country which has never really experienced a political jolt to the right, and she doesn't see it on the horizon any time soon.
"I don't see it at the moment, I'm glad to say, and may it continue not to be a problem for us. I do feel the need to remind people of their history – why we come together and solve problems that are bigger than one country, because we solve them better when we come together."
It feels reassuring to know that people of Robinson's intellect and influence are so invested in the survival of the planet. But her message is clear – it is incumbent upon us all to get involved if we are to save humanity.
"This is an existential threat. The science is telling us that the earth is our friend still, and absorbing a lot of carbon. But at a certain stage around the 2C point, the earth will become our enemy, and start to have terrible kickbacks at us, and then it will not be a safe world for our children and grandchildren."
Register for free to continue reading
Registration is a free and easy way to support our truly independent journalism
By registering, you will also enjoy limited access to Premium articles, exclusive newsletters, commenting, and virtual events with our leading journalists
Already have an account? sign in
Join our new commenting forum
Join thought-provoking conversations, follow other Independent readers and see their replies