'Miracle' on Front Street: The house spared from wildfire - and its lessons for Maui's recovery
Historic and vibrant Lahaina, once the capital of the Hawaiian Kingdom, was largely destroyed by devastating wildfires earlier this month in Maui. But when the community slowly turns its attention to rebuilding, wildfire and urban planning experts tell Louise Boyle that lessons could be learned from one red-roofed house on Front Street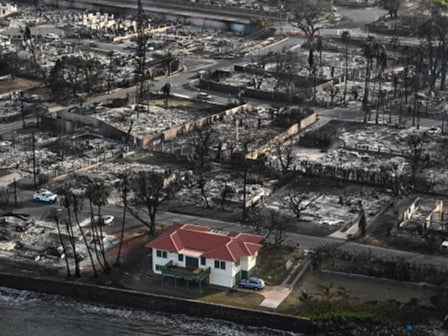 After flames were finally put down and the choking, black smoke cleared in the historic Hawaiian town of Lahaina, its bustling, ocean-facing Front Street had been reduced to a stretch of smoldering ruins.
Yet one red-roofed, wooden house stood out among the devastation.
The 100-year-old property, a former home of plantation bookkeepers, was dubbed a "miracle" after being spared during the deadliest wildfire in the United States for more than a century.
Trip Millikin, who owns the home with his wife Dora Atwater Millikin, said the label made him "uncomfortable", telling NPR that the couple were heartbroken over the scale of the loss and left with a sense of "survivor's guilt".
A total of 115 deaths have been confirmed after fires raged across the island of Maui two weeks ago. On Thursday, public officials released the names of 388 people still missing. Thousands of acres were destroyed and at least 2,200 buildings - mostly homes - have been lost. An early estimate of damages was placed at $5.5bn.
Lahaina, once capital of the Hawaiian Kingdom, was largely destroyed and remains closed off as crews search for remains. There is also widespread toxic contamination to contend with and unsafe drinking water.
But as the community slowly turns its attention to rebuilding, wildfire and urban planning experts told The Independent that lessons could be learned from the red-roofed house.
"The house on Front Street is critical because they did some really simple things... and it still looks like a [traditional] Lahaina home," said Jennifer Gray Thompson, founder and CEO of After the Fire USA, an organization focused on wildfire recovery and resilience.
It was a sentiment echoed by Mr Millikin. The couple had been visiting family in Massachusetts when the inferno ripped through the town but plan to return in the coming weeks.
"As soon as we can, we want to open it to our neighborhood and open it to everybody who worked on it, as a base to help rebuild our part of Lahaina," he told NPR.
The capriciousness of wildfires, which scientists say are being driven to new extremes by the climate crisis, makes it difficult to be certain as to why some properties are left standing while others burn.
But it seems that some improvements that the Millikins made after buying the dilapidated property in 2021 could have played a role.
The house was given a commercial-grade, corrugated metal roof with an air pocket allowing for heat to be released, Mr Millikin said.
Roofs are one of the most vulnerable aspects of a home during a fire because of their large surface areas, Dr Rachael Jonassen, Director of Climate Change and Greenhouse Gas Management at the Environmental & Energy Management Institute, George Washington University, told The Independent.
"The red-roofed house illustrates that there are steps individual homeowners can take to reduce the risk to their home," she said.
A 2022 analysis of available data on roofs of US homes found that the most common material used today is asphalt composition shingles which, with a Class A fire rating, are wildfire-resistant, wrote the nonprofit Headwaters Economics.
Noncombustible roof coverings such as steel panels and tile made up a further 15.6 per cent. But that still left 5.8 per cent of assessed buildings with wood roofs, the most vulnerable to wildfire. This totalled 1.2 million homes - with one million in medium-to-high wildfire risk areas.
The ground surrounding the red-roofed house was cleared of vegetation and stones had been added along the roof's dripline. Mrs Atwater Millikin told The LA Times that this was done not to stop fires, but to tackle a termite problem.
But, nevertheless, it was a climate-resilient choice, creating what is known in the fire prevention community as "defensible space" - a zone around a building without flammable vegetation or other combustible materials.
The Front Street home had some other factors which possibly worked in its favour. On three sides, the home is surrounded by an empty lot, road and the ocean, meaning that there were few immediate buildings or large areas of plants and trees where embers could jump from.
Ms Gray Thompson, who founded her organisation after her home county of Sonoma, California was devastated by a megafire in October 2017, said that that experience along with subsequent years of major blazes in the state has taught her many lessons about what to do - and not to do - when it comes to rebuilding.
She pointed to fire-resistant coatings and specialized paints that can be used on buildings to reduce flammability; removing wooden fences; and keeping decks separated from the main home.
She also suggested triple-glazing as windows are a "huge point of vulnerability" during fires.
"But those are expensive so it's a point of equity too," she added.
In Lahaina, sky-rocketing property prices and lack of supply has made overcrowding an issue, The Maui Times reported. More than half of renters in Maui County pay nearly a third of their income toward rent and are considered "rent burdened", according to a recent report from the University of Hawaii.
Scale of Hawaii wildfire scarring on charred Maui land captured in aerial footage
"The value of the property per acre makes it more likely that people are going to be living in smaller properties, and therefore, packed more tightly together," Dr Jonassen said. "In that case, then you're much more reliant upon proper design to reduce the risks of fire."
Ms Gray Thompson said that using best practices for fire prevention during construction was essential but that so was disentangling bureaucratic roadblocks and properly directing federal funds and donations to those affected.
"I think that if Maui not only requires those measures but also helps fund [them], people can get back," she said. "But they have to do both at once. You can't make people do stuff, and not give them the funds to do it. That's not going to work."
As Maui becomes the latest community to grapple with the tragedy and complex aftermath of major wildfires, Dr Jonassen said that the disaster once again raised the specter of a third, "very ugly, very difficult, and very grim option that we're going to be facing globally".
It's what's termed in the scientific community as "managed retreat" - the purposeful, coordinated movement of people and assets out of harm's way, writes AR Siders, assistant public policy professor at the University of Delaware's Disaster Research Center.
"There are some sites that just may not be defensible," Dr Jonassen added. "I'm not saying that Maui is one of those but [managed retreat] has to be part of the discussion when these kinds of catastrophes happen."
Join our commenting forum
Join thought-provoking conversations, follow other Independent readers and see their replies