Meet Dindim, the penguin who returns to his human soulmate every year
Seabird makes annual trek to his rescuer on Brazilian island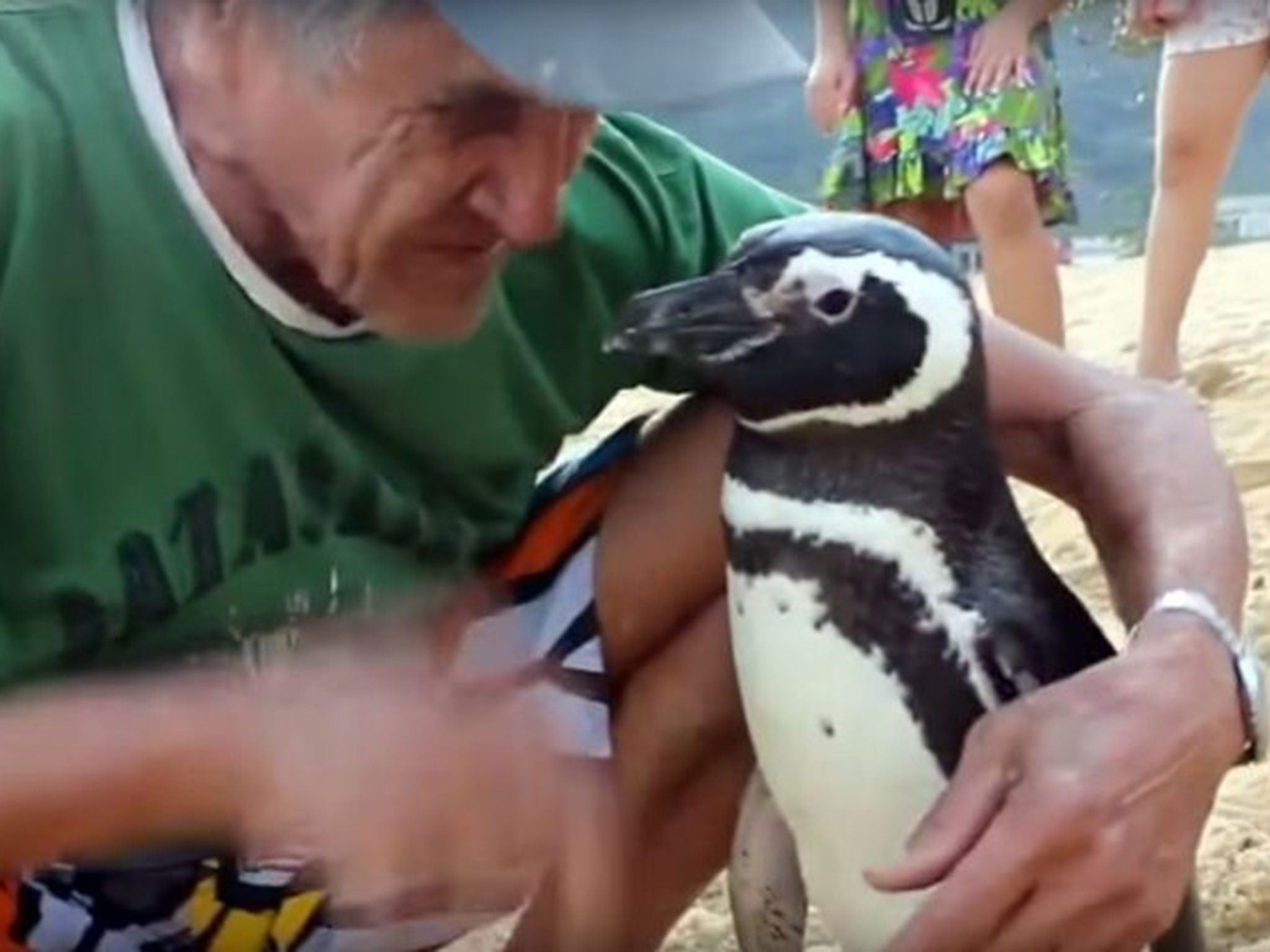 Four years ago, Joao Pereira de Souza, 71, found a South American Magellanic penguin covered in oil and starving on a beach on an island off the coast of Rio de Janeiro. A friendship was born.
Since they met in 2011, the creature, which normally breeds on the Patagonia coasts of Argentina and Chile, three to five thousand miles away, has become a faithful companion, swimming every year from its habitat to spend up to eight months living with the retired fisherman in his house on the island.
"I love the penguin like it's my own child and I believe the penguin loves me," said Mr Pereira de Souza in an interview with Globo TV, in which the bird honks with delight as he recognises his human friend. "No one else is allowed to touch him. He pecks them if they do. He lays on my lap, lets me give him showers, allows me to feed him sardines and to pick him up," said Mr Pereira who has named the penguin Dindim.
Mr Pereira de Souza believes Dindim formed a bond with him after he found it stranded on the beach and took him home. Over a week he cleaned the creature's tarred feathers in the shower, fed him a daily diet of fish to improve his strength then took him back to the sea to let him go.
"But he wouldn't leave, he stayed with me for 11 months and then just after he changed his coat with new feathers he disappeared," recalled Mr Pereira de Souza. "Everyone said he wouldn't return but he has been coming back to visit me for the past four years. He arrives in June and leaves to go home in February and every year he becomes more affectionate as he appears even happier to see me."
Biologist Joao Paulo Krajewski, who interviewed Mr Pereira de Souza for Globo TV, told The Independent: "I have never seen anything like this before. I think the penguin believes Joao is part of his family and probably a penguin as well. When he sees him he wags his tail like a dog and honks with delight."
Penguins live for about 25 years and are known for their loyalty to their mates, staying with the same partner until they die. However, environmentalists warn that, while hundreds of the Magellanic species are known to naturally migrate thousands of miles north in search of food, there has been a worrying rise in the phenomenon of oceanic creatures washing up on Brazil's beaches. Between 2010 to 2013, the Humpback Whale Institute in Bahia recorded more than 180 cases of mammals stranded along the Brazilian coast.
Professor David Zee, an oceanographer from Rio de Janeiro's State University, said the increase is due in part to global climatic changes.
He explained: "Every year the strong ocean currents from the Falkland region traps and brings many species of seals, whales, dolphins, turtles and penguins to the Brazilian coast. This is becoming more problematic due to environmental changes and the increasing frequency of el Niño, in which the Pacific Ocean is warming up for prolonged periods of time.
Scientists p-p-pick out penguins from space for new head count
Show all 3
"The marine creatures get confused and lost as they are dragged away on the surf from their normal habitat and end up in areas where they are unable to survive."
Professor Zee added sea animals face "increased danger with the ongoing contamination of the oceans with oil and other derivatives" spilled by oil tankers.
Luckily the ending for Mr Pereira de Souza and Dindim has been a happy one, even though it is illegal in Brazil to keep wild animals as pets.
Prof Krajewski said: "Professionals who work with animals try to avoid relationships like this occurring so they are able to reintroduce the animal into the wild. But in this isolated case the authorities allowed Dindim to stay with Joao because of his kindness."
"I'm flattered Dindim is happy to exchange his home with thousands of other penguins every year to find his way here to spend one-to-one time with me," said Mr Pereira de Souza. "It's a very special relationship."
Join our commenting forum
Join thought-provoking conversations, follow other Independent readers and see their replies