Campaigners push for Miami aquarium to release killer whale 50 years after capture
Native American tribal members sue aquarium for keeping veteran killer whale Lolita captive for 50 years
Lummi indigenous people say their 'relative' was abducted without permission and is held in a tank so small it's illegal
Members of native American tribe are to sue a Miami aquarium for keeping a killer whale captive for half a century.
Lolita, the last survivor from the biggest orca capture in history, lives and performs tricks for audiences in what is said to be the smallest whale tank in the US.
The Lummi tribe of indigenous Americans, the original inhabitants of the area off the northwest US coast, say they have deep spiritual connection and "kinship bonds" with the resident pods of killer whales.
Two members are planning legal action against Miami Seaquarium, which bought their "relative" 49 years ago for a reported $20,000 (about £106,200 in today's money). She was one of seven killer whales captured at the Puget Sound off Washington State in late 1970.
They say that as well as "abducting" her without permission, the aquarium has ever since been keeping the veteran orca in a tank that legally is too small – at 80ft x 35ft and 20ft deep.
Animals in entertainment

Show all 20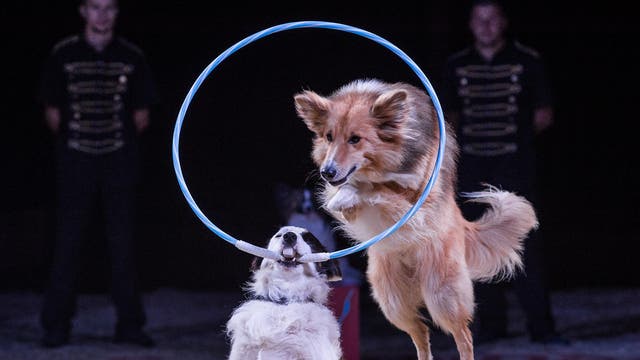 The veteran orca cannot dive because her tank is only as deep as she is long, it's claimed.
The federal animal and plant health inspection service's regulations state that the primary enclosure for a killer whale must be at least 48ft wide.
Opponents of Lolita's captivity want her to be released into a protected cove sea pen that would be designed by marine scientists and built for her, where she would be able to "retire" after performing tricks twice daily for 48 years.
They say she could be reunited with her family and "would have the room and companionship she so desperately deserves".
But Miami Seaquarium says experts believe moving her would be ill advised.
"For almost five decades we have provided for and cared for Lolita, and we will not allow her life to be treated as an experiment. We will not jeopardise her health by considering any move from her home here in Miami," the owners said last month. The Independent has again asked the aquarium to comment.
Campaigners calling for Lolita to be freed will stage protests on Saturday in London, cities across the US and in South Africa, Spain and Australia.
At Bellingham, in Washington state, hundreds of Lummis will gather with canoes, drums and a totem pole to launch their $125,000 battle.
"We have completed the necessary research and will suing for her return under the auspices of the Native American Graves and Repatriation Act," the members launching the action said in a statement.
They said they hoped that long before they won the court battle, Seaquarium would "do the right thing" and meet them to negotiate her release.
Support free-thinking journalism and attend Independent events
They added that the orca "has been held in unspeakably cruel conditions and treated as a profit centre" by her owners. "She is a sacred being, not a commodity, and is a relative of ours. We know from our own history how it feels to have—or to be—a child stolen away from family", they added.
Join our new commenting forum
Join thought-provoking conversations, follow other Independent readers and see their replies