Britain's rivers and lakes polluted by microplastics in paint used for road markings
Environmentalists call for an alternative kind of paint to be used to make double yellow lines, lay out junctions and bus lanes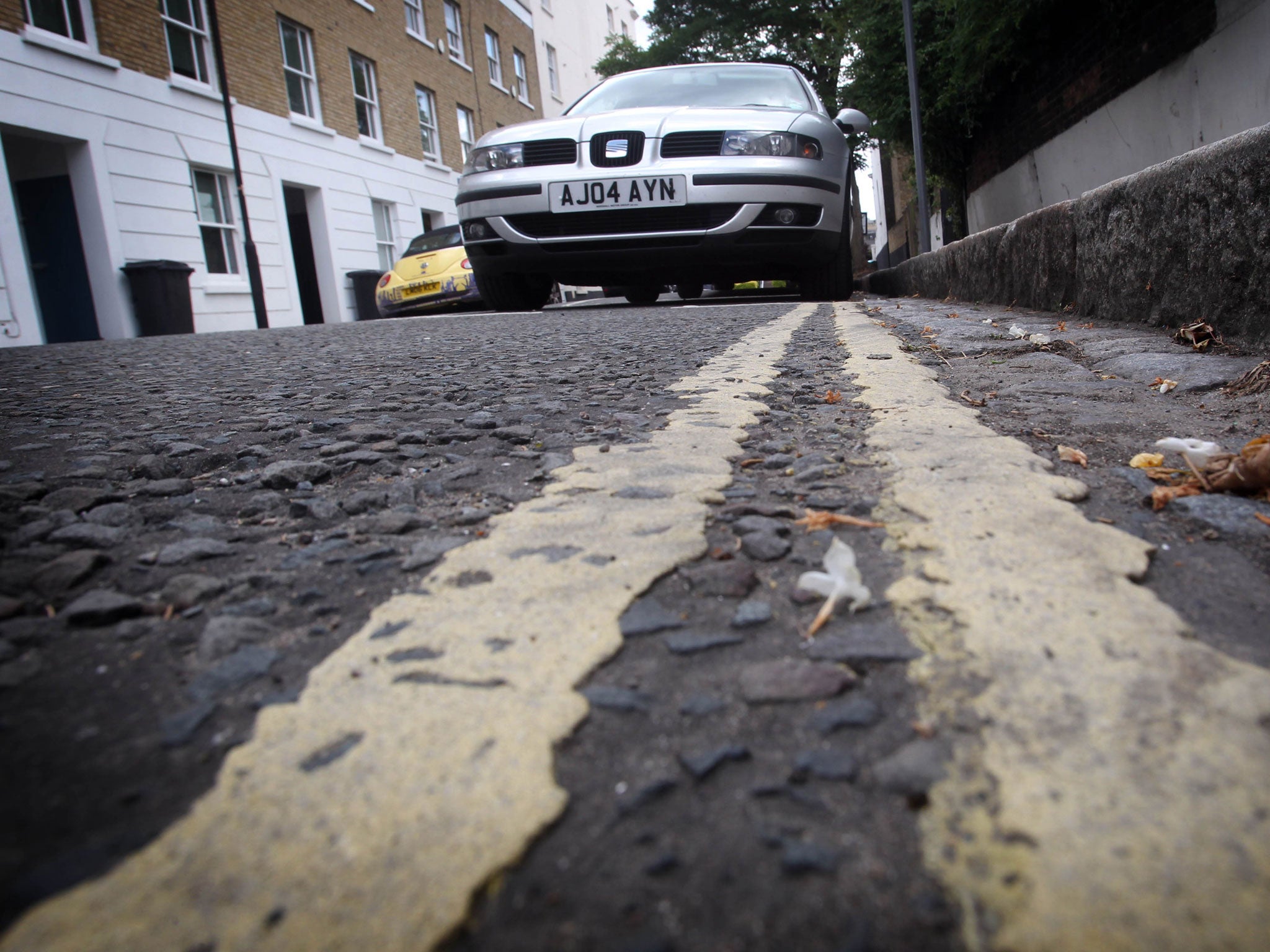 Britain's rivers and lakes are being polluted with microplastics from the paint used to lay out road markings, according to new research.
Concern has been growing about the effect of tiny plastic fragments on seabirds, fish and other life in the oceans with a United Nations Environment Project report also warning that their presence in seafood "may present an attributable risk to human health".
Such fears prompted the UK Government to ban plastic microbeads in cosmetics.
Now one of the first studies to look at the problem in freshwater environments has discovered large amounts of plastic pollution in river sediments.
And a significant proportion of this was made up of plastic paint that has washed off roads.
The researchers looked at four sites in the Thames Valley, two on rivers in countryside areas and two just downstream from the town of Bracknell.
In the most polluted site, just outside the town, they found an average of 66 microplastic particles in every 100g of sediment, which is about a handful, according to an article in the Marine Pollution Bulletin.
But even at the cleanest rural site on the River Leach, there was an average of 18.5 particles per 100g.
Lead researcher Dr Alice Horton, an ecotoxicologist at the Centre for Ecology and Hydrology, told The Independent: "I was quite surprised by the number of particles I was finding.
"I chose two control sites because I thought they would be really clean, but actually I did find quite a lot even in sites where there's quite a low population."
Some of the particles did not look like the usual microplastic.
"I thought, 'What are these? They don't look like something that should be here but also don't look like what would break down from a plastic bottle or something like that," Dr Horton said.
The researchers used spectroscopy to determine what the particles, which were mostly red and yellow and between one and four millimetres in size, were made from.
They then matched them to paint on nearby road surfaces with Dr Horton saying there was "no doubt" about their origin.
"There was this road surface where the whole surface of the road was completely red. They've incorporated paint into the surface of the tarmac for whatever reason," she added.
Plastic? No thanks
Show all 2
It is not clear how serious the problem is.
"The very smallest organisms like invertebrates and snails might not be likely to eat them, but scavengers, things like fish and birds, potentially could eat them," Dr Horton said.
"It's a concern that it's there … they could be associated with other potentially harmful chemicals. It's obviously a pollutant."
She now plans a pilot study to look into the effects on the freshwater environment.
A study of baby perch found they actively chose to eat plastic over the plankton they would normally feed on, stunting their growth and leaving sluggish and easy prey for predators.
Dr Jeremy Biggs, of the Freshwater Habitats Trust, said it was clear more research should be done to assess the extent of the problem.
"If this has been found, it is likely to be a widespread problem because roads affect a lot of freshwater," he said.
Dr Biggs suggests councils should take the findings into consideration when thinking about adding new road markings near a pristine watercourse.
"We should be doing everything we can to protect freshwaters not already impacted by these sources of pollution," he said.
Louise Edge, senior oceans campaigner at Greenpeace UK, said an alternative kind of road-marking paint should be sought.
"We know the dangers of any form of plastic entering our waterways and our seas: it's the marine life and the health of our oceans that suffer," she said.
"So if this study is right and paint used for road markings is a source of microplastic pollution, then companies clearly need to find an alternative, and quickly. "
Ms Edge called on the Government to impose a comprehensive ban on plastic microbeads from "all household items".
"With up to 12 million tonnes of plastic entering our oceans every year we need to get to grips with the root causes of ocean plastic pollution," she added.
"Whether in the form of microplastics or plastic bottles and packaging, we have to get to a point where plastic is no longer seen as something which is used once and thrown away, where it can end up in our oceans for hundreds of years causing physical harm to marine life, attracting and leaching out toxic chemicals and even ending up back in the food chain. If we keep throwing away plastic, we'll be throwing away our oceans."
A Local Government Association spokesman said: "Councils value our marine life and do everything they can to protect and promote it.
"This research will be carefully considered by councils and their contractors, but they also have a duty to use British Standard road marking paint to adhere to strict road safety specifications."
Join our commenting forum
Join thought-provoking conversations, follow other Independent readers and see their replies